Advances in Causal Inference, Survey Statistics, Disclosure Risk, and Missing Data
Advances in Causal Inference, Survey Statistics, Disclosure Risk, and Missing Data
A Celebration of Roderick Little's 65th Birthday
October 30-31, 2015
Michigan Campus, Ann Arbor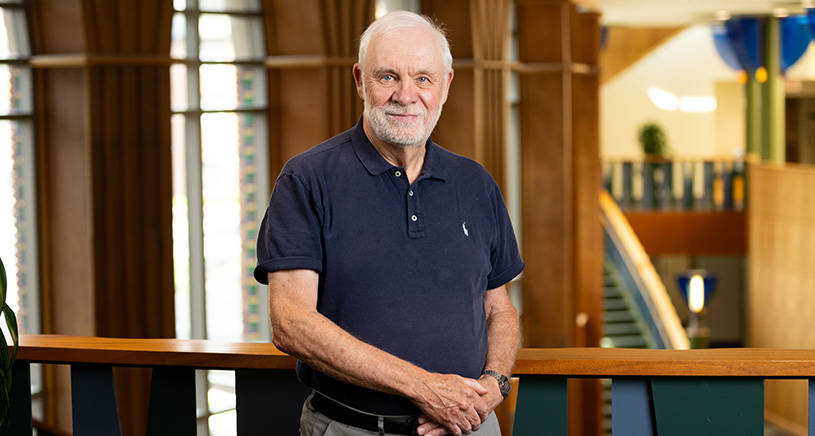 Rod Little, Richard D. Remington Professor of the Department of Biostatistics at the University of Michigan, has been a leader throughout his career in the development and application of statistical methods in public health research. To celebrate his wide range of accomplishments and services to science, as well as his tenure at the Department of Biostatistics since 1993, the Department of Biostatistics and the Survey Research Center at the Institute for Social Research were proud to host a symposium in honor of his 65th birthday entitled "Celebrating Rod Little's 65th Birthday: Advances in Causal Inference, Survey Statistics, Disclosure Risk, and Missing Data." The Symposium included fourteen invited speakers (former students and colleagues) that are leaders in these areas, as well as a contributed poster session and a banquet in his honor.
The Conference was held Friday October 30 and Saturday October 31 at Palmer Commons on the the University of Michigan campus, Ann Arbor, MI.
Organizing Committee
Michael Elliott: mrelliot@umich.edu (chair of the organizing committee)
Veronica Berrocal: berrocal@umich.edu
Timothy Johnson: tdjtdj@umich.edu
Trivellore Raghunathan: teraghu@umich.edu
Jeremy Taylor: jmgt@umich.edu
Scientific and Social Program
Date/Time
Activity
Location
Friday October 30
1:00 - 1:15 p.m.
Welcome
Forum Hall and Great Lakes North (the overflow room)
1:15 - 3:15 p.m.
Session 1:
Don Rubin, Harvard University - TBA
Jerry Reiter, Duke University - "Bayesian Modeling and Multiple Imputation to Simultaneously Handle Missing and Erroneous Values and Protect Confidentiality in Census Bureau Data"
Qixuan Chen, Columbia University - "Bayesian Predictive Inference for Skewed Survey Data"
Forum Hall and Great Lakes North
3:15 - 3:45 p.m.
Break
The Atrium
3:45 - 5:00 p.m.
Session 2:
Bob Groves, Georgetown University - "When Bayes Met the Department of Justice (and other stories)"
Rebecca Andridge, Ohio State University - "Imputing Estrogen Receptor Status in a Population-based Cancer Registry"
Forum Hall and Great Lakes North
5:30 - 7:00 p.m.
Poster session
The Atrium
7:30-10:00 p.m.
Banquet
Great Lakes North
Saturday October 31
8:00 - 9:00 a.m.
Breakfast
Fourth floor of Palmer Commons
9:00 a.m. - 10:15
Session 3:
Tom Louis, Johns Hopkins University - :The Perils and Potentials of Web-based Enrollment"
Ying Yuan, MD Anderson Cancer Center - "Missing Data Approach to Handle Delayed Outcomes in Early Phase Clinical Trials"
Forum Hall and Great Lakes North (the overflow room)
10:15 - 10:45 a.m.
Break
The Atrium
10:45 - 12:00 p.m.
Session 4:
Xihong Lin, Harvard University - TBA
Janet Sinsheimer, UCLA - "Return to Family Values? Analyzing Genetic Data from Pedigrees"
Forum Hall and Great Lakes North
12:00 - 1:30 p.m.
Lunch
The Atrium, with space to eat in Great Lakes Central and South
1:30 - 3:30 p.m.
Session 5:
Andrew Gelman, Columbia University - "Easier Said Than Done: Open Problems in Multilevel Regression and Poststratification"
Chris Skinner, London School of Economics - "Inference under
Cross-classified Sampling"
Nat Schenker, National Center for Health Statistics - "Comparing Multiple
Imputation to Single Imputation in the Presence of Large Design Effects: A Case Study and Some Theory"
Forum Hall and Great Lakes North (the overflow room)
3:30 - 4:00 p.m.
Break
The Atrium
4:00 - 5:15 p.m.
Session 6:
Qi Long, Emory University - "Propensity Process: a Balancing Functional."
James Carpenter, London School of Hygiene and Tropical Medicine - "Reference Based Multiple Imputation for Sensitivity Analysis in Clinical Trials: Background, Behaviour of Rubin's Variance Combination Rules, and Application to a Study to Improve the Quality of Peer Review."
Forum Hall and Great Lakes North
5:15 - 5:30
Wrap-up
Speakers' Presentations
James Carpenter
Bob Groves
Xihong Lin
Chris Skinner
Contact Us
If you have any questions about the conference, please contact Michael Elliott at mrelliot@umich.edu or 734-647-5160.