Faculty Profile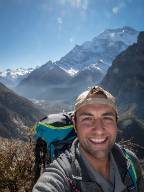 Kevin Bakker, PhD, MSc
Assistant Research Scientist of Epidemiology
SPH II
1415 Washington Heights
Ann Arbor, Michigan 48109-2029
Kevin joined the Epidemiology department as an Assistant Research Scientist in the fall of 2020. He received undergraduate degrees in Human Biology and Zoology at Michigan State University and both a Masters and Ph.D. from the University of Michigan in Ecology and Evolutionary Biology. He spent 8 months working on transferable vaccines for rabies in vampire bats before starting an NIH funded post-doc fellowship in the Statistics department at the University of Michigan where he received further mathematical modeling training. Kevin is broadly interested in the spatiotemporal population dynamics of infectious diseases, novel immunization/mitigation strategies, immune response to infection, and studying pathogens in wastewater to determine community burden.
Ph.D. University of Michigan, 2017
M.S. University of Michigan, 2014
B.S. Michigan State University, 2006
B.S. Michigan State University, 2004
Ongoing projects include:
collecting data on, and analyzing, antibody and T-cell responses to COVID-19 exposure
collecting and analyzing wastewater to understand COVID-19 dynamics in the environment and link environmental data to epidemiological data
deciphering the mechanistic drivers of poliovirus transmission seasonality to optimize vaccination
complete a vampire bat rabies spatial to evaluate the impact of spreadable or semi-transmissible vaccines on rabies dynamics at the population level
continue an array of projects with undergraduate and Masters students on interpreting the environmental, demographic, and social mechanisms responsible for outbreaks of historical infectious diseases.
Fenton, M. B., Streicker, D. G., Racey, P. A., Tuttle, M. D., Medellin, R. A., Daley, M. J., ... & Bakker, K. M. (2020). Knowledge gaps about rabies transmission from vampire bats to humans. Nature Ecology & Evolution, 4(4), 517-518.
Bakker, K. M., Rocke, T. E., Osorio, J. E., Abbott, R. C., Tello, C., Carrera, J. E., ... & Streicker, D. G. (2019). Fluorescent biomarkers demonstrate prospects for spreadable vaccines to control disease transmission in wild bats. Nature ecology & evolution, 3(12), 1697-1704.
Bakker, K. M., Martinez-Bakker, M. E., Helm, B., & Stevenson, T. J. (2016). Digital epidemiology reveals global childhood disease seasonality and the effects of immunization. Proceedings of the National Academy of Sciences, 113(24), 6689-6694.
Ecological Society of America
British Ecological Society
American Geophysical Union