Rebecca Haffajee, PhD, JD
Faculty Profile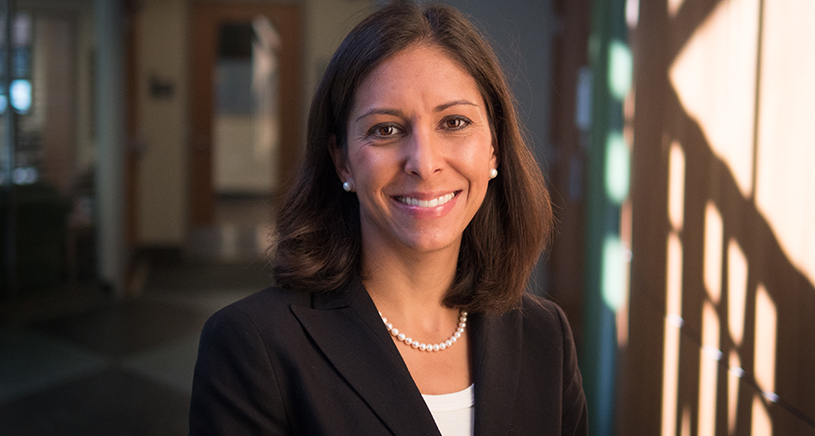 Rebecca L. Haffajee, J.D., Ph.D., M.P.H.
Assistant Professor of Health Management and Policy
1415 Washington Heights
Ann Arbor, MI 48109
Professional Summary
Rebecca L. Haffajee is an Assistant Professor in the Department of Health Management and Policy, University of Michigan School of Public Health. She received her law degree from Harvard Law School and a Masters in Public Health from Harvard School of Public Health in 2006. She practiced as a health care associate in the law firm of Ropes & Gray LLP from 2006-2009, where she advised domestic health care providers on regulatory compliance and reimbursement matters. From 2009-2010, she served as a Law Fellow at the O'Neill Institute for National and Global Health Law at Georgetown University Law Center. Before coming to the University of Michigan, she completed her PhD in Health Policy with a concentration in Evaluative Science and Statistics at Harvard University in 2016.
Applying sophisticated analytical methods from econometrics, epidemiology, and public health law research, Dr. Haffajee's work combines detailed legal analysis with empirical investigations of the relationships between law and health. She is particularly interested in advancing methods used to create cross-jurisdictional legal datasets, based on careful consideration of meaningful law features, which can then be merged into longitudinal empirical health law analyses. Substantively, she specializes in evaluating the effects of behavioral health and pharmaceutical policies. For example, recent studies examine the effects of mental health and substance abuse parity laws on treatment and health outcomes, and the impacts of state prescription drug monitoring programs on prescription drug misuse and overdose. Her work has been funded by the Robert Wood Johnson Foundation, the National Institute of Mental Health, and the Department of Population Medicine at Harvard Medical School and Harvard Pilgrim Health Care Institute.
Courses Taught
HMP 653 – Law and Public Health
Education
Ph.D., Health Policy (Evaluative Science & Statistics), Harvard University, 2016
J.D., Harvard Law School, 2006
M.P.H., Law & Public Health, Harvard School of Public Health, 2006
B.A., Women's Studies Program & Certificate in Health Policy, Duke University, 2002
Selected Publications
Yang TY, Larochelle MR, Haffajee RL. Managing Increasing Liability Risks Related to Opioid Prescribing. Am J Med 2016; doi: http://dx.doi.org/10.1016/j.amjmed.2016.08.041.
Yang TY, Haffajee RL. Murder Liability for Prescribing Opioids: A Way Forward? Mayo Clin Proc 2016; doi: http://dx.doi.org/10.1016/j.mayocp.2016.06.018.
Haffajee RL. Preventing opioid abuse with prescription drug monitoring programs: a framework for evaluating the success of state public health laws. Hastings Law Journal 2016;67(6):1621-1694.
Haffajee RL, Jena AB, Weiner SG. Mandatory use of prescription drug monitoring programs. JAMA 2015;313(9):891-892.
Haffajee RL, Parmet WE, and Mello MM. What is a public health "emergency"? N Engl J Med 2014;371(11):986-988.
Haffajee RL, Bloche GM. The FCTC and the psychology of tobacco control. Asian J WTO Int'l Health L. & Pol'y 2010;5(1):87-113.
Haffajee RL. The potential use of joint criminal enterprise theory in prosecuting crimes of rape and sexual violence at the ICTR. Harvard J Law & Gender 2006;29(1):201-221.
Professional Affiliations
American Society of Law, Medicine & Ethics
AcademyHealth
American Health Lawyers Association
Society for Empirical Legal Studies