Faculty Profile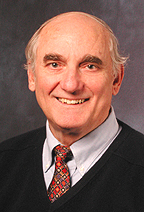 James E. Martin, PhD
Emeritus Associate Professor, Environmental Health Sciences
M6075A SPH II
1415 Washington Heights
Ann Arbor, Michigan 48109-2029
His interests include: radiqation physics; radioloical assessment; radioanalytical measurements; internal radiation dosimetry; radioactive waste management; and radiation protection standards and their regulatory aspects. He served 25 years(1956-82) with the US Public Health Service and the Environmental Protection Agency during which he directed environmental studies for nuclear weapons and nuclear faacilities; developed radiation protection standards for uranium fuel cycle facilities and radioactive wastes; developed Federal radiation guidance for medical X-rays signed by the President; and directed (1979-82) Colorado's hazardous and solid waste programs. He is Ceritifed by the American Board of Health Physics and has served in various assignments: an Advisory Committee to the Secretary of Energy for nuclear weapons safety; Chair, Michigan Toxic Substance Control Comission; three National Research Council Committees; and EPA's Science Advisory Board-Radiation Advisory Committee. Professor Martin received (1973) the Meritorious Service Award from the U.S. Public Health Service and has published numerous papers in peer-reviewed journals on radiation measurements, radioactive waste and radiation protection.
PhD, Environmental Health Sciences (Radiological Health), University of Michigan, 1965
MPH, Environmental Health Sciences (Radiological Health), University of Michigan, 1961
B.A., Physics, Vanderbilt University, 1956
Interests include optimal measurement of long-lived radionuclides in radioactive wastes and assessment of their impact on public health after disposal, neutron activation measurement techniques, landfill simulation studies of radioactive and hazardous waste forms using radiotracers; radon assessment and mitigation; and environmental assessment models and systems.
Martin, J.E. and Lee, C. (1999). The legacy and future of radioactive waste at the millennium. J Radioanalytical and Nucl Chem 155-163.
Martin, J.E., Cook. S.K. and Lee. C. (1997). Analytical methods for classifying low-level radioactive waste from nuclear power plants. Rad Protection Management 53-59.
Martin, J.E. and Fenner, F.D. (1997). Radioactivity and municipal sewerage. Public Health Reports .