Harness Technology
Tweet the Floods
Thanks to unregulated phone service, Indonesia's capital city of Jakarta accounts for a whopping 2.5 percent of the world's tweets - more than any other city.
Jakarta also tops the lists when it comes to flooding. Every year from November through March, this megacity of 9.6 million, which sits at sea level on the island of Java, is hard hit by monsoons. Years ago, this meant one or two floods annually. Today, with climate change, it means as many as seven or eight a year.
Floods also mean gridlock, evacuations, drownings and other accidents, as well as outbreaks of waterborne diseases. And - until recently - breakdowns in emergency services. For decades it took government agencies and emergency responders 30 or more hours to identify areas of heavy flooding in the city.
But now, thanks in large part to an enterprising urban planner and recent U-M research fellow named Etienne Turpin, they do it in under 30 minutes.
Soon after going to Indonesia in 2012 as a postdoctoral student, Turpin had a bright idea: why not put Jakarta's massive Twitter data to work for the public good? The result is PETAJakarta, an open-source, community-led platform that crowd-sources Twitter data to create a mapping system that pinpoints flooded areas in Jakarta. Its impact has been revolutionary.
"It's amazing how much shooting oneself in the foot there was before this," says SPH Associate Professor Laura Rozek, who with SPH colleague Marisa Eisenberg is now collaborating with Turpin to address flood-related health risks in Jakarta. "When it would flood, people would set up physical lines to pull themselves out, but emergency crews would cut lines as they went by in their boats. People would be stranded."
With Turpin and his team, Rozek and Eisenberg are exploring ways to use PETAJakarta to help prevent and reduce water contamination, disease outbreaks, and other health issues associated with flooding.
"The idea," says Eisenberg, "is to combine big data and PETAJakarta's real-time mapping with our understanding of health issues like dengue fever, cholera, emergency response, and the health risks associated with garbage - all of which play out over the rainy season. So we're looking at both immediate and long-term health planning."
Rozek says the technology they're developing has immense potential for other megacities confronting extreme weather events and other emergencies. "This is like a modern-day John Snow," she adds, referring to the 19th-century physician and father of epidemiology, who famously mapped his London neighborhood to identify the source of a cholera outbreak. "If John Snow had had Twitter, this is what he'd be doing.
---
Model Behavior
Computer modeling has changed any number of fields - engineering, urban planning, and lately public health, where scientists are increasingly using computer models both to predict and explain health-related phenomena, such as a recent spike in wild polio in certain Israeli communities.
Although Israel has been certified polio-free for decades, two years ago the country's routine monitoring of its sewage systems turned up evidence of a strain of wild polio in select communities. Joseph Eisenberg, SPH professor and chair of epidemiology, and a team of researchers are using computer models to try to explain the problem and develop interventions to minimize its chances of happening elsewhere.
Traditionally, epidemiologists and modelers have been more interested in tracking how pathogens move among human beings than in how they move through the environment, but in this case, where the environment is an obvious factor, Eisenberg and his team are using both human-to-human and environmental-transmission models. As Eisenberg notes, environmental pathogens don't need human-to-human contact to spread disease - witness the recent succession of outbreaks of norovirus on cruise ships, which have occurred without physical contact among humans.
Computer models allow Eisenberg and his group to see patterns and chart conditions that may be related to the Israeli outbreak, and to conduct both spatial and temporal analyses of high-volume genetic and environmental data. The research is important not just because it may lead to a solution to an immediate problem, but because it may also aid in global campaigns to eradicate polio and other diseases.
What If?
SPH Professor David Mendez has been using computer models for years to test the potential of new policies to lower tobacco use. As he explains, "with a computer you can accelerate time so you test policies that would take many years to test in real life." Mendez uses computer models to address such questions as "what would happen to smoking rates if menthol were removed from cigarettes?" and "what would we need to do to achieve our proposed smoking-rate targets?" Mendez says, "Sometimes it's just impossible to do these things any other way."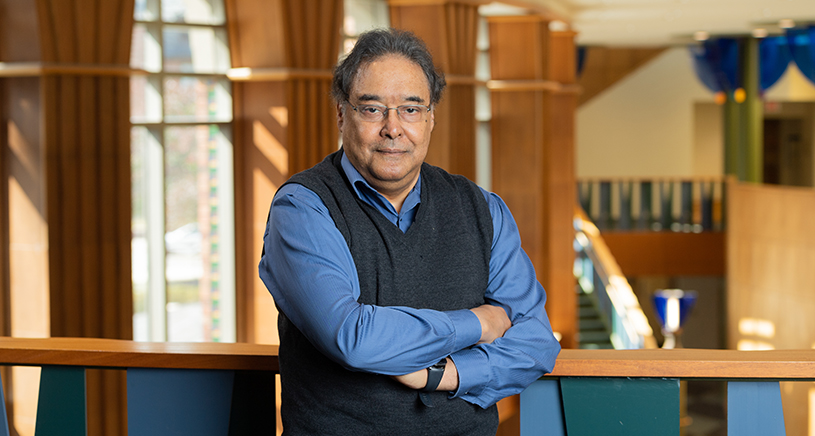 ---
Test Your Genes
Has genetic testing ever interested you, but you shied away from doing it because of the price? Well, now you can do it for free. By participating in Genes for Good, a U-M SPH - sponsored research study that uses Facebook, you can find out about your DNA - and help scientists better understand how genes cause diseases like diabetes, addiction, obesity, heart disease, macular degeneration, and psoriasis, among others.
The goal of the study, says Goncalo Abecasis, chair of the SPH biostatistics department and project director, is to get insights into the biological causes of common diseases, so that scientists can find cures and treatments and improve prevention efforts. It's the first study of its kind to take advantage of social media in this way.
"Facebook makes it easy for us to capture what is missing in traditional studies - like being able to question someone's environment, which can change daily," Abecasis notes. "It's also helpful in attracting enough people so that we can ask these interesting questions of large groups."
As a user, you first log into the study on Facebook, where you're prompted to complete Health History Surveys and Complementary Health Tracking Surveys, which chart your diet, exercise, mood, and other characteristics to see how your health changes over time. Facebook then lets you know "you have filled enough surveys to qualify for a spit kit." Within weeks, a plastic tube arrives by mail, which you spit into and mail back for analysis by the Genes for Good team. Once your DNA is extracted and genotyped, you can view and download both your genotype and ancestral history on Facebook, free of cost. The data is yours to keep.
More than 6,600 people - representing every state in America - have joined the study since it went live in January 2015. But to make the biggest advances, the researchers need tens of thousands of participants. Sign up on Facebook.
- Nora White
---
Connect Online
Daniel Eisenberg, associate professor of health management and policy at SPH and faculty associate at the Population Studies Center in the U-M Institute for Social Research, is exploring use of online video in confronting mental health issues. Two of his projects, Tinyshifts and Athletes Connected, employ brief videos as a means of engaging students and student athletes on mental health topics.
"I'm interested in large-scale, low-cost, population-level approaches to improving mental health," Eisenberg explains. "Online video seemed like a great way to reach large numbers of young people." While not a replacement for a full intervention, the videos help normalize the discussion of mental health topics, and ideally, guide individuals toward seeking more serious assistance.
- Beth Miller
---
Think of Yourself as a Boat
The name sounds like "jewel," and that's intentional, says Vic Strecher, SPH Director for Innovation and Social Entrepreneurship, professor of health behavior and health education, and founder and CEO of the new startup JOOLHealth.
JOOL was also the nickname of Strecher's daughter Julia, who died in 2010, and that connection, too, is intentional. "This is her legacy," Strecher says of the app, called JOOL, he's developing through his new company. Strecher compares JOOL to a "personal weather report," or "coach," that helps users track their health, well-being, values, and goals, with the aim of boosting energy and willpower. The app uses the metaphor of the human body as a boat, piloted by the winds of energy and a rudder of willpower.
The company's new office space in downtown Ann Arbor is a prime example of health and well-being in action. It's got a yoga room, seating and tables designed to foster collaborative work, lots of whiteboards, and a quiet room for meditation and naps. (Strecher notes that each minute of a power nap "can replace up to five times the amount of sleep deprivation.") There's even a playroom.
Strecher, who previously founded Health- Media Inc., a company later acquired by Johnson & Johnson, launched JOOLHealth last spring. It's an outgrowth of his 2013 book and app On Purpose, which recounts Strecher's journey from grief, in the aftermath of his daughter's death, to a new understanding of health.
JOOL carries that understanding to a more nuanced level, harnessing sophisticated technologies so that users can better achieve their purpose and values and deepen daily reserves of energy and willpower. Initially, the app will be tested and used by large employers, including health insurers, but Strecher hopes it will ultimately be available to the general public. "It's the first app I've ever built that I can't wait to use myself," he says.