Heart Disease in Women
Older female heart patients are a notoriously difficult patient population to help.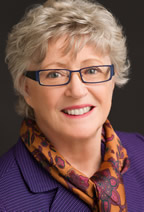 Heart disease, a leading cause of death among women, requires different management strategies for women than it does for men. Women with heart disease tend to be older, widowed, and living alone, and to report more severe symptoms and greater negative impact on their mobility and social interactions than men do. Women are also more likely to avoid physical activity. As they live longer, says Noreen Clark, the Myron E. Wegman Distinguished University Professor of Public Health and director of the University of Michigan Center for Managing Chronic Disease, women clearly need sound strategies for managing heart disease.
A new study by Clark's center shows that educational programs as a supplement to clinical care can significantly lower cardiac symptoms, aid weight loss, and increase physical activity for older female heart patients. The research suggests that if hospitals and clinicians offer specially designed group or individual programs, depending on the desired outcome, women with heart disease will need less health care and enjoy a higher quality of life.
Researchers found that different program formats produced different results, however. When the patient goal was weight loss and increased physical activity, group programs worked significantly better. But when the patient goal was to control symptoms, self-directed programs were more effective.
Clark says the study results will help clinicians treat patients more successfully. Doctors are unable to offer personal, in-depth education and counseling, and yet they know that their patients need some type of supplemental support to adhere to prescribed cardiac-care regimens. "This research suggests that if these educational programs are available, the patient will do much better," says Clark.
Proper follow-up education and support programs can result in improved quality of life and fewer hospital visits. Research that Clark's group published several years ago demonstrated that educational programming for women to help manage their heart disease resulted in 46 percent fewer in-patient hospital days and 49 percent lower in-patient costs.
To Learn More
By Laura Bailey
Send correspondence about this or any Findings article to the editor at sph.findings@umich.edu. You will be contacted if your letter is considered for publication.
Heart disease accounts for nearly 29 percent of all U.S. deaths, or nearly 700,000 people, each year; it is the leading cause of death in the U.S. and a major cause of disability
The most common form of heart disease is coronary heart disease, which can lead to heart attacks; other forms of the disease include acute rheumatic fever, chronic rheumatic heart disease, hypertensive heart disease, pulmonary heart disease, and congestive heart failure
Heart disease is the leading cause of death among women 65 years and older, the second leading cause of death among women 45 to 64, and the third leading cause of death among women 25 to 44