Meet Your Preceptor: Barbara Blum-Alexander
At FPHLP, our Preceptors are professionals who support students at their field sites, providing guidance and oversight during their field experience.
In the Meet Your Preceptor series, you will learn about some of the people who dedicate their time assisting FPHLP students with applying what they learn in the program to the field.
Meet Barbara Blum-Alexander, Director of Generation With Promise in the Office of Community Health, Equity and Wellness within the Henry Ford Health System. Generations With Promise was also recently covered in the Transforming Times newsletter.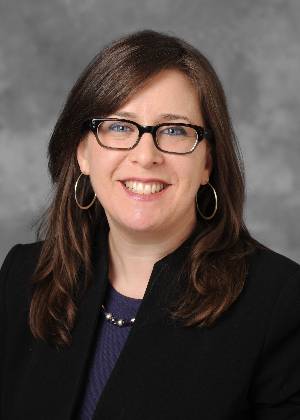 FPHLP: Can you tell us about your role at Generation With Promise?
Barbara: I am the Director of the program. I have a team of about 8 or 9 people who I work with who do a lot of the direct service, providing education and resources in the schools in the community, and I have a couple of people who are actually coordinating that work as well. As director I support the work of the team doing the day to day operations; making sure that they have all the tools that they need, that we have the funding that we need, that we do all the reporting that's required to our funders, and internally to our health system, and I represent our program both within the system and externally to community partners.
FPHLP: What advice would you give to new people entering the field today?
Barbara: I would say that it's an amazing field and there are a lot of opportunities, so if there are content areas that you may not have thought about before but they present themselves to you, keep your eyes open, and your heart open because it may end up being the best opportunity that you have.
You'll always learn new skills in every position that you have, so stay open minded. The field of Public Health is a mindset, and a skillset that can be translated to lots of different content areas. Keep that in mind. For example, when someone talks to you about nutrition, don't say "I'm not here to talk about nutrition I'm interested in HIV." Just take a look at what the endgame is. We're all trying to eliminate health disparities, and there are lots of ways to get to that goal. Keeping an open mind is important.
I don't always feel like an expert in any area that I've worked on. I work with people who are the experts. I'm not a dietician, or a health educator even, but I have people who are doing that work. I know enough about all of it to guide it. You can learn any new topic area, you can dive in, but having a broad perspective with a goal in mind is also important.
We're always collectively learning. Things change, technology changes. We know things now that we didn't always know, and that growth is going to continue. It's really important to keep evolving as a professional and to be able to work with others. A key component to Public Health practice is that you have to work with other people.
Being a good team player, a good ambassador to the work you're doing is important because you can't do it alone.
FPHLP: What has been your proudest moment as a preceptor?
Barbara: This summer. I had a chance to read some of the comments that our youth wellness ambassadors wrote to the FPHLP interns and I was so moved because they really connected with them, and they won't forget them. The FPHLP students left a real impact on them and it was so sweet. I wasn't expecting that, and I felt really happy that they were placed here and that they got to do the work that they did.
The other thing is the two interns we had this past summer have been asking me to write letters of recommendation. I am just so honored to be asked to write letters for them, and I am so happy to see where they end up.
FPHLP: What is a key strength that you bring to your role as a preceptor, and how would you advise students to play on their own strengths to further their careers?
Barbara: I create environments where my team is very empowered to work together to get things done. I'm not an authoritarian supervisor to my team, and that translates to the students. They have a lot of room and flexibility, yet there is support in place for them. I'm also pretty down to earth.
On my advice for students, I think that they should bring their full selves to their field placements. Even when their developing their plans for their fieldwork, find ways to insert who they are, and what their passions and skills are into the work, and share that with their preceptor.
If it's bringing up issues of race and ethnicity, or sexual orientation, whatever it is, bringing yourself, and your passions to the work is a strength.
FPHLP: Is there any advice you would share with students considering applying to The Future Public Health Leaders Program?
Barbara: I would say do it! It's an amazing program, an amazing opportunity. I always wish I could be there on Mondays and Fridays to see what they're learning. And on the other 3 days at the sites, there's a whole range of interesting sites. I think it's a really great launch for a career. If people aren't even sure if Public Health is the way they want to go, it's a great opportunity to find out.
Chances are though, you might find that it will be. It's such a diverse field I mean there's so many aspects to it. There's policy there's administration, there's direct service, and many other different content areas. There's business aspects to it, there's health and human service aspects to it.
I also saw how connected students were to the cohort they were a part of, so you're building a network of colleagues for the future. It's worth it.