Meet Your Preceptor: Craig VanKempen
Our Preceptors are professionals who support students at their field sites, providing guidance and oversight during their field experience.
In the Meet Your Preceptor series, you will learn about some of the people who dedicate their time assisting FPHLP students with applying what they learn in the program to the field.
Meet Craig Vankempen, Health Educator and Social Worker at the Corner Health Center.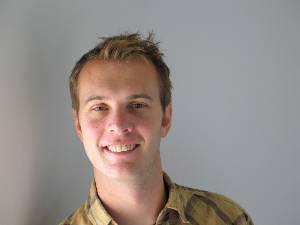 FPHLP: What is your role as a Health Educator and Social Worker?
Craig: The part that relates most to FPHLP is the Health Educator role. I am in charge of our teen peer education Theatre Troupe, so I teach young people about health topics, and then I help them go out to schools and present those topics in an entertaining and educational way. I also have a co-preceptor, Monique Selimos, who is Director of Communication & Youth Development, and she also helps with the FPHLP interns.
FPHLP: What advice would you give new people entering the field of public health today?
Craig: First of all, networking is key. As you start in a public health career, whether that is in undergrad or graduate school, really get to know your classmates and professors. I think they are some of your best resources if you run into an issue or you want to get a job later. They are definitely the people you want to stay in touch with.
The other thing is to just be aware of what is happening in the national and international scene when it comes to public health. There is some really great work being done nationally and internationally, and I think anyone who can take advantage of that has a leg up in the field of public health.
FPHLP: What has been your proudest moment as a preceptor?
Craig: This will be my third year as a preceptor. Every year, we give the FPHLPers a big project to do. Usually it is research based to help us improve our health clinic and the messages we deliver. At the end of the summer, they present their project to our whole staff, which may include our board or our leadership team. The students have always knocked it out of the park! Every time I am just so excited to watch them present and share this information and watch the staff or the board or executives lean forward and be like, "Oh, that's really interesting!" It has really helped us steer some of our initiatives, and the work they have done has just been exceptional in that realm.
FPHLP: What is a key strength you bring to your role as a preceptor/mentor? How would you advise students to utilize their own strengths to further their careers?
Craig: I would just say that one of strengths I bring is my "open door" policy and willingness to talk through any issue the FPHLPers might be having. Whether that is how to explore Ann Arbor, I am a longtime Ann Arbor/Ypsilanti resident so I know a lot of the places around, or also being willing to talk about their projects and some of the resources I have used in the past.
In terms of their strengths, it is important to know what those strengths are and how to best use them. I am a big people person, and I do not do well with just sitting in front of a computer and researching, but one of our FPHLPers this past year was the exact opposite. Research was his jam! And he really enjoyed getting all the numbers out there and organizing them in a way that was understandable and exciting. I think with figuring out where you fit into that spectrum you are also able to determine what brings you energy and joy.
FPHLP: What would you recommend to a student considering FPHLP?
Craig: Be as social as possible with the people at your site, with fellow FPHLPers and with the general community. Ann Arbor/Ypsilanti is a great place to spend a summer. Try to get as much out of it in terms of building relationships, learning about the place you are and about your particular subject. Just try to immerse yourself as much as possible!