Field Experience
2015 Global Public Health Internship Summary
57
Number of masters students in global health internships in 2015
Latin America/the Caribbean: Brazil, Chile, Columbia, Dominican Republic, Grenada, Guatemala, Mexico, and Nicaragua
Sub-saharan Africa: Ethiopia, Ghana, Kenya, Malawi, Mali, South Africa, Tanzania, Uganda, and Zambia
Europe: Belgium, Denmark, Germany, and Ireland
Middle East: Israel and Lebanon
Asia: Bangladesh, China, India, Indonesia, Mongolia, Pakistan, Samoa, and Thailand
31
Number of countries where students interned in 2015
Student Reports from 2015 Summer Internships
Sarah Bassiouni (EPID) - Malawi
Photo: Sarah Bassiouni, a SPH graduate student in Hospital and Molecular Epidemiology, conducts a direct sandwich enzyme-linked immunosorbent assay on mosquitoes infected with Plasmodium falciparum at the International Centers of Excellence for Malaria Research (ICEMR) Molecular and Genomics Core Lab in Blantyre, Malawi.
Project: "Sarah is completing her 2015 MPH internship at the International Centers of Excellence for Malaria Research (ICEMR) with the Blantyre Malaria Project (BMP) in Blantyre, Malawi. Under the mentorship of ICEMR Molecular and Genomics Core Laboratory Director and physician Dr. Karl Seydel, Sarah is using molecular barcoding techniques to study transmission patterns of Plasmodium falciparum, the major causative agent of human malaria and the one with the greatest associated mortality worldwide. Her primary project is to genetically identify individual P. falciparum parasites in infected mosquitoes, and establish the level of detection of this molecular technique for monoclonal and multiclonal P. falciparum infections. She is currently optimizing ELISA detection of a stage-specific P. falciparum protein and mastering culturing P. falciparum in vitro. Her secondary project studies how asymptomatic parasitemic humans play a role in transmission using data from cross-sectional studies. Sarah also assists ICEMR fieldwork teams with specimen collection in neighboring districts and rounds with the malaria ward medical team at Queen Elizabeth Central Hospital to see the impact of malaria in an endemic setting. Outside her internship duties, Sarah is learning the Chichewa language from the wonderful people of Malawi, delighting in local cuisine, and exploring the stunning vistas of Malawi with fellow BMPers.." For more about Sarah's internship in Malawi, see her blog.
Christine Convery (EPID) - Uganda
Photo: a focus group with new mothers to discuss safe motherhood and trust of government health workers.
Project: Christine Convery is an epidemiology student spending her summer as an intern with Progressive Health Partnership (PHP) in Mbarara, Uganda. PHP works to bridge the gap in access to care for pregnant women and mothers in the rural subcounties of Kashongi and Kitura in Western Uganda. As an intern, Christine will be working on a team to research obstetric fistula and emergency obstetric services in the community, looking for ways PHP can meet the needs of women.
Nicole Dear (EPID) - Malawi

Photo: Driving back from rural Chickwawa after a full day in the field. Pictured is Sarah Bassiouni and Nicole Dear with the cross-sectional study field team and a new addition to the team in the form of a massive sack of rice.
Project: "This summer I am working in collaboration with the Blantyre Malaria Project on an ongoing study to better understand variation in the distribution and abundance of malaria mosquito vectors (Anopheles) along the urban-rural continuum in Blantyre, Malawi. In order to do so, I am characterizing larval mosquito habitats and measuring larval abundance at household groups along transects radiating out from the center of urban Blantyre toward more rural environments. In addition, I am measuring adult Anopheles mosquito density and species distribution within selected households along this urban-rural gradient to estimate the intensity of malaria transmission and infection risk via the entomological inoculation rate (EIR). I hope to use a combination of visit-based data and remotely sensed land use/land cover data to better understand patterns of vector distribution, abundance and malaria infection risk in Blantyre."
Anna Joseph (HBHE & SW) - Dominican Republic

Photo: Anna Joseph stands in front of the Clinica de Familia La Romana in the Dominican Republic.
Project: "I am spending the summer interning at Clínica de Familia La Romana, a prominent clinic in eastern Dominican Republic that offers a range of physical and mental health services. For my first project I am creating a manual for the clinic's psychoeducational support group for youth living with HIV. This work has involved attending the groups, working closely with the facilitators to ensure the manual is appropriate for the age group and culture, reviewing current group models for youth with HIV in use throughout the world, and of course, writing the manual itself in a way that provides structure while still allowing flexibility. The second project involves implementing the final stages of a transition protocol for youth living with HIV who age-out of pediatric services and move into adult services. For this project I am currently getting to know the pediatric clinical team in order to gain insight to their daily work routine and understand how the protocol can be implemented in a simple and effective manner. I am also learning the 'ins and outs' of working in a medical setting, as well as how to coordinate and streamline multiple types of services for patients."
Dorde Petrovich (HMP) - China
Photo: Dorde Petrovich at the George Institute for Global Health in Bejing, China.
Project: "My internship is with the George Institute for Global Health and their new division – China Center for mHealth Innovation (CCmHI) in Beijing, China. My work is focused on the investigation of current mHealth research projects and commercial products in China, along with its potential challenges and opportunities. It is consisting of a qualitative research component, which involves performing systematic review of major databases for relevant information about mHealth in China and interviewing mHealth product developers, users, as well as policy makers. The ultimate goal is creating a "white paper" document available for health policy makers in China to review. Exposure to this project is providing the insight in health care infrastructure in China, beginning with users, through developers, to policy makers. Interning in George Institute is a great opportunity to work in a relaxed atmosphere, with people of various backgrounds, coming from around the world with the same objective – promoting health on a global scale."
Divya Nagpal (HMP) - Ethiopia
Photo: Divya Nagpal with project collagues in Addis Ababa, Ethiopia.
Project: "Divya Nagpal (middle, U-M M.P.H Health Management and Policy 2016) and research partner Danny Sack (right, U-M B.A. International Studies 2016) with local medical intern Kidus Mengistu (left, St. Paul's Hospital Millennium Medical College M.D.) working on translating their study from English to Amharic. The study will evaluate the effectiveness of efforts to raise awareness of family planning options for women in Addis Ababa. The survey will be administered at local primary health family planning clinics."
Anna Gottschlich (EPID) - Guatemala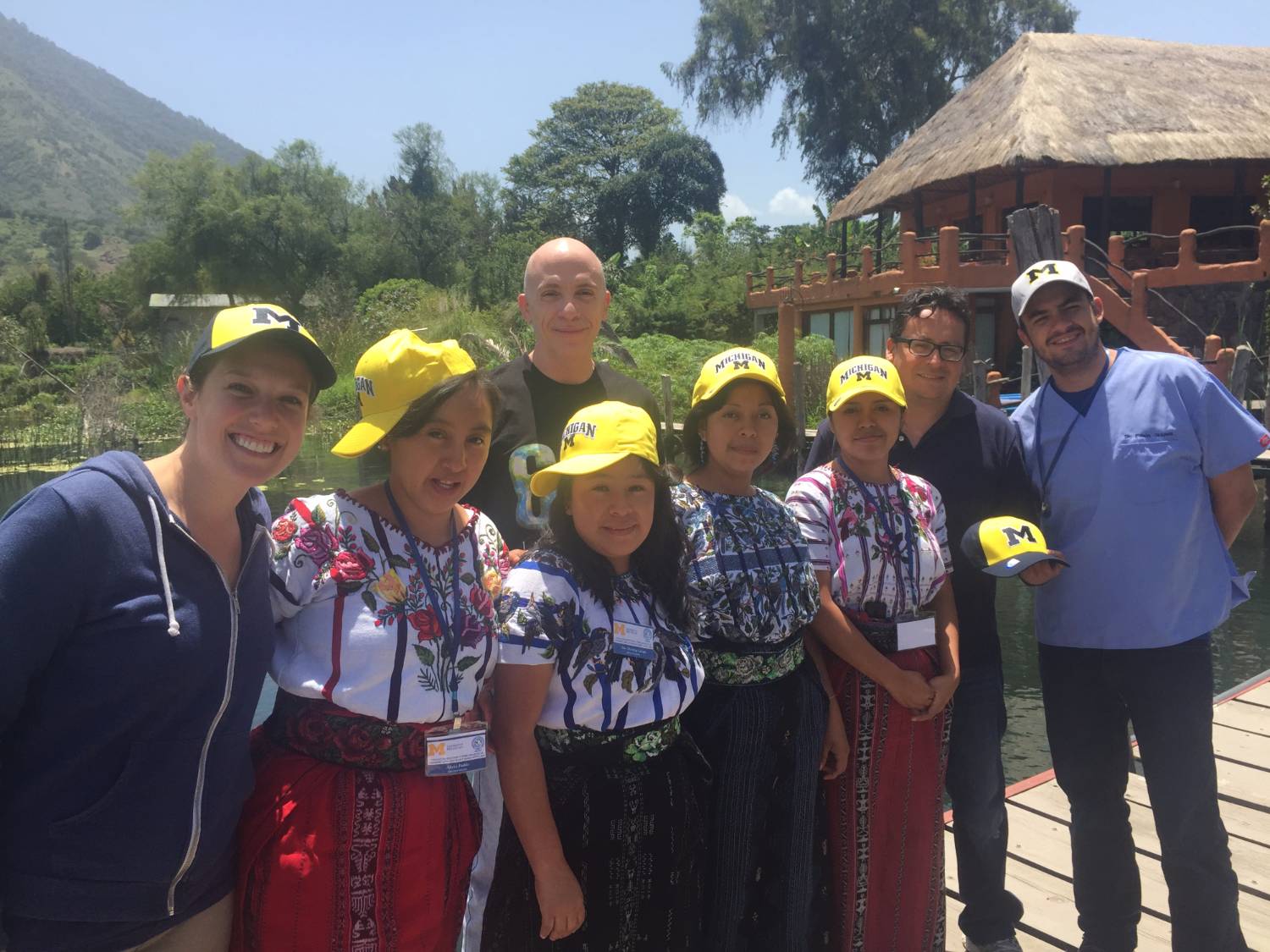 Photo: Anna Gottschlich, Professor Rafael Meza, and colleagues at INCAN, the main cancer hospital in Guatemala City.
Project: Cervical cancer is currently one of the most common and most deadly cancer in many parts of Central and South America, including Guatemala. This is most likely due to low rates of screening (less than 40% of women in Guatemala have ever been screened for cervical cancer). At INCAN, the main cancer hospital in Guatemala City, over 30% of the patients are there due to cervical cancer, a disproportionate amount being of Mayan descent. This summer I am working on a project that will look at knowledge and prevalence of HPV and cervical cancer in a Mayan community in the Santiago Atitlan community in Guatemala. We are working with female community health workers to recruit approximately 200 women to complete a survey that assesses knowledge of and risk factors for HPV and cervical cancer, and also previous experience with screening. We are also assessing the acceptability of self-swab testing for HPV as an alternative to Pap smears or VIA for cervical cancer screening. Self-swab screening can be done in the privacy of one's home and can be performed less frequently than Pap screening or VIA, and thus could be an effective alternative. We plan to about 100 women to self-collect samples to be tested for HPV and these women will be asked about their feelings towards self-testing in the survey. The samples will be tested in a lab in Guatemala to assess HPV prevalence and the HPV genotype distribution in the community. We will also be returning these results to the women along with recommendations for further care. We hope that this research can help to inform a new screening protocol and eventually reduce the rates of incidence and mortality due to cervical cancer in Guatemala.
Julee Campbell (EPID) - Tanzania
Photo: Julee Campbell among the stacks of patient medical records at the Ocean Road Cancer Institute, Dar Es Salaam, Tanzania
Project: The Ocean Road Cancer Institute (ORCI) in Dar es Salaam, Tanzania is the main cancer treatment center for the entire country. In addition to many clinics, wards and treatment centers, ORCI houses patient medical records from the current year back to 2002. My internship focuses on retrospective medical record abstraction of individuals diagnosed with non-AIDS-defining cancers, specifically lung, liver, and head and neck malignancies. Through the collection of demographics and other variables I hope to discover patterns of health characteristics among these cancer patients within the Tanzanian population. Additionally, I hope to detect a trend in proportions of these malignancies both over time and in comparison to all cancers diagnosed and treated at ORCI. HIV status, whether positive, negative or unrecorded is a variable of special interest throughout this project. It is my goal to gain a better understanding of how this disease and its treatment are related to non-AIDS-defining cancers in this population as well as patient health outcomes
Dan Frechtling (EPID) - Mali
Photo: Two citizens of Dioro, Mali, pose with Dan Frechtling during a break from his collection of GPS information. From L-R, Dan, Sekou Tidiani Konate, and Mamary Konate.
Project: For eleven weeks Dan investigated the relationship between land cover (crops and trees), environmental factors, mosquito density, and malaria infection in a town in southern Mali as part of the International Centers for Excellence in Malaria Research (ICEMR) West Africa. He performed computer analyses of data using SAS and GIS software from the ICEMR labs in Bamako, looking for associations in the data. For field work, he visited the town of Dangassa three times to take GPS coordinates of crops and trees, as well as to witness the work of entomology and human subjects collections teams that collected data in the town. In addition to the fascinating work, Dan got to explore the rich musical, religious, and linguistic traditions of Mali and its people.
Karla Luketic (EHS) - Indonesia
Photo: Local woman (r) responsible for performing dengue inspections examining a neighbor's pot of standing water for mosquito larvae while being observed by the home's housekeeper (c) and a translator for the dengue research project (l)
Project: Dengue fever is a mosquito-borne virus which in some people can cause fever, severe pain, and in a small number of cases, life-threatening dengue hemorrhagic fever. Found in tropical regions, one area in particular which experiences regular occurrence of dengue is Jakarta, Indonesia. Despite being home to approximately thirty million people, however, very little research on dengue has been performed in Jakarta and the metropolitan area around it. Through both archive searches and speaking with local residents I learned that even basic local information on the disease was difficult to find, and with the rapidly-changing nature of the urban area around Jakarta, the few studies which have been performed may be too old to be presumed reliable. I therefore focused on gathering information which could be used to help guide and provide a head start to those at the University of Michigan interested in setting up future research efforts. I spoke with local public health officers to identify the structure of dengue prevention efforts and case reporting procedures, met with professors at the University of Indonesia who are interested in conducting dengue research, and gained insight into the influence of Indonesian culture on both dengue control programs and the research process. One possible direction for future research is in comparing patterns of seasonal flooding with dengue case distribution in order to identify whether it might be possible to predict the probable location of outbreaks before they happen.
Sophie Tessema (HBHE) - Ethiopia
Photo: Here I am photographed in the Gynecology and Obstetrics office with a few of the consultants I had the pleasure to work with this summer at St. Paul's Hospital Millennium Medical College (SPHMMC) located in Addis Ababa Ethiopia. My internship experience was an independent research project through the Center for International Reproductive Health Training (CIRHT) at the University of Michigan.
I secured IRB approval for my project both at the University of Michigan and at SPHMMC and conducted a focused literature review on family planning and abortion in the context of Ethiopia. I then conducted 24 in-depth interviews with attending physicians (who are locally known as consultants), residents, interns and medical students to elicit responses regarding knowledge, attitudes and behaviors surrounding family planning and abortion. I also had the opportunity to shadow the clinicians in morning rounds and labor and delivery wards to see their practice and working conditions. I am now coding and analyzing the data I collected with the help of mentors in hopes of identifying gaps in knowledge and barriers in access to care that can improve physician practice in the areas of family planning and abortion."