New Faculty Interview: Dr. Paul Fleming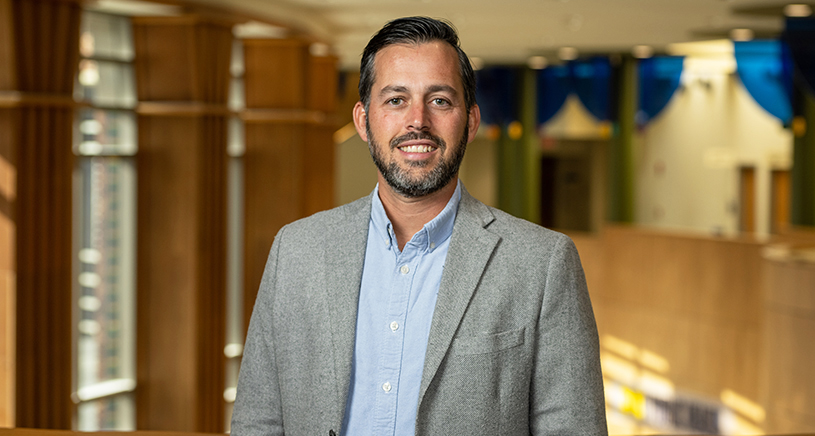 HBHE welcomed Paul Fleming to the Faculty as an Assistant Professor this year. Find out a little more about Paul in the interview below. We are excited to have him as a member of our faculty!
What were you up to before coming to Michigan, and what drew you to UM-HBHE?
I was completing a postdoctoral fellowship at the Center for Gender Equity and Health at UC-San Diego. I really wanted to work in a School of Public Health in a department with a strong emphasis on community engagement and addressing health inequities, I felt Michigan's HBHE was a great fit for my training, experience, and research. I am also originally from the Chicago area so it is good to be back in the Midwest!
What are your research interests?
Developing and evaluating interventions related to HIV, violence, and family planning. I am currently involved in global health work in South Africa, Kenya, and West Africa and am hoping to start up local projects as well.
What courses are you teaching?
This semester I am teaching the Program Planning course (HBHE 651). In the fall I will likely be teaching a new course on gender and health.
What is your favorite thing about UM so far?
I love that it is a big university with so many great programs and departments. That brings a lot of perspectives to the table and facilitates interdisciplinary learning. I love everything Ann Arbor has to offer!
What inspired you to go into public health?
As a Peace Corps volunteer, I loved working alongside community members to do health promotion work, which is what inspired me to pursue public health. Public health offers the opportunity to learn approaches and concrete tools to help improve the health and well being of communities.
Do you have any pets?
I have a chocolate Lab named Toby.
Do you have any kids?
My son Theo is 16 months old.
What do you like to do in your free time?
Going on long runs, walks with the family, biking, and exploring Ann Arbor are some of my favorite things to do. The Ann Arbor public library is a great place to check out because it has great programs for kids and you can borrow just about anything from there! I borrowed a backyard badminton set and a metal detector when my nephew was visiting, It's a great resource in the community!