Nutritional Sciences Alumni Newsletter: Fall 2017

Welcome from the Chair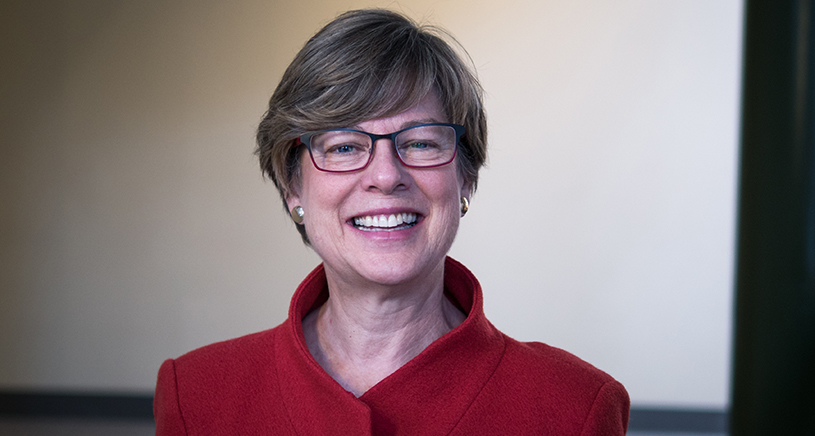 As we begin our 3rd year as the Department of Nutritional Sciences we have much to celebrate! Student growth continues with current numbers at 109 students, when all programs are combined. This represents a growth rate of 60% since our inception 2 years ago and easily surpasses our goals. In addition, we just launched the new BSPH program here at SPH! We welcome these eager Juniors and Seniors and hope to convert them to nutrition and dietetics professionals.
In order to keep up with the continued student growth, we recently hired two new faculty members. Dr. Cindy Leung, ScD, MPH joins us as an Assistant Professor from the University of California, San Francisco and Dr. Edward Ruiz-Narvaez, ScD, Associate Professor joins us from Boston University. Dr. Leung's is a nutrition epidemiology, whose research focuses on diet and health disparities in vulnerable populations. Dr. Ruiz-Narvaez, while also studying health disparities, researches the gene-environment interactions in human diseases as well.
In this addition of Food 4 Thought, we will connect Dr. William Chey's (NS Joint Faculty with UM Medical School) work on IBS and other gastrointestinal disorders with the growing hot topic of the low FODMAP diet. We'll also lay out some key departmental facts and figures and keep you up to date with announcements and events.
As part of our efforts to strengthen the Department's alumni base and further connections, we are hosting the 1st Alumni Meet Up event in conjunction with FNCE being held in Chicago this year. If you are there and able, please join us. Additional information can be found in the Announcements/Events section. Other strategies we have recently rolled out include a week job posting listserve, increased activity of alums in job panels, and the pursuit of a continuing education opportunity for alums.
If you have suggestions about how you'd like to stay connected with the Department of Nutritional Sciences, with each other, or with current students, please contact us: nutrition@umich.edu. Please join the U-M SPH Department of Nutritional Sciences group on LinkedIn as well!
Yours in good health,
Karen Peterson, Sc.D
Professor and Chair
Department of Nutritional Sciences
University of Michigan School of Public Health
Links
---
Announcements & Events
October 20, 2017 3rd Annual NS MPH Internship Poster Session
This important event allows 39 MPH students to showcase their summer internships in a professional environment. This will be held from 10 am – 12 pm in SPH I room 3755. Refreshments will be provided. We hope you can attend!
October 23, 2017 Alumni Meet-Up event in Chicago
FNCE is in Chicago this year and we plan to be there! Join us for a reception and meet up event Monday evening from 6-8pm at Swisshotel. You should have received a Paperless Post invitation. Hope to see you there!
Ongoing SPH Alumni Receptions
Connect with fellow alumni in your community and hear from top Michigan Public Health faculty:
Atlanta, GA on Monday, November 6, 2017 Registration is now open!
Boston, MA on Tuesday, November 14, 2017 Registration is now open!
For more events, please visit: https://sph.umich.edu/alumni/events.html
---
What to Expect in 2018
January 5, 2018 Dietetic Internship conference
Held every year, this conference allows our dietetic interns the experience of planning and implementing a conference, while providing our RD community and alums with continuing education credits on a topic of their choosing. If you'd like additional details, please email Sarah Ball, Assistant Dietetic Internship Director at sjcball@umich.edu.
September 28-30, 2018 FOOD: The Main Course to Digestive Health conference
The Department of Nutritional Sciences has partnered with the Michigan Medicine Digestive Disorders Nutrition and Lifestyle Program to deliver the 3rd annual Food: The Main Course to Digestive Health conference. This is the only comprehensive GI training program in the country directed at and delivered to Registered Dietitians looking to increase their competency and skills at delivering GI Medical Nutrition Therapy. Registration will be opening winter 2018.
---
Alumni Profiles--Where are they now?
Carina Signori, DO, MPH MPH 2001
Current Employer: Summit Endocrinology, Chambersburg, PA After the MPH program I went on to Michigan State College of Osteopathic Medicine. Currently, I work as an Endocrinologist and educate type 2 diabetics on how to lose weight and reduce their carbohydrate intake.
Adrienne Davenport, MPH, RDN MPH 2006
Current Employer: Michigan Department of Education, School Nutrition Programs I manage a grant program that aims to improve access to fresh fruits and vegetables for high-need elementary students and also manage trainings, conferences, and school nutrition-related topics. Previously, I worked in nutrition communications for commodity and nutrition brand clients. I'm always interested in new opportunities or collaborations and enjoy working with current and past UM SPH students.
Rana Mosli PhD 2015
Current Employer: Faculty of Applied Medical Sciences, King Abdulaziz University, Jeddah, Saudi Arabia As an Assistant Professor in the Clinical Nutrition Department, my job involves teaching courses including Nutrition During Life Cycle and Research Methods in Health Sciences, in addition to supervising students' research for graduation projects and conducting own research involving; associations of family and home environment characteristics with childhood obesity in the kingdom, eating behaviors among preschoolers.
Samantha Cabala, MPH, RD MPH 2015
Current Employer: West Michigan Cancer Center, Kalamazoo, MI I provide nutrition support to patients and their families regarding unintentional weight loss related to their diagnosis and/or treatment, nutrition-related side effects of treatment, weight management counseling following treatment, etc.
Julia Slesinski, MPH, RDN MPH 2016
Current Employer: Muskegon County WIC, Muskegon, MI As a Community Nutrition Counselor, I conduct nutrition assessments on all WIC participants as well as further in-depth dietitian appointments with high-risk clients, and handle formula change requests.
Jillian Shotwell, MPH MPH 2016
Current Employer: Northwell Health As Senior Research Coordinator, I direct two different research projects - one working with a prevention-focused home based primary care program for the frail elderly, and another on increasing communication of opioid risk to patients in the emergency room.
---
Faculty Profile--William D. Chey, MD, FACG, AGAF, FACP, RFF
Hot Topics: IBS and the low FODMAP diet
Dr. William Chey has served as faculty at Michigan Medicine since completing a fellowship in Gastroenterology (GI) in 1993. He joined the Department of Nutritional Sciences as a joint faculty member in 2015. He co-founded and currently serves as the Medical Director of the Michigan Bowel Control Program, a multi-disciplinary program that provides state-of-the-art care to patients with chronic constipation and fecal incontinence, and he serves as the director of the GI Physiology Laboratory, one of only a few comprehensive GI Physiology laboratories in the Midwest.
In addition, Dr. Chey has authored more than 300 manuscripts, reviews and book chapters. His primary interests involve human research addressing the diagnosis and treatment of functional GI disorders, predominately irritable bowel syndrome (IBS). IBS patients frequently experience abdominal pain and altered bowel habits (either diarrhea or constipation), often negatively impacting their quality of life. While the exact cause is unknown, it is currently estimated that IBS affects between 25-45 million people in the US, alone.
It has long been known that the vast majority of IBS patients associate their symptoms with eating a meal. Despite this, until recently, there have been few evidence-based dietary solutions for IBS patients. Dr. Chey's research team is actively filling this void by focusing their efforts on the role of diet and behavioral interventions for IBS.
Recently, Dr. Chey's team published the first randomized, controlled trial from the US which demonstrated the benefits of the low FODMAP (Fermentable Oligosaccharides, Disaccharides, Monosaccharides and Polyols) diet for improved symptoms and quality of life in IBS patients. Additional studies involving the low FODMAP diet as well as kiwi for chronic constipation and A2 milk (real milk that is easy to digest without the a1 protein) for meal-related upper GI symptoms are being planned.
FODMAPs are a collection of short chain carbohydrates and sugar alcohols that rapidly ferment in the gut, causing IBS symptoms in susceptible individuals. Originally described by researchers at Monash University in Australia, the low FODMAP diet appears to be the most effective dietary therapy for IBS and up until recently had not been tested in a US population.
Dr. Chey first introduced the low-FODMAP diet to Michigan Medicine Food and Nutrition Services and Division of Gastroenterology in 2008. This diet and creation of expert GI dietitians has transformed the care of patients with irritable bowel syndrome. Michigan Medicine is now recognized nationally as an expert center in GI nutrition.
Building on that, Dr. Chey is most proud of founding the Digestive Disorders Nutrition & Lifestyle Program (DDNLP). This integrative program takes a holistic approach to the care of patients with digestive disorders and has service, education, research, and commercial missions. Dr. Chey, in collaboration with the Department of Nutritional Sciences, was the driving force behind the creation of an educational program for dietitians interested in the nutrition management of GI disorders: FOOD: The Main Course to Digestive Health. Dr. Chey's ultimate vision for the DDNLP includes a new space to serve the program's missions including, a state of the art demonstration kitchen, hands-on teaching facility, and a FODMAP analysis laboratory.
Dr. Chey is also a medical innovator who holds four patents. His inventions focus on providing solutions for unmet needs in the care delivery model. In collaboration with Cedars Sinai, UCLA and the Center for Health Communications Research at UM, he co-developed a novel eHealth platform called My GI Health. This electronic tool allows for enhanced and streamlined gathering of patient information, creation of a history of present illness which can be shared with a health care provider, and provision of tailored, high quality medical education. On the drawing board and the subject of another patent is a digital tool called My Nutrition Health, which will help patients better understand the relationship between what they eat and their GI symptoms and will offer evidence-based dietary solutions. Dr. Chey has created a low FODMAP website utilizing education assets created as part of this project. He is also co-creator of a TED Ed animation which addresses why gluten can cause GI symptoms.
IBS References:
Canavan C, West J, and Card T. The epidemiology of irritable bowel syndrome. Clinical Epidemiology 2014:6, 71-80.
About IBS. International Foundation for Functional Gastrointestinal Disorders.
The FODMAP Friendly Food Program. http://fodmapfriendly.com/
The A2 milk company. https://a2milk.com/
---
MPH Internship Poster Session
Over the past summer, 45 MPH internships were secured by Nutritional Sciences students. A total of 36 students completed their requirements in Michigan, five others explored the USA from coast-to-coast, while four more students engaged in global public health internships. As you can expect, student positions expanded the nutritional spectrum from a local organic farm to a hospital setting, from a senior center to public policy work, from Michigan Dining to research institute, plus many more.
On Friday, October 20 from 10:00 a.m. to noon, the second-year students will be showcasing their internships through NUTR 600 Poster Session in room 3755 SPH I. We ask you to join us as we celebrate their accomplishments and learn about their experiences. For more information, please contact Carole Durgy, MPH Internship Coordinator at beckca@umich.edu.
---
Facts & Figures
Currently...
• we have 109 students
• we have 35 faculty members
13 core
14 joint
5 lecturers (two new RD's with practical experience)
3 adjunct
• we offer 38 courses, including 2 new courses:
Obesity: From Cells to Society – Designed for our new undergraduate program, this course provides a comprehensive introduction to obesity. Through collaboratory instruction, this course approach's the topic of obesity from biological, behavioral, and social science perspectives, providing students from diverse backgrounds fundamental knowledge and insight into current scientific questions and debates.
Nutrigenomics - This course aims to understand, in depth, the influence of genetics on micronutrient metabolism, and implications for human diseases including inherited inborn disease, metabolic disease, cancer, neurodevelopment, and neurodegenerative diseases, etc.
• we have leadership in 3 research centers
Children's Environmental Health and Disease Prevention Center
Momentum Center
Michigan Nutrition Obesity Research Center
• Faculty research strengths encompass...
Biosocial and early-life environmental exposures and their impact on metabolism, growth, and the epigenome
Social and behavioral determinants of youth obesity emphasizing the familial influence, socio-economic stressors, and disordered eating behaviors
Global health work, specifically in agriculture, malnutrition, food security, sustainable food systems, and nutritional epidemiology
Impact of obesity on metabolic regulation and disease
Role of metals in human health and disease
---
To find out more about what makes our program stand apart from others, watch our video. Also, please join our new LinkedIn group, U-M SPH Department of Nutritional Sciences.
If you are a current RD/RDN and have an interest in becoming a Preceptor for one of our U-M SPH Dietetic Interns, either locally or nationally, please contact Theresa Han-Markey, Dietetic Internship Director at hanmark@umich.edu.