Michigan Public Health alumna dedicates life to impacting 'lives, health, safety of all our residents'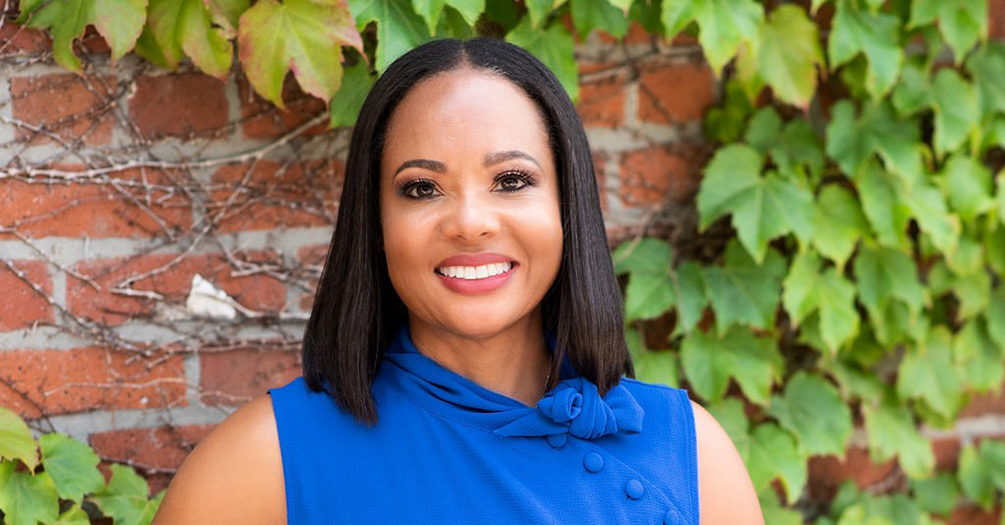 Mysheika Roberts, MPH '94
Health Behavior and Health Education
When basketball superstar and Michigan native Earvin "Magic" Johnson of the Los Angeles Lakers announced in 1991 that he was HIV positive, not only did the news shock the world but it had a profound effect on the career path of Dr. Mysheika Roberts, MPH '94.
Up until that point, Roberts only knew she wanted to follow in her father's footsteps and become a doctor.
"That was a defining moment for me as a student, an LA resident and lifelong Lakers fan," said Roberts, who earned her Master of Public Health in Health Behavior and Health Education from the University of Michigan School of Public Health. "It ignited my passion and changed the path of my medical career to public health."
Today, Roberts is the Columbus Public Health commissioner. She leads the organization and a team of more than 500 public health professionals who are focused on neighborhood-based approaches that address the social determinants of health from safe, affordable housing and education to jobs and violent crime to help eliminate the health disparities that exist.
Roberts' prolific career spans 20 years with a public health background at the local, state and national levels. Prior to her appointment as health commissioner in December 2017, she was the medical director and assistant health commissioner at Columbus Public Health. She also built a solid foundation in public health early in her career by investigating outbreaks in Ohio for the Centers for Disease Control and Prevention and leading an STD clinic and hepatitis prevention efforts at the Baltimore City Health Department.
She also serves her community in various capacities, acting as the chair elect of the Big Cities Health Coalition and a member of the Lifeline of Ohio Minority Advisory Group, and OhioHealth's Faith, Culture and Community Benefit Committee. She is also a mentor in OhioHealth's Physician Diversity Scholars Program.
She earned her MD from the University of Maryland School of Medicine and a bachelor's degree in psychology from the University of California, Berkely.
Call to healthcare in her blood
Growing up in Los Angeles, Roberts' father was a physician with a large, private practice and her mother was a school nurse—the call to work in healthcare was in her blood.
"From the time I was a young candy striper, I always knew that I wanted to be a doctor—but I saw that my dad worked hard 24/7 serving his patients," she said.
As a teenager, I realized that I wanted to be a doctor in a different medical area of emphasis so that I could have both a successful medical career and a life outside of my practice."
Outside of her work in public health, Roberts' mental and physical health are a priority.
"While I work to improve the health of the community, I also have gotten into my own personal fitness in the last eight years," she said. "First, I started running 5Ks—I loved it and my passion for personal fitness grew from there. I now run, do CrossFit and HIIT (high-intensity interval training), and I love how I feel in my own skin. Personal fitness is now a part of my daily life. I get up every day before 6 a.m. to exercise before work."
In addition to fitness, Roberts also loves to travel and have new experiences, which has largely been on hold the last few years.
"I really look forward to getting back to that," she said. "I also enjoy interior design—I am hooked on HGTV!"
Michigan a 'natural fit for me'
Roberts chose to attend Michigan for a couple of reasons, one practical and the other personal.
The institution is one of the top schools of public health in the nation, which was a big draw for Roberts. Her father graduated from the University of Michigan Medical School.
"I was a legacy student, so it was a natural fit for me," said Roberts, who cited her most influential Michigan Public Health faculty members Linda Chatters and Harold "Woody" Neighbors both in the Department of Health Behavior and Health Education.
Not only did Michigan Public Health set Roberts on a path of success, but she made lifelong connections.
"The University of Michigan is special to me, which is something I don't say too often in Columbus for obvious reasons," she said with a laugh. "I remain friends with many of my classmates from Michigan and we've shared many important life milestones together. We have been in each others' weddings and we also still celebrate many of our birthdays together, so the bond is there and we work to stay connected."
Success in the field of public health
Roberts defined success in public health, especially as a health commissioner, as the improvements that are made to protect the health and improve the lives of all community members.
"To see this improvement, we have to provide community members with the right tools and motivate them to make those behavior changes," she said. "We also have to show them that they are their own catalyst for change. We then validate our success by measuring positive outcomes—all of which I learned at Michigan."
One challenge to working in the community is that public health continues to be misunderstood and undervalued.
"The COVID-19 pandemic put public health in the spotlight and that has helped some, but we have a long way to go in terms of ongoing challenges," Roberts said. "Public health continues to operate with an outdated infrastructure and fragmented system that makes it harder to protect the health and safety of the public."
Public health also is critically underfunded, which impedes the response to COVID-19 and other critical needs that public health will be called on to address in the future.
"Public health also has an identity crisis," she said. "People don't often see or appreciate it, but public health is always at work, whether it's making sure restaurant food is safe to eat, protecting children from vaccine preventable diseases, responding to an infectious disease outbreak, or protecting the health of mothers and their babies."
As a young woman of color, Roberts has had barriers to overcome to get to where she is today.
When I first went into medicine, I found myself constantly justifying who I was and why I was there."
"I don't know if it was because I was a woman, because I was an African American or if I simply looked too young to be a doctor," she said. "While I had to navigate the challenges all young physicians have to manage, my path also included some extra obstacles that I had to deal with in order to be effective and to be taken seriously as a physician.
"Those were challenging times, but they made me who I am today. And they brought me to my current position as the first African American health commissioner in Columbus, the 14th largest city in the country."
Impacting health at the community level is challenging and inspiring at the same time, Roberts said.
"I know each day when I get up that I have the opportunity to change the conditions that impact the lives, health and safety of all our residents," she said. "As opposed to a physician in private practice who impacts the lives of each individual patient one to one, I am granted the extraordinary blessing and opportunity to impact the health of the entire community.
"It is an honor and a challenge that I take very seriously, and I have dedicated my professional life to it."
---