Alumna's research focuses on how childhood impacts mental health, chronic disease outcomes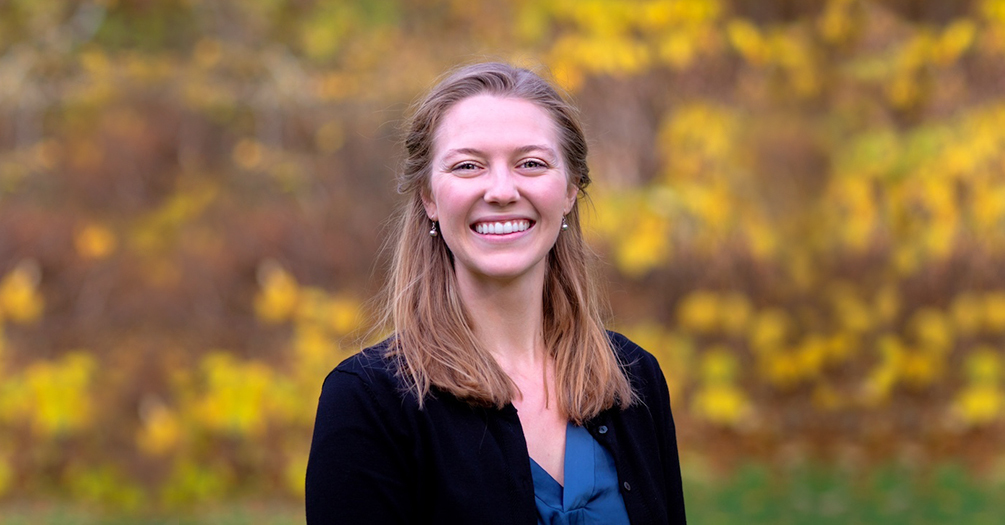 Sidonie Kilpatrick
Master of Public Health, Epidemiology
Sidonie Kilpatrick, MPH '20, did not follow a family member's path into the healthcare profession. She did not receive inspiration from a popular television series that showed healthcare workers in heroic roles, nor did her high school classes in related subjects provide the illumination that would send her on to study and work on critical matters of public health.
Instead, she lived it.
While attending the University of California San Diego, Kilpatrick volunteered at Champions for Health, a non-profit organization that addresses the unmet healthcare needs of low-income and uninsured residents of San Diego County. The work showed her not only the healthcare void these individuals had experienced previously, but also to the value of researching and studying the best pathways to efficiently meet their diverse needs.
"I was exposed to epidemiology and the critical role it plays in public health. I also was exposed to diabetes and the complexity of cases and care," Kilpatrick said. "I saw that a lot of our patients were having a lot of problems and not improving, so I was responsible to identify groups of people who had improved and those that did not and then take that information and see how we could improve and make our level of care more robust.
"The experience showed me a rewarding career path."
Kilpatrick, a native of Sacramento, California, said she saw that certain segments of the population suffer from a lack of health education often due to societal or cultural factors. She learned the importance of providing them guidance in a dignified manner.
"I was interested in finding the most impactful ways to get people the treatment they needed while also making them feel valued," Kilpatrick said.
That mission—that combination of care and concern—would ultimately lead her to graduate studies at the University of Michigan School of Public Health, where she earned a Master of Public Health in Epidemiology in 2020. Kilpatrick then went on to work as a data analyst at the Center for Clinical Management Research at the Veterans Affairs Healthcare System.
"I was drawn to Michigan Public Health because of the interdisciplinary education available there," she said. "I also liked the fact that a lot of the faculty have a big impact in the healthcare field with the research they are doing."
Kilpatrick said she also had a desire to study outside of her home state, and Michigan provided the ideal opportunity.
I wanted to expose myself to a different part of the country because I believe it is important to understand public health not just in the community you grew up in but also from a much broader perspective."
Kilpatrick found the environment at Michigan Public Health highly conducive to learning and advancement. She enjoyed participating in the research conducted by university faculty, and has stayed connected to some aspects of that work.
"I didn't see the full impact of my Michigan education until I graduated, but it is crazy how we are everywhere," she said. "There are so many Michigan people out there who are willing to reach out and help you. I didn't appreciate the reach and the extent of the connections until after I graduated."
Following her 2020 graduation, Kilpatrick spent two years at the Veterans Affairs Healthcare System working as a data analyst at the Center for Clinical Management Research. She helped conduct behavioral trials, worked on programs addressing opioid and alcohol addiction, and suicide prevention.
"For me, the most rewarding aspect of my time with the VA was being able to be exposed to a lot of research I had not been exposed to previously," Kilpatrick said. "I saw how healthcare can be very dynamic and how the research the VA does goes back into making the care they provide better."
It was rewarding to see how much the VA really does care about veterans, not just about their healthcare."
Kilpatrick, who holds a bachelor's degree in physiology and neuroscience with a minor in global health from UCSD, will move to London this fall to pursue a PhD in epidemiology. She plans to focus her research on how childhood impacts adolescent and adult mental health and chronic disease outcomes. She also plans to continue her involvement in alumni mentorships with Michigan Public Health.
"I am really excited about this next chapter," Kilpatrick said. "I learned so much from Michigan—a lot of skills that I can apply in my future career. I'm also very grateful for all of the connections that came out of my time at Michigan. I feel like I can always connect with the faculty and hopefully collaborate with them on some projects."
---