I AM FPHLP 2019: Allison Smith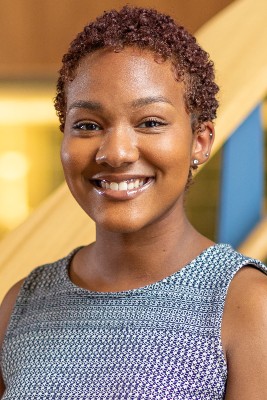 Allison Smith was part of the 2019 Michigan FPHLP cohort. She is a graduating senior majoring in Public Health from Georgia State University. Last summer Allison interned within the Maternal and Child Health Division of the Detroit Health Department. While at the Detroit Health Department, Allison focused on Communications specifically related to the Fetal and Infant Mortality Review. Within her role, she was able to connect mothers in Detroit with resources by redesigning resource sheets and many other communication tools.
Allison wanted to participate in FPHLP to learn more about her public health interests. She knew she cared about health and communication and was curious to find ways to utilize both and be impactful. Allison had never had an internship before, so she also thought of applying to FPHLP as a way to challenge herself.
Allison recalls so many highlights from participating in FPHLP. She says her biggest highlight would have to be hanging out with people she got close to over the summer. She misses the group dates to Frita Batidos and Sava's, and late-night study sessions. Allison still talks to the people she became close to. She is sure they will be friends for a very long time.
One of the most significant challenges Allison had was addressing her imposter syndrome. FPHLP lasts 10-weeks, and she spent a lot of that 10-weeks feeling like she did not deserve to be where she was – she just could not believe it. Because of her cohort members and the FPHLP staff, Allison was able to work on her self-perception and realize that the world is whatever you want it to be. You can build the life/future you want. You deserve all the great things coming your way, especially when you have worked for it.
Post-FPHLP life has been great for Allison, but she does miss UMICH. She is enjoying her senior year at Georgia State and using lessons she learned while in the program. Allison is networking and exploring full-time options for post-grad!
In the future, Allison wants to use digital media strategy to create impact and connect communities to health resources. With the skills she learned during her time in FPHLP, Allison feels more than capable of achieving that goal. FPHLP exceeded all her expectations, and it literally changed her.
Allison's advice to someone considering applying to FPHLP would be to do it! Imposter syndrome is a real thing, and it will prevent you from getting what you want out of life. You are good enough. You do deserve a seat at the table. Take a risk, put yourself out there, and watch what happens.