I AM FPHLP 2019: Amanda Oliveira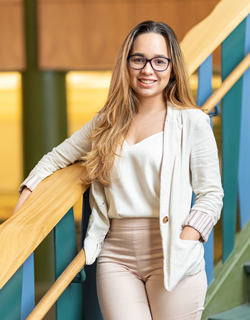 Amanda Oliveira was part of the 2019 FPHLP cohort. She is a senior at The College of New Jersey, where she is majoring in Public Health and minoring in Psychology.
Amanda decided to participate in FPHLP because she felt it would be a good opportunity to experience life in a different state, especially in a school as prestigious as the University of Michigan. Amanda also wanted to explore public health options and different career paths.
To Amanda, the most memorable part of her FPHLP experience was definitely the connections she made and the people she met. She believes that the advice she received and each interaction that she had shaped her into a better woman and was the most valuable part of FPHLP.
One of Amanda's biggest challenges was working together with individuals who had similar personalities in group work and research. However, with communication and understanding, she and her teammates were able to work together. Through these experiences, she and her teammates not only grew professionally but also as individuals, and they learned lessons that she knows she can take wherever she may end up, even if it is not public health related.
After FPHLP, Amanda will be entering her senior year and she hopes to continue making connections and get ready to find jobs as well as apply to a physician's assistant program. She also plans on using some of the skills she has learned from her field placement at the Center for Sexuality and Health Disparities to find research assistant jobs and opportunities.
Amanda is still not sure of her exact career path, however, with the connections she made and the lessons she learned, she is exploring and using her new skills to be a more competitive applicant for graduate schools and jobs.
To anyone considering applying to FPHLP, Amanda encourages them to definitely do it, no matter their major. They should apply and be open minded. Even if you don't find guidance from the public health curriculum, the connections and the interactions will teach valuable, lifelong lessons. Students will also end up with amazing friendships and will have the chance to explore Ann Arbor and Atlanta.