I AM FPHLP 2019: Amy Lochli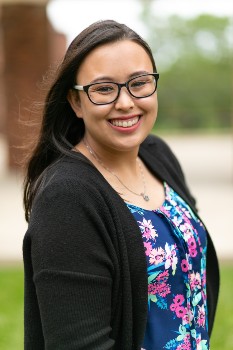 Amy Lochli was part of the 2019 Michigan FPHLP cohort. She recently graduated from the University of Minnesota-Twin Cities with her Bachelor's degree in Biology, Society, & Environment and a minor in Population Studies & Public Health. Last summer, Amy interned within the University of Michigan Institute for Social Research as a research assistant and participated in the analysis of research data from the Pacific Islander Health Study conducted by Dr. Sela Panapasa. She was able to do logistical data analysis in R-studio on factors that would influence the ability of Samoan and Tongan women in seeking mammograms screenings.
In her research, she found that about half of Samoan and Tongan women interviewed for the study had a mammogram in their lifetime and the presence of a Nurse, Physician Assistant, or Midwife had influences on if a woman had received a mammogram in their lifetime. During the placement, Amy was able to attend a research symposium and other workshops about statistical methods used to help solve data problems happening around the world. She was able to hear from researchers from the World Bank and meet with a few scholars from around the world, including someone from her home institution. Amy was really challenged in this position and really learned how tricky research can be. When conducting the data analysis, her and her placement partner worked in the Institute for Social Research building for almost 12 hours on a Saturday to finish their analysis. It was one of the most memorable experiences she had with her placement partner, and they felt so accomplished once the R code finally worked.
Amy had always been interested in public health and working towards an MPH but was having issues deciding which part of public health to explore due to the field being so broad. She thought FPHLP would help her explore various aspects of public health and give her a clear idea of what she may want to do after her undergraduate career. Additionally, the idea of being able to travel to Michigan, step out of her comfort zone, and interact with people from around the country was an opportunity that sounded exciting.
One highlight of Amy's experience was that her placement allowed her to not only better understand the hard work behind research, but it also allowed her to reflect on the communities she wants to serve and how important community members can be in moving public health forward. Amy remembers there were times in the office where she felt so inspired to serve her communities where she would look to see what organizations she could be involved in when she returned to Minnesota.
Another highlight of Amy's experience was getting to meet people from different backgrounds. Her cohort was one of the most diverse spaces she had been in coming from a predominantly White institution and state. Each cohort member had their own strengths to bring to the table that really helped Amy grow. With every interaction, Amy was able to challenge her own biases and understand that people are more like others than we think.
As a participant throughout the program, Amy thinks her biggest challenge was being ok with not knowing exactly where in public health she wanted to be. Public health is a broad field and there are so many career paths you can choose within it and many ways to get where you want to go. Even though Amy came into FPHLP with expectations of nailing down exactly where she wanted to go, Amy was left with more questions and her heart open to the many different possibilities that life could take her. Overall, the experience gave Amy confidence that she did not even realize she was lacking.
Amy graduated in May of 2020. This summer, she will be taking her passion for learning about communities and will be taking a four-day class centered around Asian health at her home institution (virtually of course) and looking for a part-time position until her AmeriCorps program starts. Amy will be working with the Recovery Corps in Minnesota looking at ways to help organizations build capacity to fight the opioid epidemic. After this program ends, Amy hopes to enter an MPH program focused on Health Promotion or Health Behavior.
Amy hopes to have her MPH completed in the future and is open to pursuing a doctorate degree. Her goal is to work for the CDC or another governmental organization, but she would also be happy working in a local or state department or even a nonprofit.
Amy's advice for someone applying to Michigan FPHLP is to be authentic. Each and everyone one applying has something unique to bring to the table—even if you may not see it. The program would not be the same if everyone came from the same background, and that is what makes this experience so exciting.
She would also say to someone who is even thinking about applying…is to apply! The worst thing that can happen is that you will not be accepted. Jobs will always be there, but to experience a summer immersed in public health, gaining valuable experiences, and going on adventures with new people is something that will never be forgotten.