I AM FPHLP 2019: Chiara DeSantis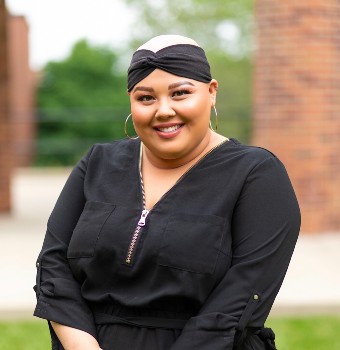 Chiara DeSantis was part of the 2019 Michigan FPHLP cohort. She graduated this March from University of Washington with her Bachelor's degree with a dual major in Public Health with a concentration of Global Health and Spanish and a minor in Diversity. Last summer, Chiara interned at the University of Michigan Division of Public Safety and Security Special Victims Unit in Ann Arbor, MI.
Chiara was recommended to apply to FPHLP by a friend from her college who was a part of the 2018 FPHLP cohort. Chiara's friend encouraged her to apply because she thought Chiara would be a good fit. FPHLP seemed like the perfect opportunity for Chiara because she was not sure what area of public health she wanted to pursue before entering the program; however, Chiara knew public health was her passion. FPHLP's holistic approach to public health enticed her the most. Not only did she have the chance to intern with a public health agency, but she also was surrounded by beautiful and bright minds in the classroom.
The highlight of Chiara's FPHLP experience was meeting individuals from all across the country! She has only lived on the West Coast and has never explored the United States. Having the opportunity to not only meet individuals from all across the country, but also create lasting friendships with them was truly a blessing for her. Whenever Chiara decides to travel in the future; whether she is dropping by Texas, New York, Michigan, and more, she knows that she will always have someone from the FPHLP family to visit!
Chiara's greatest challenge as a participant was adjusting to the surrounding area in Ann Arbor, MI. She is originally from Los Angeles, CA, but has been living in Seattle, WA for the last four years – both of which are large, metropolitan cities. When she moved to Michigan, Chiara experienced extreme culture shock and it took her awhile to feel comfortable in this new and foreign area. Through this experience, she learned just how important having a support system is. Chiara credits her cohort members for helping her to adapt to Ann Arbor and thrive during FPHLP. In the future, this experience will remind Chiara to always prioritize her relationships because she sees how they not only play a role in your personal life, but professional life as well.
In March, Chiara graduated with Honors from the University of Washington and since then has continued to work two part-time jobs. Currently, she is preparing to move back home to Los Angeles, CA where she will be a Centers for Disease Control and Prevention (CDC) Fellow through the Public Health Associates Program (PHAP). Chiara will be working on Immunizations and Vaccine Preventable Disease Investigation at the Los Angeles County Public Health Department.
After completing the program, Chiara realized that her dream job is with the Centers for Disease Control and Prevention (CDC). When she visited the CDC Headquarters in Atlanta, GA, Chiara not only felt inspired but at home. Starting in October, she will officially be a CDC Fellow for the next two years. Then her goal is to go to graduate school and earn a Master of Public Health. After that, she would love to move up in the ranks and eventually work for the CDC Office of Minority Health and Health Equity (OMHHE). Chiara wants to do as much as possible to bridge healthcare disparities that predominantly affect communities of color and believe that this is the best way she can accomplish her goal.
She wants to stress that students apply for FPHLP! FPHLP exceeded all her expectations and Chiara will continue to encourage everyone she knows to apply for it because of the impact it had on her life. Before FPHLP, Chiara did not have a clear idea of what she wanted to pursue within public health and credits the program for giving her more clarity in her direction. Chiara wants other people to have the same experience! To Chiara, FPHLP is a great tool to help people build professional and personal connections, while diving deeper into the field of public health. Because Chiara feels FPHLP is inclusive of everyone no matter who you are or where you come from, she encourages everyone to take advantage of this once in a lifetime opportunity! So apply, apply, apply!