I AM FPHLP 2019: Ethan Yau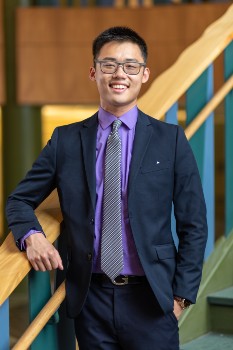 Ethan Yau was part of the 2019 FPHLP cohort. He is a Senior majoring in Interdisciplinary Studies with a concentration in Health Diversity at the University of Illinois at Urbana-Champaign. Last summer Ethan interned at the Detroit Parent Network (DPN) as a Community Health Intern. At DPN, Ethan created three public health deliverables for the Brightmoor Quality Initiative which were distributed to 50 families, reached out to over 600 DPN members with lapsed memberships for follow up, proposed ideas for membership retainment, developed a database of 150 enrollees in the Pathways to Literacy program, and utilized asset mapping to scope resources available nearby the Crowell Community Center.
Ethan's motivating factor to participate in FPHLP was the opportunity for both personal and professional growth. The opportunity to receive a holistic perspective of public health through the classroom workshops that translate into applicable knowledge when going to field placements or networking with other public health professionals. Through the endless opportunities and resources that FPHLP offers, Ethan knows that it will advance his career trajectory into becoming a public health professional.
One of the highlights of Ethan's FPHLP experience was attending the Flint Water Crisis conference and being able to stay updated on the current state of Flint, MI. Due to the lack of recent news coverage of Flint, MI, the general public assumes that the water crisis situation is fixed in Flint, MI; however, the community is still struggling to have access to clean water. Through the opportunity to interact with different public health professionals of different backgrounds, it was an eye-opening experience for Ethan to see how public health is so diverse and how they all worked together to solve the issue.
Ethan's greatest challenge as a participant was to be open-minded. There were public health topics that he had little to no knowledge on, was frustrated about, or had no interest in; however, Ethan learned that it is important to be open-minded because his personal and professional endeavors can always change. In addition, Ethan recognized that he might even find knowledge about different aspects of public health useful when working on different projects.
Over the winter break, Ethan served as a Program Development Intern for Pilot Light to support with logistical preparations for their conference held in Silicon Valley, California and assist with programming of food education in Chicago Public School classrooms. During the spring semester, Ethan has been serving as a Healthy Champaign County Intern for the Champaign-Urbana Public Health District. In this role, he is working to provide opportunities for sustainable changes in promoting healthy eating and active living to reduce obesity in Champaign county. His expected plans are to get more internship experience to learn about different aspects of public health and to pursue a Master's in Public Health.
As a result of completing the program, Ethan hopes to use the knowledge that he learned to his current internship position and his career. He also hopes to become involved in public health research because it is a dimension of public health that he has yet to explore. In terms of his future career, Ethan hopes to work with large public health corporations such as the Centers for Disease Control and Prevention or the World Health Organization to address infectious and chronic diseases.
The advice Ethan would give to someone who is considering applying and participating in FPHLP is to utilize every opportunity that is offered through the program. From faculty advising with the U of M School of Public Health to networking with different public health professionals during classroom workshops or conferences, they are resources that are accessible to you. Every little opportunity goes a long way into developing one's professionalism and personal growth!