I AM FPHLP 2019: Gabriel Cortez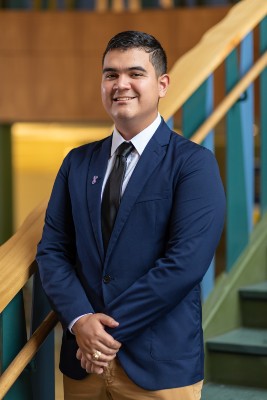 Gabriel Cortez was part of the Michigan FPHLP 2019 cohort. He graduated last December from Texas A&M University with his Bachelor's degree in Biomedical Sciences and a minor in Public Health. Last summer, he interned at the Senior Regional Collaborative in Detroit, Michigan where he was in charge of advocating for the 2020 Census through their website.
Gabriel originally heard about FPHLP through a friend who participated in the program themselves a couple years back. Just like his friend, Gabriel was unsure of what direction he wanted to pursue until he participated in FPHLP. Gabriel took a chance on applying and says FPHLP took a chance on him to give him an experience he will always remember.
The first impression Gabriel got from FPHLP was from the people. People from all over the United States and from different backgrounds that made him appreciate the program even more. Gabriel believes that this program gives minority students a chance to grow, empower, and become leaders in their own communities. Gabriel can never thank enough for the impact Kristie King, his site preceptor, has had on his life. Coming from a predominantly Latinx community, Gabriel was not educated on many of the social injustices in America. The first thing Kristie King did before Gabriel could even work was educating him on how systemic and institutionalized racism are impactful in the United States. Gabriel also will never forget the lectures, and he is very appreciative to see people come from all over the U.S. with great education to help empower the FPHLP participants.
Gabriel's greatest challenge was coming out of his comfort zone to really get to know people. Gabriel has always been somewhat frightened to try new things like getting up to go across the United States and participate in a program. He believes his greatest challenge was trying to get accustomed to a new lifestyle, a new city, and a new state. Gabriel learned that he could do it and go wherever he wants to succeed. Gabriel is grateful for FPHLP because he would have probably stayed in Texas for graduate school rather than branch out.
Gabriel went back to Texas after FPHLP and finished his last semester of college. He graduated in December of 2019 and as of March 2020 began working for a biomedical research company that focuses on cancer but right now is also working on COVID-19 projects. They are currently in the works of trying to find a vaccine. Gabriel has picked up biking and running in the hopes that he can participate in a triathlon next year. He has also found joy in cooking and living healthier.
Gabriel plans to obtain his Master's degree and join the University of Michigan School of Public health Class of 2023 in Fall of 2021. He will be obtaining a Master of Public Health in the Nutritional Sciences department. Gabriel's goal afterwards will be to obtain his PhD to show that people from his community can dream it and achieve it if they work for it.
Gabriel's advice to those considering applying to FPHLP is to just do it, take it, run away with it, and do not look back. Trips to Canada or Chicago? Do it. Weekend hang outs with the fellow FPHLPers? Do it. Let go of who you were to see who you can become? Do it. Come in, work hard, but do not forget to enjoy it while you can. You will never know that these are the good ole days until they are over.