I AM FPHLP 2019: Miles Brown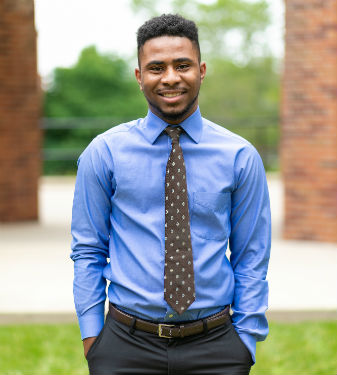 Miles Brown was part of the 2019 FPHLP Cohort. He is a Senior majoring in Public Health at the University of Cincinnati. This summer, Miles interned at the Washtenaw County Health Department. At his placement, Miles worked with the program supervisor and other staff to develop a list of survey questions for individuals who have sewage disposal systems in Washtenaw County's Operation and Maintenance Program.
Miles decided to participate in FPHLP because he wanted to get some real world experience in public health and network with healthcare professionals. Miles has many highlights from his summer participating in FPHLP, including being able to network with likeminded individuals within the public health community, working at a health department conducting a research survey, presenting his survey results in a poster presentation at the CDC, and professional development and education from the University of Michigan School of Public Health.
Some of Miles' greatest challenges as a participant involved working with others from different lifestyles and time management, working to accommodate everyone's schedules. He learned that being able to adapt to his surroundings can assist in personal and professional endeavors because it's important to know how to communicate with all types of people whether professional or casual.
Since FPHLP, Miles has become a member of the National Society of Leadership and Success, he is employed at the University of Cincinnati Medical Center, and he has a college field placement at Caracole Health Clinic. Miles hopes to continue his career in public health within the field of Oral Health Hygiene. He plans to pursue his Master's degree in Health Management in the near future.
Miles advice for anyone considering participating in FPHLP is that you deserve it! Work hard and be consistent from beginning to the end of the program. Plan out your schedule by focusing on deadlines and due dates for everything (Timesheets). Be open to new experiences and explore your true identity.