Meet Your Preceptor: Akilah Benton
At FPHLP, our Preceptors are professionals who support students at their field sites, providing guidance and oversight during their field experience.
In the Meet Your Preceptor series, you will learn about some of the people who dedicate their time assisting FPHLP students with applying what they learn in the program to the field.
Meet Akilah Benton, Community Mobilization & Research Manager at Unified.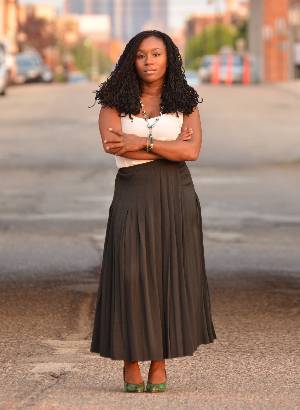 FPHLP: What is your role at Unified?
Akilah: I am the Community Mobilization & Research Manager at Unified, formerly AIDS Partnership Michigan (APM) and the HIV/AIDS Resource Center (HARC). Essentially, my role is to oversee our mobilization efforts; I oversee our condom distribution campaigns, our media campaigns, Michigan HIV/STD Hotline, StatusSexy.com, and research initiatives. We do a lot of community-based participatory research (CBPR) with the University of Michigan and SexLab. We are also trying to work with Wayne State University.
FPHLP: What advice would you give new people entering the field today?
Akilah: You definitely have to be genuine and passionate for this field. The public health field does not necessarily pay the greatest, but it is extremely gratifying to help people improve their quality of life. My key advice would be to remain humble and receptive when getting into this field because that is what will help you along the way.
FPHLP: What has been your proudest moment as a preceptor/mentor?
Akilah: It was my first time being a preceptor. I had Jenna and John who were extremely awesome! It was a great experience for me having two mentees who were both very young, eager to learn, and interested in the field. They were also really passionate about the work we do in the community. I loved how they were able to jump right in.
It was really important to me that we had an opportunity to meet before we got started, so I could learn what they wanted to gain from this experience. A great moment for me was when one of the mentees reached out to me for a letter of recommendation because she was excited to pursue a degree in public health after completing her bachelor's. It made me feel that the internship at our organization helped her to make that decision about going into public health and applying to graduate school.
FPHLP: What is the key strength you bring to your role as a preceptor/mentor, and how would you advise students to apply their own strengths to further their careers?
Akilah: I think one of the key strengths I bring is that I feel as though I am not that far removed from being in their shoes. I graduated with my MPH in 2011, and I know when I was interning in Florida and looking for employment that there were certain things I hoped to gain from that experience and from my mentor. There were a lot of great skills that I developed, but there were other things that my mentor and University fell short on. I understand how hard it is to be out here after you graduate or while you are in school looking to gain meaningful experience.
I would advise students just to be themselves. I always encourage people to have great interpersonal skills, but I think sometimes we are really hard on ourselves and hone in on some of our weaknesses, and that makes us insecure when we are working or looking for employment. I think it is good to reflect on our weakness, but everyone also has awesome strengths and there is no problem with highlighting those and really shining! Organizations need young minds to come to the table and make them better.
FPHLP: Is there any advice you would share with students considering FPHLP?
Akilah: I think the FPHLP is awesome! Students from around the country coming to the University of Michigan to gain public health skills, I have nothing but glowing things to say about it. For anyone thinking about applying, do not hesitate! There is nothing you can lose from applying. I would have loved having an opportunity to gain meaningful public health skills and also be immersed in the community, learning how community organizations work.