Meet Your Preceptor: Leon Golson
At FPHLP, our Preceptors are professionals who support students at their field sites, providing guidance and oversight during their field experience.
In the Meet Your Preceptor series, you will learn about some of the people who dedicate their time assisting FPHLP students with applying what they learn in the program to the field.
Meet Leon Golson, Director of Prevention Programs at the HIV/AIDS Resource Center (HARC)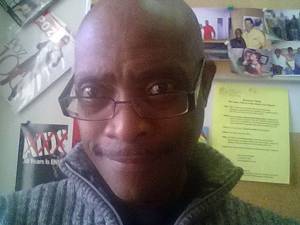 FPHLP: Can you tell us about your role at HARC?
Leon: "As Director of Prevention Programs, my role is to supervise, facilitate, evaluate, and guide all the prevention work that our agency does. That means working very closely with the prevention team, and making sure that all of our testing and outreach adverts are being done as we were trained to do them, and making sure that we are reaching our expected goals."
FPHLP: " What advice would you give to new people entering the field today?"
Leon: "The first thing that comes to mind for me is, to make sure you're ok with working with a very diverse population. Make sure you do some self-evaluation; some really personal work on yourself. Take time to do a personal inventory on how are you going to feel working with folks who may not be in line with your religious convictions, your attitudes about sex, etc. Because if they clash, or cause you to feel uncomfortable, it can be a challenge to keep that in check and still be an appropriate provider for your consumer.
That's the first piece of advice. Work on self. The next thing I would recommend is to make sure you get the latest information and education about the area you are preparing to work in. The knowledge you might now may be limited, so always look for information that is up to date."
FPHLP: What has been your proudest moment as a Preceptor?
Leon: "You all have given me so many that I can't keep up with it now! Some of my FPHLP students have pulled me aside and shared with me that their placement at HARC has really made them consider what they want to do with their careers as they move forward. It's really impacted their decisions as to where they want to go and what road they want to take with their academic journey, so that makes me feel good."
One shared that they want to come back to Michigan and work with us, so my proudest moment is knowing that we made such an impact that they would want to come back here, and work with us.
FPHLP: What do you think is a key strength that you bring to your role as a preceptor, and how would you advise students to play on their own strengths to further their careers?
Leon: "I'll answer the second part first. I would say share with your supervisors what those strengths are. I know some people struggle with sharing their strong points, because they don't want to come off as bragging. We've been told so many times in our lives "don't boast, don't be proud, don't toot your horn too loud", and that can make some people feel uncomfortable when they have to talk about their strengths. We also don't get the opportunity to practice talking to others about our strengths either, which adds to the discomfort. But share those strong points, and see if you and your preceptor can brainstorm activities that would really play to those strengths.
For the first part of the question, I think my strength that I bring to it is my open-door supervision style, I'm open to feedback from my students, and willing to work on those areas where there might need to be some improvement or tweaking so that the experience for the students is as positive as possible."
FPHLP: Is there any advice you would share with students considering applying to The Future Public Health Leaders Program?
Leon: "I'll go back to my response to the first question which is to make sure to do a self-check. Make sure that they always conduct that self-check because it is so important. Make sure you are clear on why it is you want to do what you're doing. Why do you want to learn about this branch of Public Health? What is it that you bring to the table? Those are two things that I would ask folks to consider. A third thing would be to ask how do you think what you bring will impact or change the area of public health that you want to go into?