Biostatistics Diversity, Equity and Inclusion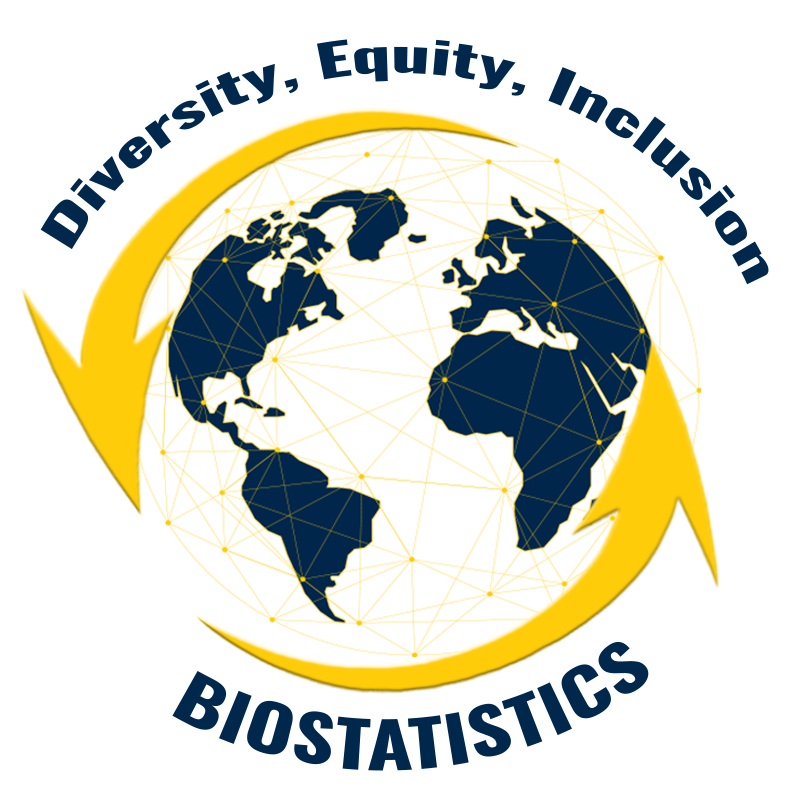 Our goal is to create and foster a diverse, inclusive, and welcoming department for students, staff and faculty with which we learn and practice diversity, equity, inclusion and respect for and with each other and in our scholarly work.
About Us
Our Biostatistics Diversity, Equity and Inclusion (DEI) Committee was established in 2017. Our departmental committee is composed of students, staff and faculty.
We host events that promote:
Inclusion and intercultural exchanges:

Lunar New Year celebration
Biostatistics Talent and Art Show

Discussion of DEI-related research topics in our Biostatistics DEI Research Seminar:

2019-2020 seminars by students and faculty were:

Measuring racial inequalities in health care outcomes: Prostate cancer in the US
Reviewing A Career's Worth of Collaborations toward Equity: the Role of the Statistician
The U.S. Decennial Census: Why it Matters, Current Issues and Prospects for 2020
Contrasting the genetic architecture underlying gene expression levels in European Americans and African Americans: An eQTL mapping study in GENOA
Admixture Mapping: African Ancestry and Pneumonia

DEI Learning and better mentoring of students

PhD Retreat
Mentoring Others Results in Excellence Faculty Workshop

Our Biostatistics Students DEI Committee was formed by students in 2020. Our student committee is working to:
Incorporate datasets that highlight health inequities into the required applied analysis classes
Increase students exposure to health inequities and the history of inequities in Biostatistics
Form an anti-racist journal club
---
Biostatistiscs DEI Resources
---
Event Recordings
Picture a Scientist Panel Discussion
September 24, 2021
Picture a Scientist is a groundbreaking documentary that chronicles the lives of three women scientists, who share their own experiences overcoming harassment and discrimination in order to create a more equitable and welcoming field. In this recording, distinguished panel members, Patricia Coleman-Burns, Heather Colohan, Reshma Jagsi and Anna Kirkland discuss the film.
---
DEI Seminar - Holly Hartman, MS
February 22, 2021
Examining Algorithmic Fairness and Why It's Important
Algorithmic bias is increasingly becoming a major issue in today's modern world. As use of big data increases, so does the potential for harmful consequences by perpetuating bias through unchecked algorithms. In this talk, I will go through several examples of algorithmic bias and the lasting impacts on inequities in our society. Then, I will describe several statistical definitions of algorithmic fairness. Lastly, I will highlight several methods that are being developed to examine, test, and correct algorithmic bias.
---
Department Town Hall: "Impact"
October 23, 2020
The ongoing pandemic has affected the world in numerous ways, but it has also underscored societal issues where we can contribute as biostatisticians and perhaps ignited our desire to do so. We met as a department to discuss how we can engage with the community around us as statisticians and contribute meaningfully as socially responsible citizens.
We were joined by outside guests Jeff Leek, PhD Johns Hopkins School of Public Health and Luke Shaefer, PhD Gerald R. Ford of Public Policy. Jeff's work with training underprivileged students in data science and employing them, Luke's work on poverty solutions in Detroit has been inspirational to many. In addition, we had had a presentation from STATCOM leadership showcasing some of their recent work.