Public Health Careers
What Can You Do with a Public Health Degree?
At the University of Michigan School of Public Health, students utilize an interdisciplinary education to pursue careers and jobs in diverse fields with the skills they need to serve communities with public health solutions that have deep and lasting impact.
Our alumni drive positive change at nonprofit organizations, hospitals, insurance companies, universities, research firms, pharmaceutical and biotech companies, and local and national government agencies. They lead and support meaningful research and public health practice conducted around the globe. They chose Michigan because, like you, they were seeking careers focused on service, compassion, and achievement.
97% of recent graduates employed or pursuing advanced degree
Alumni working in 83 countries and on every continent except Antarctica
Over 3,000 opportunities posted annually
Nearly 1,000 internship opportunities posted
Nearly 50 Employer Information Sessions arranged and promoted for students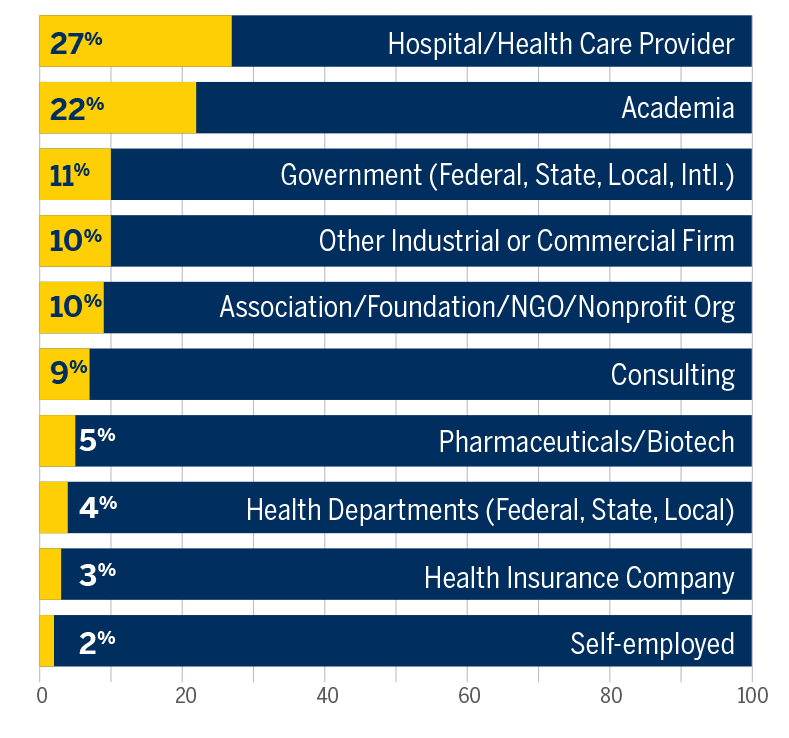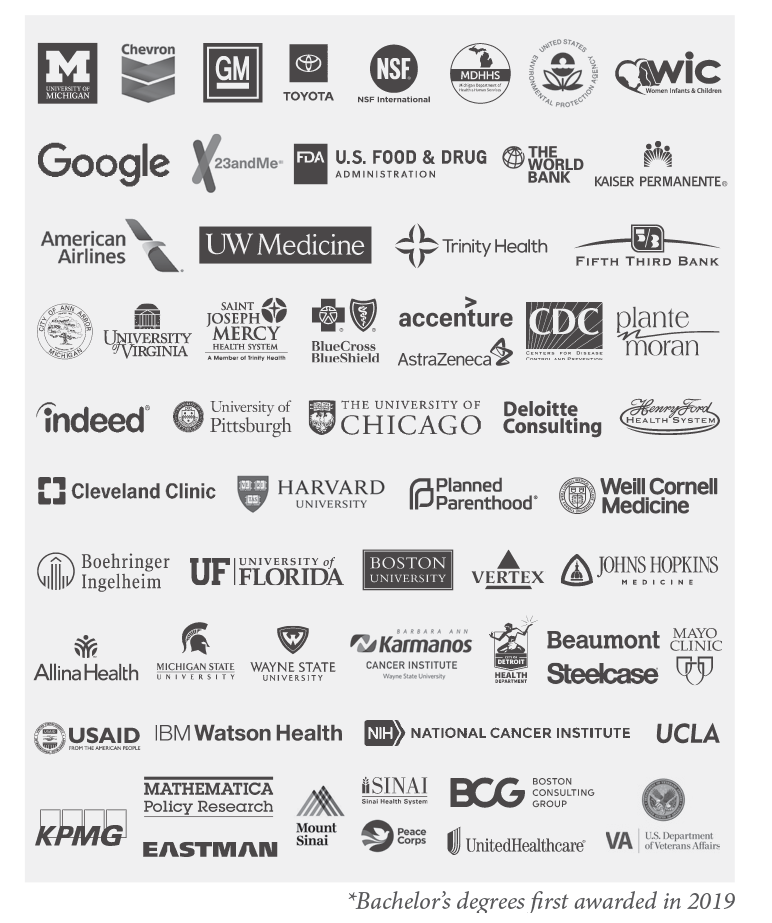 What Types of Jobs Can You Get With a Public Health Master's Degree?
Professionals with public health degrees from Michigan Public Health pursue careers as diverse as the field itself. They are at the forefront of research, practice, and service.
Hospital and Healthcare
Administrator
Health Educator
Infection Control Specialist
Nutritionist or Clinical Dietitian
Higher Education
Research Analyst
Statistician
Research Coordinator
Program Manager
Health Educator
Nutritionist or Dietitian
Staff Wellness Coordinator
Private Sector
Consultant
Data Scientist
Environmental Analyst
Biostatistician
Industrial Hygienist
Epidemiologist
Government Sector
Data Analyst
Epidemiologist
Wellness Coordinator
Environmental Quality Analyst
Tobacco Prevention Specialist
Nonprofit Sector
Organization
Foundations
Associations
Learn more about public health career paths and the employment outcomes for our recent graduates.
Employment by Sector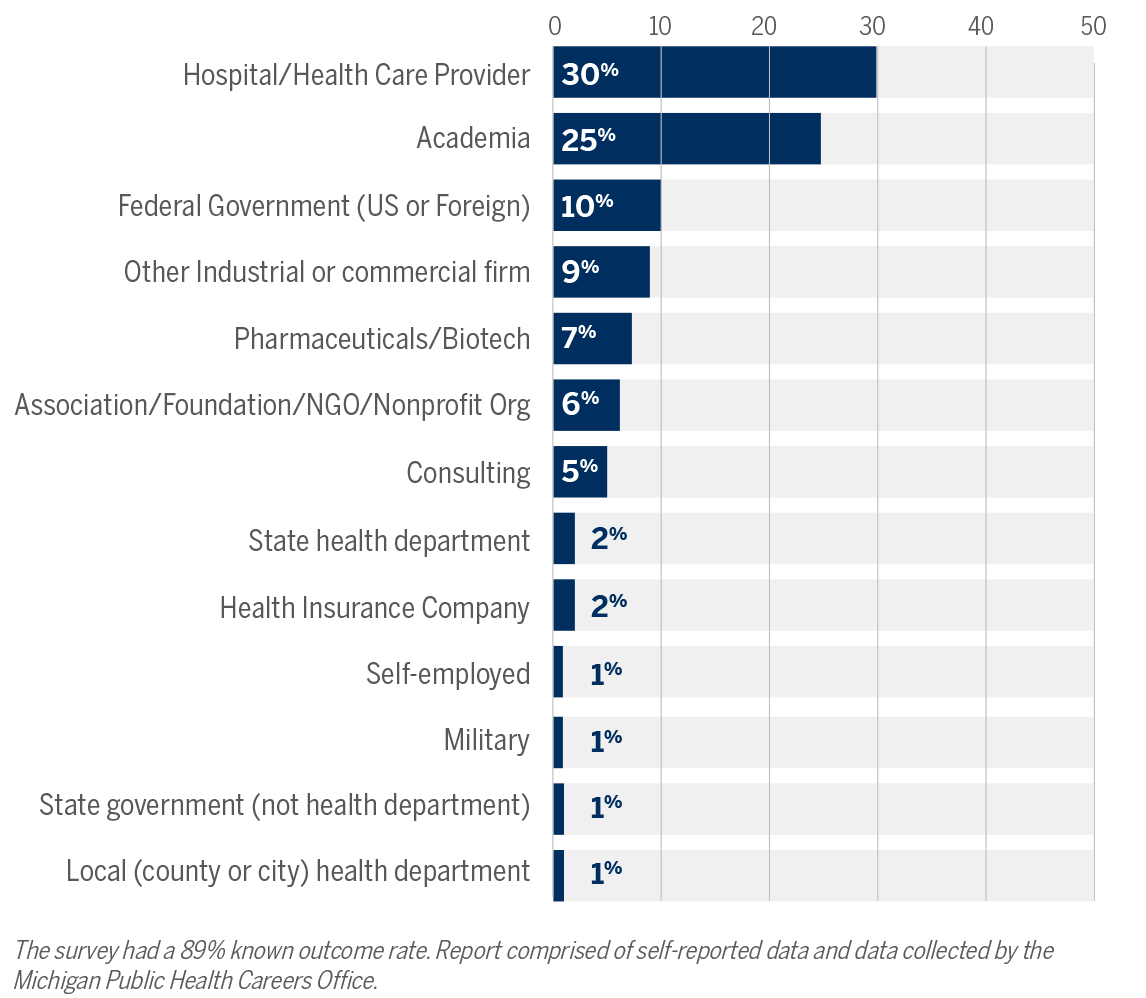 What Types of Jobs Can You Get With a Public Health Bachelor's Degree?
Chronic Disease Management Coordinator
Clinical Infectious Disease Specialist
Community Activist
Data Analyst
Disaster Preparedness Coordinator
Environmental Health Specialist
Food Service Sanitarian
Healthcare Consultant
Health Communications Specialist
Health Educator
Peace Corps Volunteer
Potential Employers
City, county, and state health departments
Federal governmental health organizations (CDC, WHO)
Health care delivery systems
Not-for-profit organizations/non-governmental organizations (Planned Parenthood, American Heart Association)
Universities and teaching hospitals
What Types of Jobs Can You Get With a Public Health Doctoral Degree?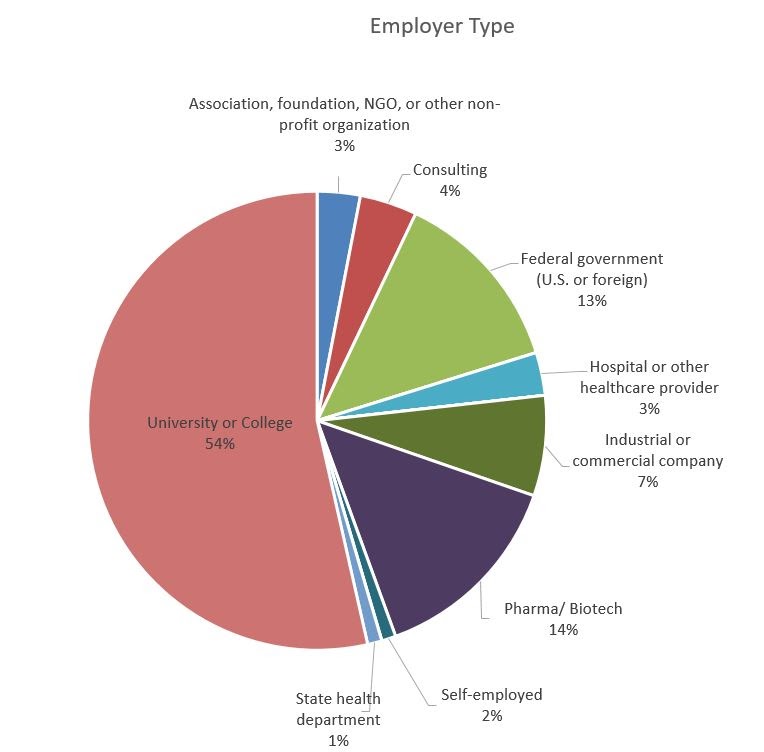 Career Support for Students
The Michigan Public Health Careers Office is available to help students serve their professional ambitions. Services include everything from guidance on resume writing and internship opportunities, to job searching strategies and employer research. Their staff is available for individual advising appointments and hosts dozens of employers each year who recruit Michigan Public Health students. Furthermore, they post thousands of job opportunities and coordinate with department staff to maximize student support and promote ongoing professional development. Public health students are supported beyond graduation and into their professional careers, as alumni have access to career resources and employment opportunities via the Michigan Public Health Careers portal.
Contact Information
Phone: 734-936-2563
Email: sph.jobs@umich.edu
Meet the Staff
Shelagh Saenz, Director [she/hers]
Shelagh has advised public health students and alumni for over a decade on the art of job seeking and on tools for enhancing professional competitiveness. She holds a master's degree in Counseling and certifications of Licensed Professional Counselor (LPC) and National Certified Counselor (NCC). Shelagh offers career assistance covering a variety of topics including building effective resumes and cover letters, networking, developing interviewing skills, negotiating opportunities, and more.
Krystle Forbes, Career Coordinator [she/hers]
Krystle works mainly with the first-year master's-level students. She advises students one-on-one and presents class workshops. Her sessions focus on professional development, successfully navigating the School of Public Health's internship requirement. She holds a master's degree in Student Affairs Administration with a focus on adult learning and career development. Krystle promotes individual reflection to identify student goals and meet internship provider needs.
Leah Askew, Administrative Assistant [she/hers]
Leah is the primary administrative support for both the Career Development Office and Public Health Practice Office. She manages email inquiries, connects students with appropriate resources, and organizes employer information sessions for fellowships. She has 9 years administrative experience and specializes in reception, programmatic support, and meeting and event coordination.
Peer Advisors
The Michigan Public Health Careers Office employs a mixture of public health and higher education graduate students. These students serve as peer advisors for students throughout the School of Public Health through direct advising, workshop facilitation, resource creation, and administrative office support.