Since the earliest days of the coronavirus pandemic, faculty at the University of Michigan School of Public Health have shared their expertise to help keep the public informed about the virus, mitigation strategies, and other related public health topics. This page is updated daily with new news articles, podcasts, and other relevant content.
---
---
LATEST COVERAGE ON CORONAVIRUS FROM MICHIGAN PUBLIC HEALTH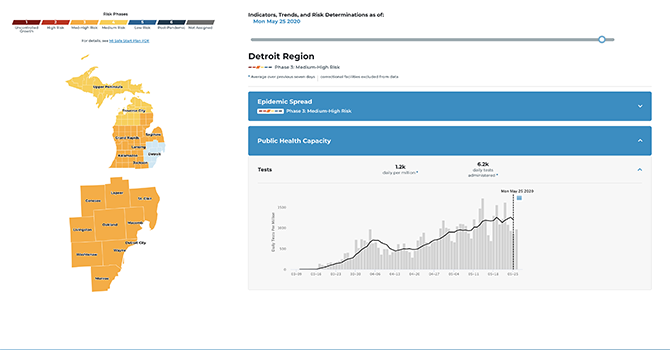 Web App, Dashboard From University of Michigan to Inform Michiganders' Return to Work
In collaboration with the University of Michigan College of Engineering and the School of Information, University of Michigan School of Public Health experts have developed online tools designed to help local and state officials reopen the economy safely while allowing them to identify, respond to potential coronavirus hot spots and outbreaks.
The tools include a COVID-19 symptom checklist web application and COVID-19 dashboard that provides real time, visualized data for officials to easily identify areas where the new coronavirus presents a higher risk, and for the public to understand the pandemic status in their community and across the state.
Returning to Work Safely During the Coronavirus Pandemic
Public health includes both protecting people from coronavirus AND getting people back to work as safely as possible. They are not mutually exclusive. Without a vaccine, we must use other layers of protection, called "stacked practices." This short animated video explains the stacked practices we all need to take as we begin returning to work, based on the research and expertise of Michigan Public Health faculty. By following these measures together, we can get back to work swiftly and safely. Without them, we'll be jeopardizing our health and our economy.
Explaining the Spread of Coronavirus with an Iceberg Analogy
The transmission of coronavirus is like an iceberg: what you can't see can hurt you. Many people infected with the disease show few or no symptoms, but as carriers, they can still infect others. This short video from the University of Michigan School of Public Health helps explain why "stay at home" and "social distancing" directives are imperative to stop the spread of coronavirus.
How Coronavirus Infections Show Up (or Don't) in a Population
There is more than meets the eye when it comes to who is infected with coronavirus and who is capable of transmitting it. Testing in China tells us that many more people exhibit mild or no symptoms than those who show symptoms. Learn more about the "continuum of infection in a population" in this short video, narrated by Dr. Sharon Kardia, professor of Epidemiology at the University of Michigan School of Public Health.
LATEST NEWS AND ANALYSIS FEATURING MICHIGAN PUBLIC HEALTH EXPERTS
Content from Michigan Public Health Experts
Epidemiology, Modeling and Data Analysis
Mental Health and Social Impact
May 29
Building a New Normal: Strategic Actions for Health Equity in a Post COVID-19 World
By Amy Schulz, Roshanak Mehdipanah, Angela Reyes, Linda Chatters, Barbara Israel, and Enrique Neblett
May 20
Surviving the Coronavirus While Black: Pandemic's Heavy Toll on African American Mental Health
Q&A with Riana Anderson
May 14
Virtual Senior Center Helps Older Adults in Detroit Connect While Social Distancing

May 12
Caring for Our Caregivers: The Unrecognized and Undervalued Family Caregiver

May 6
Coronavirus: Why Hispanics Are at Higher Risk to Suffer Health, Economic Consequences
Q&A with Paul Fleming and William Lopez.
April 27
Social Distancing 2.0: A New Normal

Q&A with Abram Wagner.
April 23
Recessions Often Improve Population Health, but COVID-19 May Be Different

Sarah Burgard and Lucie Kalousova
April 24
Matthew Boulton Appointed Member of Michigan Coronavirus Task Force on Racial Disparities

April 7
School Closures Have Long-Term Implications for Students' Health
Q&A with Julia Wolfson & Roshanak Mehdipanah.
March 31
How to Talk to Your Kids about Coronavirus
Q&A with Alison Miller.
March 30
Coronavirus: Is Social Distancing Working?
Q&A with David Hutton.
March 27
Another Housing Crisis Is Coming—And Bailouts and Eviction Freezes Won't Be Enough to Prevent Many from Losing Their Homes
Written by Roshanak Mehdipanah.
Coronavirus and Immigration: ICE Reductions Are Too Little, Too Late
Written by William Lopez and Nicole Novak.
March 24
Social Distancing and Coronavirus: What Are the Implications on Mental Health?
Q&A with Alison Miller.
March 13
Coronavirus, Kids, and School Closings: A Public Health Expert Answers 4 Questions
Written by Aubree Gordon.
Other Topics
May 27
Michigan Public Health Professor Joins Michigan Governor to Announce New Coronavirus Dashboard

May 21
New Video, Website Explain Coronavirus for Kids
May 20
Safe Labor, Industry, and Business during a Pandemic

By Aurora Le
5 Steps Employers, Employees Need to Take to Reopen Businesses
By Rick Neitzel
May 19
Stacking Protections against Disease: What Do Driving a Car and Occupational Health Have to Do with the Coronavirus?
By Aurora Le
Returning to Work Safely in Michigan and across the US
By Aurora Le
May 11
Even Before COVID-19, Many Adults Over 50 Lacked Stable Food Supply, Didn't Use Assistance

By Cindy Leung and Julia Wolfson
What US States Can Learn From COVID-19 Transition Planning in Europe
By Holly Jarman, Sarah Rozenblum, and Scott Greer
May 7
Tips and Support for Navigating the Public Health Job Market During a Pandemic

April 23
High-Risk in the Time of Coronavirus: Protecting People with Diabetes
Q&A with Gretchen Piatt.
April 6
Which Populations Are Most Vulnerable to the Coronavirus Pandemic?
Q&A with Sharon Kardia and Jon Zelner.
March 24
How to Think about Coronavirus Like a Public Health Expert
Q&A with Patricia Wren, Michigan Public Health alum and Professor and Chair, Department of Health and Human Services at the University of Michigan-Dearborn.
In the News: Michigan Public Health Experts in the Media
Epidemiology, Modeling and Data Analysis
June 3 | Vox
The race to make coronavirus testing as easy as a pregnancy test

Emily Martin quoted.
May 29 | MLive
Michigan launches web portal allowing employees, employers to track coronavirus symptoms

Sharon Kardia quoted.
May 20 | WEMU
Issues Of The Environment: Coronavirus Just One Of Many Illnesses Spread From Animals To Humans
Joseph Eisenberg featued.
May 18 | Time
There Isn't a COVID-19 Vaccine Yet. But Some Are Already Skeptical About It

Abram Wagner featured.
May 18 | New York Times
Vaccinations Fall to Alarming Rates, C.D.C. Study Shows
Matthew Boulton quoted.
May 17 | USA Today
Aftershock: If coronavirus swells in a second wave later this year, will the nation be ready?
Arnold Monto quoted.
May 13 | WDIV-TV Detroit
'Contact tracers' considered key to coronavirus battle, but what are they?

Joshua Petrie featured.
May 12 | Michigan Radio
Here's what the number of COVID-19 cases in your county really means
Neil Mehta featured.
May 11 | The Detroit News
Whitmer's health advisers: Take it slow reopening Michigan

Marisa Eisenberg featured.
May 1 | Newsweek
Recovering From COVID-19 Doesn't Necessarily Mean You're Immune—So How Would a Vaccine Work?
Aubree Gordon featured.
April 29 | USA Today
Spike in US deaths and cases flagged as pneumonia suggest even greater COVID-19 impact
Matthew Boulton quoted.
April 26 | Detroit Free Press
More testing needed for Michigan to reopen and get back to work safely, experts say
Marisa Eisenberg featured.
April 23 | Quartz India
Is there really no community transmission of coronavirus in India? Let's do some math.
Written by Rupam Bhattacharyya & Bhramar Mukherjee.
April 23 | Newsweek
Coronavirus could be here 'permanently,' says top advisor to U.K. government
Andrew Brouwer quoted.
April 21 | Michigan Radio
As state cases plateau, here's how we avoid another surge
Neil Mehta quoted.
April 19 | BBC News
Trump: Some states 'to begin a safe, gradual and phased opening'
Bhramar Mukherjee featured on television segment.
April 17 | Medical News Today
Common coronaviruses appear to be highly seasonal
Arnold Monto featured.
April 14 | Rolling Stone
When Will We See At-Home COVID-19 Testing?
Emily Martin quoted.
April 6 | BloombergQuint
Covid-19: India Must Urgently Manage Regional Contact Networks
Written by Veera Baladandayuthapani.
April 2 | The Hill
COVID-19 is occurring in clusters, making good data and resource allocation crucial
Written by Peter McCullough.
Listen: Should I Be Westing a Mask Outside?
Arnold Monto featured.
March 26 | USA Today
Fact check: Could your December cough actually have been coronavirus? Experts say more research is needed
Josh Petrie quoted.
March 26 | New York Times
What Made New York So Hospitable for Coronavirus?
Arnold Monto featured.
March 24 | The Indian Express
India might see 2,60,000 COVID-19 cases by May, says US based study
Bhramar Mukherjee featured.
March 22 | Yahoo News
As Natural Disasters Strike, a New Fear: Relief Shelters May Spread Virus
Arnold Monto quoted.
March 21 | US News and World Report
Coronavirus and the Risk to the Young
Aubree Gordon quoted.
March 17 | Detroit Free Press
What It Means to Self-Quarantine in Michigan. Advice From the Experts.
Emily Martin featured.
March 26 | CNN
Fact Check: US has done more coronavirus tests than South Korea, but not per person
Aubree Gordon quoted.
March 25 | WDIV-TV Detroit
How long will coronavirus (COVID-19) crisis last? World-renowned expert offers perspectives.
Arnold Monto featured.
March 19 | WCMU
Scientists hope more testing will help them better understand how coronavirus has spread
Emily Martin featured.
March 20 | US News and World Report
Flattening the Curve: Why Social Distancing Is Important to Combat COVID-19
Aubree Gordon quoted.
March 25 | The Guardian
Overcome by anxiety: Indians in lockdown many can ill afford
Bhramar Mukherjee featured.
March 10 | Scientific American
Why Deaths from Coronavirus Are So High in Italy
Aubree Gordon quoted.

March 6 | National Geographic
Here's How Coronavirus Spreads on a Plane—And the Safest Place to Sit
Arnold Monto featured.
Mental Health and Social Impact
---
Population Healthy Podcast Special Edition: Coronavirus Pandemic
Produced by the University of Michigan School of Public Health, Population Healthy is a podcast that digs into important public health topics that impact our everyday lives. Listen as experts come together to discuss population health issues from a variety of perspectives—from the microscopic to the macroeconomic, the social to the environmental—and to explore the factors that affect the health of all of us at a population level.
Subscribe and listen to Population Healthy on Apple Podcasts, Spotify, Google Podcasts, iHeartRadio, or wherever you listen to podcasts!
---
FOR THE MEDIA
MEDIA INQUIRIES
The University of Michigan is maintaining a full list of faculty experts who are available to respond to media inquiries.
To speak with one of our experts, contact Nardy Baeza Bickel at 616-550-4531 or nbbickel@umich.edu.
---
Want more news and trending topics in public health? Subscribe to the Population Healthy newsletter and listen to the Population Healthy podcast.
Subscribe Listen