Faculty Profile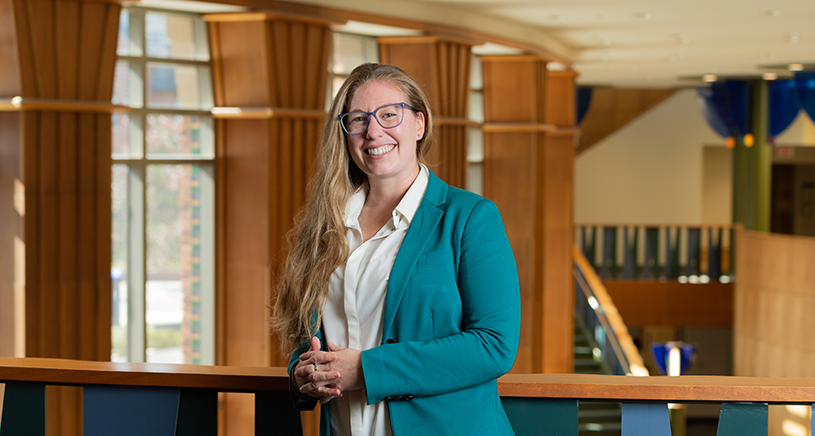 Kelly M. Bakulski, PhD
Assistant Professor of Epidemiology
M5511 SPH II
1415 Washington Heights
Ann Arbor, MI 48109-2029
Dr. Bakulski is a Research Assistant Professor at the University of Michigan. She joined the faculty in the Department of Epidemiology in 2016. As an undergraduate, Dr. Bakulski received degrees in Environmental Science as well as Molecular Biology and Biochemistry from Colby College. Dr. Bakulski then completed her PhD at the University of Michigan in the Department of Environmental Health Sciences. She next carried out a three-year postdoctoral fellowship at Johns Hopkins University in genetic and epigenetic epidemiology.

Dr. Bakulski is an environmental and genetic epidemiologist with expertise in epigenetic epidemiology. She is interested in applying these tools to understand the combined genetic and environmental etiology of neurological disorders throughout the life course. She has worked on mental health issues such as autism spectrum disorder, substance abuse, and Alzheimer's disease. Dr. Bakulski has experience with heavy metals exposure assessment, particularly biomarkers of cumulative lead exposure.

Dr. Bakulski's current research integrates and applies multiple genome-wide measures to understand disease risk. She investigates the in utero effects of environmental exposures, such as metals and one-carbon metabolites, on the newborn epigenome, transcriptome, and ultimately risk of autism spectrum disorders. In addition, she studies the interactions between multiple pollutant exposures and genetics in aging populations on the risk of cognitive decline.
Postdoctoral fellowship. Genetic Epidemiology, Johns Hopkins University, 2015
PhD Environmental Health Sciences, University of Michigan, 2012
B.A. Environmental Science, Colby College, 2007
B.A. Molecular Biology & Biochemistry, Colby College, 2007
Identifying environmental, genetic, and epigenetic risk factors for neurological disease.
Bakulski KM, Feinberg JI, Yang J, Brown S, Andrews SV, McKenney S, Witter F, Walston J, Feinberg AP, Fallin MD. 2016. DNA methylation of cord blood cell types: Applications for mixed cell birth studies. Epigenetics 11: 354-62. PMID: 27019159.
*Joubert BR, *Felix JF, *Yousefi P, *Bakulski KM, *Just AC, *Breton C, *Reese S, *Markunas C, *Richmond RC, *Xu C-J, *Kupers L, *Oh S, *Hoyo C, et al. 2016. DNA methylation in newborns and maternal smoking in pregnancy: Genome-wide consortium meta-analysis. American Journal of Human Genetics 98: 680-96.PMID: 27040690
Bakulski KM, Halladay A, Hu VW, Mill J, Fallin MD. 2016. Epigenetic Research in Neuropsychiatric Disorders: the "Tissue Issue". Current Behavioral Neuroscience Reports. doi: 10.1007/s40473-016-0083-4.
Cardenas A, Allard C, Doyon M, Houseman EA, Bakulski KM, Perron P, Bouchard L, Hivert M-F. 2016. Validation of a DNA methylation reference panel for the estimation of nucleated cell types in cord blood. Epigenetics.
Bakulski K.M., Lee H.J., Feinberg J.I., Wells E.M., Brown S., Herbstman, J., Witter, F.R., Halden, R.U., Caldwell, K., Mortensen, M.E., Jaffe A.E., Moye, Jr. J., Caulfield, L.E., Pan, Y., Tollerud, D.J., Goldman, L.R., Feinberg, A.P., Fallin, M.D.. 2015. Prenatal mercury concentration is associated with changes in DNA methylation at TCEANC2 in newborns. International Journal of Epidemiology PMID: 25906783.


Feinberg, J.I., Bakulski, K.M., Jaffe, A.E., Trygvadottier, R., Brown, S., Goldman, L.R., Croen, L.A., Hertz-Picciotto, I., Newschaffer, C.J., Fallin, M.D., Feinberg, A.P. 2015. Paternal sperm DNA methylation associated with early signs of autism risk in an autism-enriched cohort. International Journal of Epidemiology PMID: 25878217.


Bakulski, K.M., Park, S.K., Weisskopf, M.G., Tucker, K.L., Sparrow, D., Spiro, A., Vokanas, P.S., Nie, L.H., Hu, H., Weuve, J.. 2014. Lead exposure, B-vitamins, and plasma homocysteine in older men. Environmental Health Perspectives PMID: 24905780


Bakulski, K.M., Singer, A.B., Fallin, M.D.. 2014. Genes and environment in autism spectrum disorders: An integrated perspective. in Frontiers in Autism Research, Diagnosis, and Treatment. (ed. Hu VW) Ch. 14, 335-374 World Scientific Publishing Co. Pte. Ltd.


Bakulski, K.M., Fallin, M.D.. 2014. Epigenetic epidemiology: Promises for public health research. Environmental & Molecular Mutagenesis 55 (3) 171-183 PMID: 24449392


Bakulski, K.M., Dolinoy, D.C., Sartor, M.A., Paulson, H.L., Lieberman, A.P., Konen, J.R., Albin, R.L., Hu, H., Rozek, L.S.. 2012. Genome-wide DNA methylation differences between late-onset Alzheimer's disease and cognitively normal controls in human frontal cortex. Journal of Alzheimer's Disease 29 (3) 571-588 PMID: 22451312
International Society for Environmental Epidemiology (ISEE)
International Society for Autism Research (INSAR)
Society of Toxicology (SOT)
Pregnancy and Child Epigenetics (PACE)
EHP editorial review board