Faculty Profile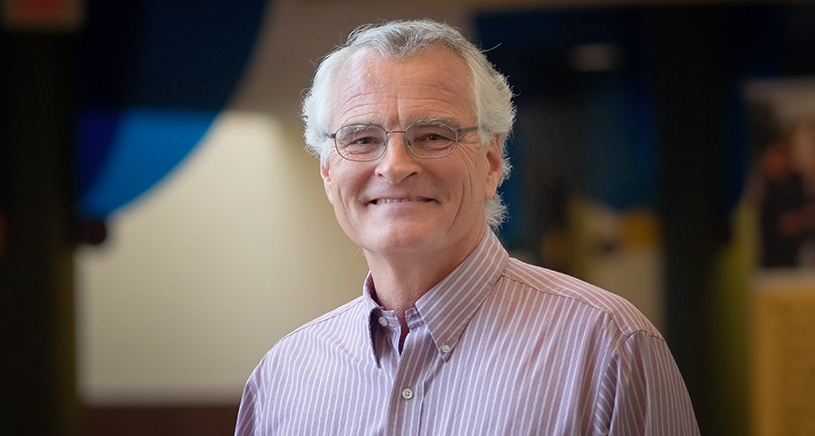 Michael Boehnke, PhD
Richard G. Cornell Distinguished University Professor of Biostatistics
Director, Center for Statistical Genetics
Director, Genome Science Training Program
M4108 SPH II
1415 Washington Heights
Ann Arbor, Michigan 48109-2029
Michael Boehnke is the Richard G. Cornell Distinguished University Professor of Biostatistics. He is Director of the University of Michigan Center for Statistical Genetics and Genome Science Training Program, a member of the National Academy of Medicine, and a Fellow of the American Statistical Association and of the American Association for the Advancement of Science. Dr. Boehnke did his undergraduate degree in Mathematics at the University of Oregon and his PhD in Biomathematics at UCLA. He has been on the faculty at Michigan since 1984. Dr. Boehnke's research focuses on problems of study design and statistical analysis of human genetic data with a particular emphasis on development and application of statistical methods for human gene mapping, with a current focus on disease and trait association studies based on genome sequence and genotype-array data. He is a principal investigator of the Finland-United States Investigation of NIDDM (FUSION) study of the genetics of type 2 diabetes. He is a founder and steering committee member of the DIAGRAM (type 2 diabetes), DIAMANTE (type 2 diabetes), MAGIC (glucose and insulin traits), GIANT (anthropometric traits), and Global Lipids genome-wide association meta-analysis consortia. Dr. Boehnke has >400 refereed publications and has chaired or co-chaired 23 doctoral committees and supervised 12 post-doctoral fellows; 28 of his 35 completed trainees went directly to faculty positions at major research universities.
PhD, Biomathematics, UCLA, 1983
B.A., Mathematics, University of Oregon, 1977
Design and Analysis of Human Gene Mapping Studies
Identifying Genes for Type 2 Diabetes: FUSION
Identifying T2D Variants by DNA Sequencing in Multiethnic Samples
Building the Type 2 Diabetes Genetics Knowledge Portal
Boughton AP, Welch RP, Flickinger M, VandeHaar P, Taliun D, Abecasis GR, and Boehnke M (2021) LocusZoom.js: interactive and embeddable visualization of genetic association study results. Bioinformatics doi: 10.1093/bioinformatics/ btab186. PMCID: PMC8479674.
Quick C, Anugu P, Musana S, Weiss ST, Burchard EG, White MJ, Keys KL, Cucca F, Sidore C, Boehnke M, and Fuchsberger C (2020) Sequencing and imputation in GWAS: cost-effective strategies to increase power and genomic coverage across diverse populations. Genetic Epidemiology 44:537-549. PMCID: PMC7449570.
Gagliano Taliun SA, VandeHaar P, Boughton AP, Welch RP, Taliun D, Schmidt EM, Zhou W, Nielsen JB, Willer CJ, Lee S, Fritsche L, Boehnke M, and Abecasis GR (2020) Exploring and visualizing large-scale genetic associations by using PheWeb. Nature Genetics 52:550-552.
Zhang F, Flickinger M, Taliun SAG; InPSYght Psychiatric Genetics Consortium, Abecasis GR, Scott LJ, McCaroll SA, Pato CN, Boehnke M, and Kang HM (2020) Ancestry-agnostic estimation of DNA sample contamination from sequence reads. Genome Research doi: 10.1101/gr.246934. PMID: 31980570.
Locke AE, Steinberg KM, Chiang CWK, Service SK, Havulinna AS, Stell L, Pirinen M, Abel HJ, Chiang CC, Fulton RS, Jackson AU, Kang CJ, Kanchi KL, Koboldt DC, Larson DE, Nelson J, Nicholas TJ, Pietilä A, Ramensky V, Ray D, Scott LJ, Stringham HM, Vangipurapu J, Welch R, Yajnik P, Yin X, Eriksson JG, Ala-Korpela M, Järvelin MR, Männikkö M, Laivuori H; FinnGen Project, Dutcher SK, Stitziel NO, Wilson RK, Hall IM, Sabatti C, Palotie A, Salomaa V, Laakso M, Ripatti S, Boehnke M, and Freimer NB (2019) Exome sequencing of Finnish isolates enhances rare-variant association power. Nature 572:323-328. PMCID: PMC6697530.
Flannick J, Mercader JM, Fuchsberger C, Udler MS, Mahajan A, Wessel J, Teslovich TM, Caulkins L, Koesterer R, Barajas-Olmos F, Blackwell TW, ..., Abecasis G, Bell GI, Cox NJ, Seielstad M, Sladek R, Meigs JB, Rich S, Rotter JI, DiscovEHR Collaboration, CHARGE, LuCamp, ProDiGY, GoT2D, ESP, SIGMA-T2D, T2D-GENES, AMP-T2D-GENES, Altshuler D, Burtt NP, Scott LJ, Morris AP, Florez JC, McCarthy MI, and Boehnke M (2019) Exome sequencing of 20,791 cases of type 2 diabetes and 24,440 controls. Nature 570:71-76. PMCID: PMC6699738.
Shi J, Boehnke M, and Lee S (2019) Trans-ethnic meta-analysis of rare variants in sequencing association studies. Biostatistics Dec 28. pii: kxz061. PMID: 31883325.
Quick C, Fuchsberger C, Taliun D, Abecasis G, Boehnke M, and Kang HM (2018) emeraLD: rapid linkage disequilibrium estimation with massive datasets. Bioinformatics 35:164-166. PMCID: PMC6298049.
Latva-Rasku A, Honka M-J, Stančáková A, Koistinen HA, Kuusisto J, Guan Li, Manning AK, Stringham H, Gloyn AL, Lindgren CM, T2D-GENES Consortium, Collins FS, Mohlke KL, Scott LJ, Karjalainen T, Nummenmaa L, Boehnke M, Nuutila P, and Laakso M (2018) A partial loss-of-function variant in AKT2 is associated with reduced insulin-mediated glucose uptake in multiple insulin sensitive tissues: a genotype-based callback positron emission tomography study. Diabetes 67:334-342. PMCID: PMC5780065.
Mahajan A, Taliun D, Thurner M, Robertson NR, Torres JM, Rayner NW, Payne AJ, Steinthorsdottir V, Scott RA, Grarup N, Cook JP, Schmidt EM, ..., Abecasis GR, Meigs JB, Rotter JI, Marchini J, Pedersen O, Hansen T, Langenberg C, Wareham NJ, Stefansson K, Gloyn AL, Morris AP,

Boehnke M

, and McCarthy MI (2018)

Fine-mapping type 2 diabetes loci to single-variant resolution using high-density imputation and islet-specific epigenome maps. Nature Genetics 50:

1505-1513.

PMCID: PMC6287706.
Ray D and Boehnke M (2017) Methods for meta-analysis of multiple traits using GWAS summary statistics. Genetic Epidemiology 42:134-145.
Fuchsberger C, Flannick J, Teslovich TM, Mahajan A, Agarwala V, Gaulton KJ, Ma C, Fontanillas P, Moutsianas L, McCarthy DJ, Rivas MA, Perry JRB, Sim X, Blackwell TW, Robertson NR, Rayner NW, Cingolani P, Locke AE, …, Abecasis G, Florez JC, Scott LJ, Morris AP, Kang HM, Boehnke M, Altshuer D, and McCarthy MI (2016) The genetic architecture of type 2 diabetes (2016) Nature 536:41-47.
Mohlke KL and Boehnke M (2015) Recent advances in understanding the genetic architecture of type 2 diabetes. Human Molecular Genetics 24:R85-R92.
Flickinger M, Jun G, Abecasis GR, Boehnke M, and Kang HM (2015) Correcting for sample contamination in genotype calling of DNA sequence data. American Journal of Human Genetics 97:284-290.
American Society for Human Genetics
International Genetic Epidemiology Society