Faculty Profile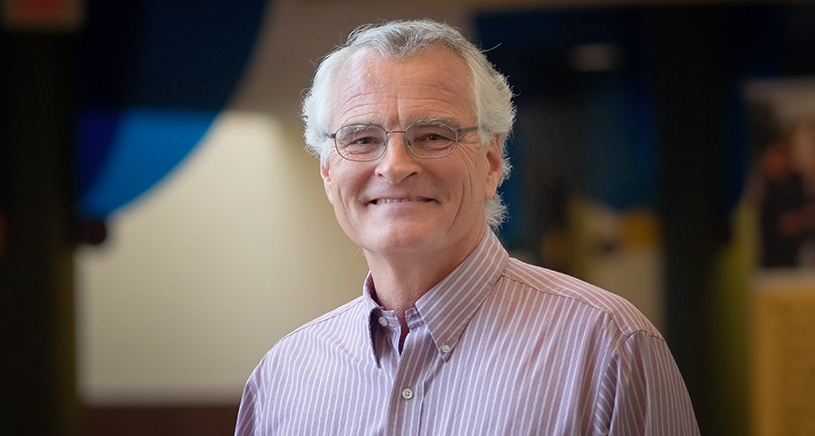 Michael Boehnke, Ph.D.
Richard G. Cornell Distinguished University Professor of Biostatistics
Director, Center for Statistical Genetics
Director, Genome Science Training Program
M4108 SPH II
1415 Washington Heights
Ann Arbor, Michigan 48109-2029
Professional Summary
Michael Boehnke is the Richard G. Cornell Distinguished University Professor of Biostatistics. He is Director of the University of Michigan Center for Statistical Genetics and Genome Science Training Program, a member of the National Academy of Medicine, and a Fellow of the American Statistical Association and of the American Association for the Advancement of Science. Dr. Boehnke did his undergraduate degree in Mathematics at the University of Oregon and his PhD in Biomathematics at UCLA. He has been on the faculty at Michigan since 1984. Dr. Boehnke's research focuses on problems of study design and statistical analysis of human genetic data with a particular emphasis on development and application of statistical methods for human gene mapping, with a current focus on disease and trait association studies based on genome sequence and genotype-array data. He is principal investigator of the Finland-United States Investigation of NIDDM (FUSION) study of the genetics of type 2 diabetes, the GoT2D and T2D-GENES type 2 diabetes sequencing studies, and the BRIDGES and InPSYght sequencing studies of bipolar disorder and schizophrenia. He is a founder and steering committee member of the DIAGRAM (type 2 diabetes), DIAMANTE (type 2 diabetes), MAGIC (glucose and insulin traits), GIANT (anthropometric traits), and Global Lipids genome-wide association meta-analysis consortia. Dr. Boehnke has >340 refereed publications and has chaired or co-chaired 20 doctoral committees and supervised 10 post-doctoral fellows; 26 of his 30 completed trainees went directly to faculty positions at major research universities.
Research Interests & Projects
Design and Analysis of Human Gene Mapping Studies
Identifying Genes for Type 2 Diabetes: FUSION
Identifying T2D Variants by DNA Sequencing in Multiethnic Samples
Whole Genome and Exome Sequencing for Bipolar Disorder
The Impact of Human Gene Knockouts in Type 2 Diabetes and Related Traits
Whole Genome Sequencing for Schizophrenia and Bipolar Disorder in the GPC
Accelerating Medicines Partnership: Enhancement of the Type 2 Diabetes Knowledge Portal
Selected Publications
Ray D and Boehnke M (2017) Methods for meta-analysis of multiple traits using GWAS summary statistics. Genetic Epidemiology 42:134-145.

Latva-Rasku A, Honka M-J, Stančáková A, Koistinen HA, Kuusisto J, Guan Li, Manning AK, Stringham H, Gloyn AL, Lindgren CM, T2D-GENES Consortium, Collins FS, Mohlke KL, Scott LJ, Karjalainen T, Nummenmaa L, Boehnke M, Nuutila P, and Laakso M (2017) A partial loss-of-function variant in AKT2 is associated with reduced insulin-mediated glucose uptake in multiple insulin sensitive tissues: a genotype-based callback positron emission tomography study. Diabetes 67:334-342.

Fuchsberger C, Flannick J, Teslovich TM, Mahajan A, Agarwala V, Gaulton KJ, Ma C, Fontanillas P, Moutsianas L, McCarthy DJ, Rivas MA, Perry JRB, Sim X, Blackwell TW, Robertson NR, Rayner NW, Cingolani P, Locke AE, …, Abecasis G, Florez JC, Scott LJ, Morris AP, Kang HM, Boehnke M, Altshuer D, and McCarthy MI (2016) The genetic architecture of type 2 diabetes (2016) Nature 536:41-47.

Mohlke KL and Boehnke M (2015) Recent advances in understanding the genetic architecture of type 2 diabetes. Human Molecular Genetics 24:R85-R92.
Flickinger M, Jun G, Abecasis GR, Boehnke M, and Kang HM (2015) Correcting for sample contamination in genotype calling of DNA sequence data.

American Journal of Human Genetics 97:284-290.
Lee S, Abecasis GR, Boehnke M, and Lin X (2014) Rare-variant association analysis: study designs and statistical tests. American Journal of Human Genetics 95:5-23
Service SK, Teslovich TM, Fuchsberger C, Ramensky V, Yajnik P, Koboldt DC, Larson DE, Zhang Q, Lin L, Welch R, Ding L, McLellan MD, O'Laughlin M, Fronick C, Fulton LL, Magrini V, Swift A, Elliott P, Jarvelin M-R, Kaakinen M, McCarthy MI, Peltonen L, Pouta A, Bonnycastle LL, Collins FS, Narisu N, Stringham HM, Tuomilehto J, Ripatti S, Fulton FS, Sabatti C, Wilson RK, Boehnke M, and Freimer NB (2014) Re-sequencing expands our understanding of the phenotypic impact of variants at GWAS loci. PLoS Genetics 10:e1004147.
Ma C, Blackwell T, Boehnke M, and Scott LJ (2013) Recommended joint and meta-analysis strategies for case-control association testing of single low-count variants. Genetic Epidemiology 37:539-559.
Huyghe JR, Jackson AU, Fogarty MP, Buchkovich ML, Stancákova A, Stringham HM, Sim X, Yang L, Fuchsberger C, Cederberg H, Chines PS, Teslovich TM, Romm JM, Ling H, McMullen I, Ingersoll R, Pugh EW, Doheny KF, Neale BM, Daly MJ, Kuusisto J, Scott LJ, Kang HM, Collins FC, Abecasis GR, Watanabe RM, Boehnke M, Laakso M, and Mohlke K (2013) Exome array analysis identifies new loci and low-frequency variants influencing insulin processing and secretion. Nature Genetics 45:197-201.
Morris AP, Voight BF, Teslovich TM, Ferreira T, Segrè AV, … Meigs JB, Altshuler D, Boehnke M, McCarthy MI, and DIAGRAM Consortium (2012) Large-scale association analysis provides insights into the genetic architecture and pathophysiology of type 2 diabetes. Nature Genetics 44:981-990.
Jun G, Flickinger M, Hetrick KN, Romm JM, Doheny KF, Abecasis GR, Boehnke M, and Kang HM (2012) Detecting and estimating contamination of human DNA samples in sequencing and array-based genotype data. American Journal of Human Genetics 91:839-848.
Teslovich TM, Musunuru K, Smith AV, Edmondson AC, Stylianou IM, ..., Schunkert H, Cupples LA, Sandhu MS, Ridker PM, Rader DJ, van Duijn CM, Peltonen L, Abecasis GR, Boehnke M, and Kathiresan S (2010) Biological, clinical, and population relevance of 95 loci mapped for serum lipid concentrations. Nature 466:707-713.
Scott LJ, Mohlke KL, Bonnycastle LL, Willer CJ, Li Y, Duren WL, Erdos MR, Stringham HM, Chines PS, Jackson AU, Prokunina-Olsson L, Ding CJ, Swift AJ, Narisu N, Hu T, Pruim R, Xiao R, Li X-Y, Conneely KN, Riebow NL, Sprau AG, Tong M, White PP, Hetrick KN, Barnhart MW, Bark CW, Goldstein JL, Watkins L, Xiang F, Saramies J, Buchanan TA, Watanabe RM, Valle TT, Kinnunen L, Abecasis GR, Pugh EW, Doheny KF, Bergman RN, Tuomilehto J, Collins FS, and Boehnke M (2007) A genome-wide association study of type 2 diabetes in Finns detects multiple susceptibility variants. Science 316:1341-1345.
Professional Affiliations
American Society for Human Genetics
International Genetic Epidemiology Society