Faculty Profile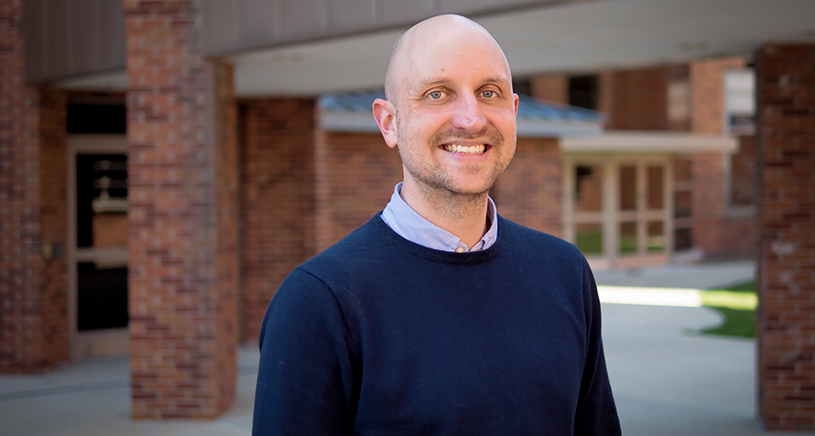 Justin Colacino, Ph.D.
John G. Searle Assistant Professor of Environmental Health Sciences
Assistant Professor, Environmental Health Sciences
Assistant Professor, Nutritional Sciences
6651 SPH I
1415 Washington Heights
Ann Arbor, Michigan 48109-2029
Professional Summary
Dr. Justin Colacino is an Assistant Professor of Environmental Health Sciences in the School of Public Health. His research focuses on understanding environmental and dietary factors in carcinogenesis and cancer prevention. Specifically, the goal of his research is to characterize the environmental susceptibility of normal human stem cell populations, elucidating the etiology of sporadic cancers. Of particular interest are understanding the changes that occur at the epigenetic and transcriptional level, changes which affect not only gene expression but also how progenitor cells differentiate and divide. His research group combines wet lab bench work and bioinformatic and statistical analysis of large scale genomic and epidemiologic data sets to translate findings from in vitro models to the population level. Dr. Colacino is an active member of the Society of Toxicology (SOT) and the American Association for Cancer Research (AACR) and serves on the Editorial Review Board of Environmental Epigenetics and the Editorial Board of Cancer Research.
Education
Ph.D., Environmental Health Sciences, University of Michigan School of Public Health, 2014
M.A., Statistics, University of Michigan, 2014
M.P.H., , University of Texas School of Public Health at Dallas, 2009
B.S., Biochemistry, University of Texas at Austin, 2005
Selected Publications
Colacino JA, McDermott SP, Sartor MA, Kakarala M, Wicha MS, Rozek LS. Transcriptomic profiling of curcumin-treated human breast stem cells identifies a role for stearoyl-coa desaturase in breast cancer prevention. Breast Cancer Research and Treatment. (2016).

doi:

10.​1007/​s10549-016-3854-4
Darr OA*, Colacino JA*, Tang AL, McHugh JB, Bellile EL, Bradford CR, Prince MP, Chepeha DB, Rozek LS, Moyer JS. (2014). Epigenetic alterations in metastatic cutaneous carcinoma Head and Neck, doi: 10.1002/hed.23701
Colacino JA, Arthur AE, Ferguson KK, Rozek LS (2014). Dietary antioxidant and anti-inflammatory intake modifies the effect of cadmium exposure on markers of systemic inflammation and oxidative stressEnvironmental Research, 131, 6-12.
Colacino JA, Dolinoy DC, Duffy S, Sartor MA, Chepeha DB, Bradford CR, McHugh J, Patel D, Walline HM, Bellile E, Terrell JE, Stoerker JA, Taylor JMG, Carey TE, Wolf G, Rozek LS. (2013). Comprehensive analysis of methylation in head and neck squamous cell carcinoma indicates differences by survival and clinicopathologic characteristics PLOS ONE, 8(1), e54742.
Colacino JA*, Arthur AE*, Duffy S, Dolinoy DC, Terrell J, Sartor M, Chepeha D, McHugh J, Wolf G, Carey T, Peterson K, Rozek LS. (2012). Pretreatment dietary intake is associated with tumor suppressor DNA methylation in head and neck squamous cell carcinomas Epigenetics, 7(8), 883-91.
Virani S, Colacino JA, Kim J, Rozek LS (2012). Cancer Epigenetics: A Brief Review ILAR Journal, 53(3-4), 359-69.
Colacino JA, Soliman A, Calafat A, Nahar MS, Van Zomeren-Dohm A, Seifeldin I, Hablas A, Rozek LS, Dolinoy DC (2011). Exposure to phthalates among premenstrual girls from rural and urban, Gharbiah, Egypt: An exposure assessment pilot study Environmental Health, 10, 40.
Sartor M, Dolinoy DC, Jones T, Colacino JA, Prince ME, Carey T, Rozek LS (2011). Genome-wide methylation and expression differences in HPV(-) and HPV(+) squamous cell carcinoma cell lines point to varying mechanisms of carcinogenesis Epigenetics, 6(6), 777-81.
Colacino JA, Harris TR, Schecter A (2010). Dietary intake is associated with phthalate body burden in a nationally representative sample Environmental Health Perspectives, doi:10.1289/ehp.0901712
Schecter A, Colacino JA, Haffner D, Opel M, Päpke O, Birnbaum LS (2010). Perfluorinated compounds, polychlorinated biphenyls, and organochlorine pesticide contamination in composite food samples from the United States Environmental Health Perspectives, doi:10.1289/ehp.0901347
Schecter A, Colacino JA, Sjödin A, Needham L, Birnbaum LS (2010). Partitioning of PBDEs in serum and milk from the same mothers Chemosphere, 78(10), 1279-84.
*-These authors contributed equally to this manuscript