Faculty Profile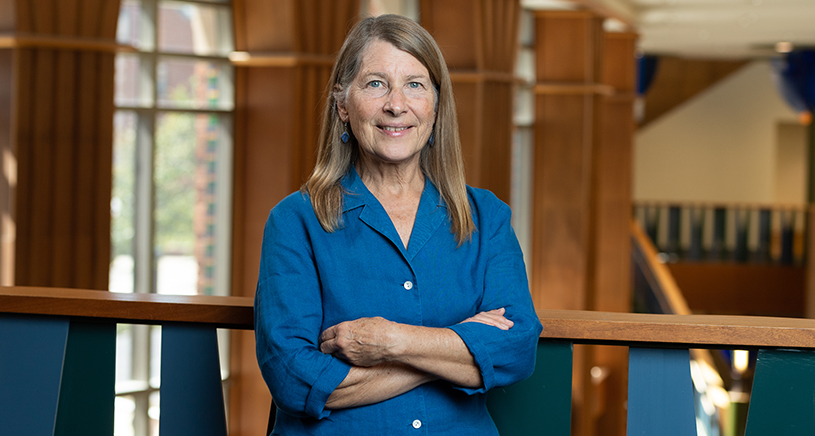 Chris M. Coombe, Ph.D, MPH
Associate Research Scientist, Health Behavior & Health Education
2786 SPH I
1415 Washington Heights
Ann Arbor, Michigan 48109-2029
Chris M. Coombe is an Assistant Research Scientist in Health Behavior & Health Education and is affiliated with the Detroit Community-Academic Urban Research Center (Detroit URC), a longstanding community-based participatory research (CBPR) partnership. She received her PhD from the University of Michigan and her MPH from University of California. Dr. Coombe has extensive experience designing, conducting, and evaluating collaborative research and interventions using a CBPR approach. She is an expert in developing education and training programs that enhance academic and community capacity to conduct CBPR and to engage in policy and systems change. Dr. Coombe co-leads the CBPR Partnership Academy, a national training program to enhance skills and knowledge of community and academic teams to use CBPR to reduce inequities in their communities. Dr. Coombe has been conducting participatory evaluation for over twenty years, and has contributed to the conceptual development of measures and methods for evaluating community capacity building and equitable partnerships. She is co-investigator on a 5-year NIH study to conceptualize and measure factors that contribute to success in longstanding partnerships. Dr. Coombe's research interests include understanding how urban social and physical environments contribute to racial and socioeconomic inequities, and translating that knowledge into policy interventions to promote health and equity. She led a health impact assessment (HIA) of Detroit regeneration plans on the city's most vulnerable residents, that included recommendations to inform planning and policy making to reduce racial and economic health inequities, and improve public health.
Postdoctoral Translational Scholar, NIH, Michigan Institute for Clinical and Health Research, University of Michigan, 2009-2011
PhD, Health Behavior and Health Education, University of Michigan, 2007
Predoctoral Traineeship, NIMH, Psychosocial Factors in Mental Health, University of Michigan, 2002-2005
MPH, Community Health Sciences, University of California, Berkeley, 1996
B.A., Social Welfare, Albright College, Reading, PA
Social determinants of health
Community-based participatory research
Urban neighborhoods and health (economic, racial, residential, and land use patterns)
Policy and systems change to promote health equity
Health impact assessment
Participatory evaluation
Israel, B.A., Coombe, C.M., McGranaghan, R. (2018). Community-based participatory research: A partnership approach for public health (2nd ed.). Community Engaged Scholarship for Health, CES4Health.info, 2018. https://www.mitrainingcenter.org/courses/cbprs0218
Koman, P.D., Hogan, K.A., Sampson, N., Mandell, R., Coombe, C.M., Tetteh, M., Hill-Ashford, Y., Wilkins, D., Loch-Caruso, R., Schulz, A.J., Tracey, J. (2018). Examining joint effects of air pollution exposure and social determinants of health in defining "at‐risk" populations under the Clean Air Act: Susceptibility of pregnant women to hypertensive disorders of pregnancy. World Medical & Health Policy. 10(1), 7-54.
Coombe, C.M., Israel, B.A., Reyes, A., Clement, J., Grant, S., Lichtenstein, R., Schulz, A., Smith, S. (2017). Strengthening community capacity in Detroit to influence policy change for health equity. Michigan Journal of Community Service Learning. 23(2), 101-116.
Wiggins, N., Parajon, L., Coombe, C.M., Duldulao, A., Wang, P., Rodriguez Garcia, L. (2017). Participatory evaluation as a process of empowerment: Experiences with community health workers in the US and Latin America. In Wallerstein, N., Duran, B., Oetzel, J., Minkler, M., editors, Community-Based Participatory Research for Health, Third Edition, Jossey-Bass.
Goold, S., Rowe, Z., Calhoun, K., Campbell, T., Danis, M., Hammad, A., ... & Coombe, C.M. (2016). The State as community in community-based participatory research. Progress in Community Health Partnerships: Research, Education, and Action, 10(4), 515-522.
Cheezum, R.R., Coombe, C.M., Israel, B.A., McGranaghan, R., Burris, A., O'Toole, A., Anderson, M. (2013). Building community capacity to advocate for policy change: An impact evaluation of the Neighborhoods Working in Partnership Project in Detroit.Journal of Community Practice228-247.
Schulz, A.J., Israel, B.A., Coombe, C., Gaines, C., Reyes, A., Rowe, Z., Sand, S., Strong, L., Weir, S. (2011). A community-based participatory planning process and multilevel intervention design: Toward eliminating cardiovascular health inequities. Health Promotion Practice 900-911.
Israel, B.A., Coombe, C.M., Cheezum, R.R., Schulz, A.J., McGranaghan, R.J., et al. (2010). Community-based participatory research: A capacity building approach for policy advocacy aimed at eliminating health disparities. American Journal of Public Health 2094-2102.
American Public Health Association
Society of Practitioners of Health Impact Assessment (SOPHIA)