Faculty Profile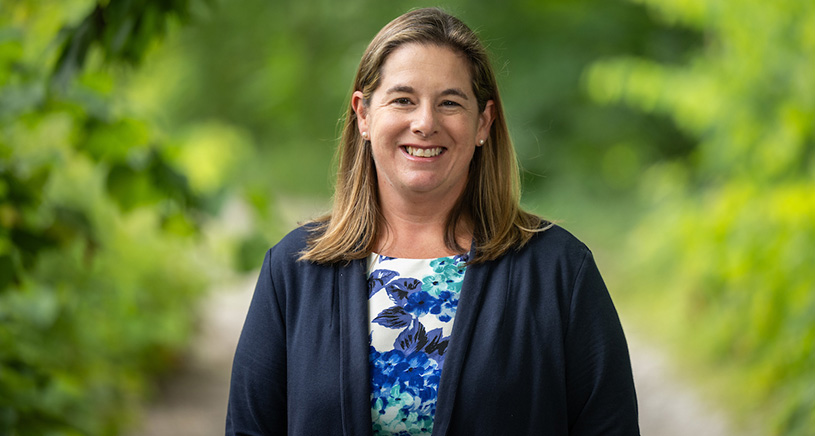 Dana Dolinoy, PhD
NSF International Chair of Environmental Health Sciences
Professor of Environmental Health Sciences
Professor of Nutritional Sciences
6671 SPH I

1415 Washington Heights
Ann Arbor, Michigan 48109-2029
Dr. Dana Dolinoy serves as NSF International Chair of Environmental Health Sciences and Professor of Nutritional Sciences and Environmental Health Sciences at the University of Michigan School of Public Health as well as Faculty Director of the Epigenomics Core at Michigan Medicine. She leads the Environmental Epigenetics and Nutrition Laboratory, which investigates how nutritional and environmental factors interact with epigenetic gene regulation to shape health and disease. Dr. Dolinoy holds a PhD in Genetics and Genomics and Integrated Toxicology from Duke University, and MSc in Public Health from Harvard University, and serves as Associate Editor of Environmental Health Perspectives, Environmental Epigenetics, and Toxicological Sciences, and served as Chair of the Gordon Research Conference in Cellular & Molecular Mechanisms of Toxicity. In 2011, Dr. Dolinoy received the Norman Kretchmer Memorial Award from the American Society for Nutrition and the Classic Paper of the Year Award from Environmental Health Perspectives. In 2012, she was the recipient of the Association of Schools of Public Health (ASPH)/Pfizer Research Award for the article, "An Expression Microarray Approach for the Identification of Metastable Epialleles in the Mouse Genome." This work was cited as a model approach that may allow for directly assessing the role of early environmental exposures in human adult disease. Dolinoy received the 2015 NIH Director's Transformative Research Award to develop novel epigenetic editing tools to reduce disease risk and served as the Co-Chair of the 2016 meeting, ToxicoEpigenetics: The Interface of Epigenetics and Risk Assessment.
PhD, Genetics and Genomics & Integrated Toxicology and Environmental Health, Duke University, 2007
M.Sc., Environmental Health and Risk Management, Harvard University, 2003
B.A., Environmental Sciences and Policy & Spanish, Duke University, 1998
Perera B.P.U., Z. Tsai, T. Colwell, T.R. Jones, J.M. Goodrich, C. Faulk, M.A. Sartor and D.C. Dolinoy (2019). Somatic expression of piRNA and associated machinery in the mouse identifies short, tissue-specific piRNAs. Epigenetics. 2019. PMCID: In Progress.
Neier K., D. Cheatham, L. Bedrosian, B. Gregg, P.X.K. Song and D.C. Dolinoy (2019). Longitudinal metabolic impacts of perinatal exposure to phthalates and phthalate mixtures in mice. Endocrinology. PMCID: In Progress.
Kochmanski J., J.M. Goodrich, K.E. Peterson, J.C. Lumeng and D.C. Dolinoy (2018). Neonatal DNA Methylation Patterns are Associated with Childhood Weight Status in the Healthy Families Project. Pediatric Research. PMCID: In Progress.
Kochmanski J., E.H. Marchlewicz, R.G. Cavalcante, B.P.U. Perera, M.A. Sartor and D.C. Dolinoy (2018). Longitudinal effects of developmental bisphenol A exposure on epigenome-wide DNA hydroxymethylation at imprinted loci in mouse blood. Environmental Health Perspectives. 2018 In Press. PMCID: PMC6108846
McCabe, C., Anderson, O.S., Montrose, L., Neier, K. and Dolinoy. D.C. (2017). Sexually dimorphic effects of early-life exposures to endocrine disruptors: sex-specific epigenetic reprogramming as a potential mechanism. Current Environ Health Rep. Dec;4(4):426-438. doi: 10.1007/s40572-017-0170-z
Kochmanski, J., Montrose, L., Goodrich, J.M. and Dolinoy, D.C. (2017). Environmental deflection: the impact of toxicant exposures on the aging epigenome. Toxicological Sciences. Apr 1;156(2):325-335. doi: 10.193/toxsci/kfx005
Marchlewicz, E.H., Dolinoy, D.C., Tang, T., Milewski, S., Jones, T.R., Goodrich, J.M., Soni, T., Domino, S.E., Song, P.X., F. Burant, C. and Padmanabhan,V. (2016). Lipid metabolism is associated with developmental epigenetic programming. Sci Rep Oct 7,6:34857. doi: 10.1038/34857.
Marchelwicz E.H., Anderson O.S., Dolinoy D.C. (May, 2014). Early life exposures and the epigenome - interactions between nutrients and the environment In Emily Ho and Frederick Domann (Ed.) Role of Nutrition and Metabolism on Epigenetic Regulation. Taylor & Francis Group, CRC Press
Weinhouse C., Anderson O.S., Bergin I.L, Vandenbergh D.J., Gyekis J.P., Dingman M.A., Yang J., Dolinoy D.C. (May, 2014). Dose-dependent incidence of hepatic tumors following perinatal bisphenol A exposure Environmental Health Perspectives.
Anderson OS, Peterson KE, Sanchez BN, Zhang Z, Mancuso P, Dolinoy DC FASEB J. 2013 Jan 23. (January, 2013). Perinatal bisphenol A exposure promotes hyperactivity, lean body composition, and hormonal responses across the murine life course The FASEB Journal.
2005-Present: Society of Toxicology
2006-Present: Environmental Mutagen and Genomics Society
2008-Present: Michigan Metabolomics and Obesity Center (MMOC)
2009-Present: Faculty Member, UM Comprehensive Cancer Center
2011-Present: Member, American Society for Nutrition (ASN)
2013-2015: Chair, 2015 Gordon Research Conference on Cellular and Molecular Mechanisms of Toxicity
2013: Faculty Member, Momentum Center: Driving Discovery to End Childhood Obesity
2012: Member, The DOHaD (Developmental Origins of Health and Disease) Society
Dana Dolinoy in the News