Faculty Profile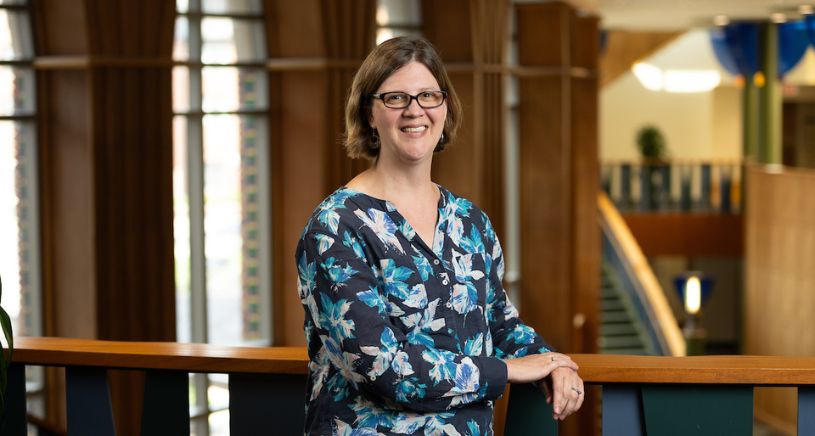 Nancy L Fleischer, PhD, MPH
Associate Professor, Epidemiology
Co-Director, Certificate in Social Epidemiology
Dr. Nancy Fleischer is a social epidemiologist whose research focuses on how social and policy determinants affect health and health equity. Dr. Fleischer has undergraduate degrees in chemistry and Spanish from the University of Minnesota, an MPH in Epidemiology and Biostatistics from the University of California, Berkeley, and a PhD in Epidemiology from the University of Michigan. After her undergraduate years she served for nearly three years as a Peace Corps Volunteer, first in the Solomon Islands and then Kazakhstan. Following Peace Corps she worked in occupational health at the California Department of Public Health before beginning her MPH. After graduate school Dr. Fleischer served as an Epidemic Intelligence Service (EIS) fellow at the Centers for Disease Control and Prevention. She began her academic career as an Assistant Professor at the University of South Carolina. She is currently an Associate Professor of Epidemiology at the University of Michigan, where she studies how tobacco control policies affect health equity, COVID-19 recovery, and structural racism and health.
PhD, Epidemiologic Science; University of Michigan, Ann Arbor, MI, 2010
MPH, Epidemiology and Biostatistics; University of California, Berkeley, CA, 2006
BS, Chemistry; University of Minnesota, Minneapolis, MN, 1999
BA, Spanish; University of Minnesota, Minneapolis, MN, 1999
Research Interests:
Social and policy determinants of health, health equity, tobacco control policies, COVID-19 recovery, structural racism and health
Research Projects:
Dr. Fleischer is the Principal Investigator of the Michigan COVID-19 Recovery Surveillance Study (MI CReSS), a collaboration between the University of Michigan and the Michigan Department to Health and Human Services to understand the experiences of Michiganders diagnosed with COVID-19. https://sph.umich.edu/mi-cress/
Dr. Fleischer examines the role of tobacco control policies on health equity. This research includes participation in the University of Michigan's Center for the Assessment of Tobacco Regulation. https://tcors.umich.edu/
Dr. Fleischer's research also examines the role of structural racism on health through a project examining the effects of multigenerational exposure to structural racism on birth outcomes among Black women in the US South.
Needham BL, Ali T, Allgood KL, Ro A, Hirschtick JL, Fleischer NL. Institutional Racism and Health: a Framework for Conceptualization, Measurement, and Analysis. J Racial Ethn Health Disparities. 2022 Aug 22;. doi: 10.1007/s40615-022-01381-9.
Hirschtick JL, Cook S, Patel A, Barnes GD, Arenberg D, Bondarenko I, Levy DT, Jeon J, Jimenez Mendoza E, Meza R, Fleischer NL. Longitudinal associations between exclusive and dual use of electronic nicotine delivery systems and cigarettes and self-reported incident diagnosed cardiovascular disease among adults. Nicotine Tob Res. 2022 Jul 30;. doi: 10.1093/ntr/ntac182.
Colston DC, Xie Y, Patrick ME, Thrasher JF, Titus AR, Elliott MR, Levy DT, Fleischer NL. Tobacco 21 laws may reduce smoking and tobacco-related health disparities among youth in the U.S. Prev Med Rep. 2022 Jun;27:101762. doi: 10.1016/j.pmedr.2022.101762.
Mattingly DT, Titus AR, Hirschtick JL, Fleischer NL. Sexual Orientation Discrimination and Exclusive, Dual, and Polytobacco Use among Sexual Minority Adults in the United States. Int J Environ Res Public Health. 2022 May 23;19(10). doi: 10.3390/ijerph19106305.
Titus AR, Xie Y, Thrasher JF, Levy DT, Elliott MR, Patrick ME, Fleischer NL. A longitudinal analysis of smoke-free laws and smoking initiation disparities among young adults in the United States. Addiction. 2022 Mar;117(3):730-738. doi: 10.1111/add.15658.
Hirschtick JL, Titus AR, Slocum E, Power LE, Hirschtick RE, Elliott MR, McKane P, Fleischer NL. Population-Based Estimates of Post-acute Sequelae of Severe Acute Respiratory Syndrome Coronavirus 2 (SARS-CoV-2) Infection (PASC) Prevalence and Characteristics. Clin Infect Dis. 2021 Dec 6;73(11):2055-2064. doi: 10.1093/cid/ciab408.
View full list of publications at https://www.ncbi.nlm.nih.gov/myncbi/nancy.fleischer.1/bibliography/public/