Faculty Profile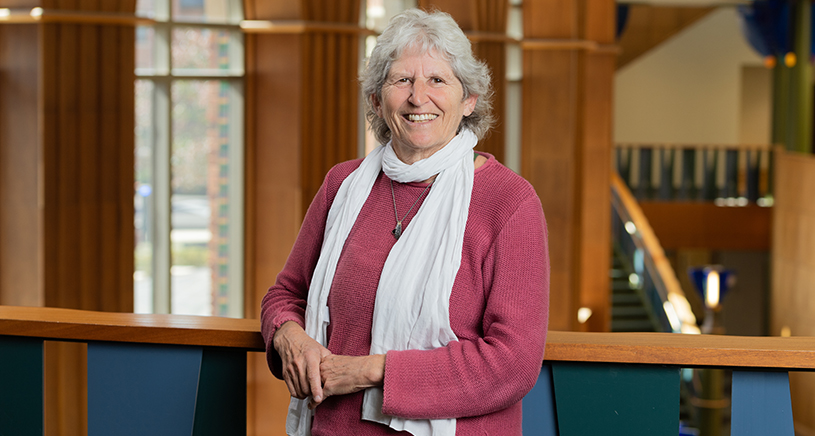 Betsy Foxman, PhD, MSPH
Hunein F. and Hilda Maassab Professor of Epidemiology
Director, Center for Molecular and Clinical Epidemiology of Infectious Diseases
Director, Integrated Training in Microbial Systems
Director, Certificate in Healthcare Infection Prevention & Control (CHIP)
Dr. Foxman's research focuses on understanding the transmission, pathogenesis, ecology and evolution of infectious agents. Since 2006 her research has focused largely on projects that characterize the microbes that colonize the human body: the microbiome. In particular, she examines how the microbiome can enhance or resist colonization by pathogens with the goal of identifying new diagnostics, prognostics and potential interventions. Her work includes assembling, testing and analyzing population-based samples using next generation sequencing and and qPCR, and applying cutting edge analytic methods that enable microbiome characterization. Ongoing studies include describing the oral microbiome in health and disease, measuring the associations between the nose/throat microbiome and risk of respiratory infection, and developing methods to surveil wastewater for antibiotic resistant organisms.
PhD, University of California Los Angeles, 1983
MSPH, University of California Los Angeles, 1980
BS, University of California Berkeley, 1977
Research Interests:
Infectious disease, the human microbiome, antibiotic resistance, wastewater surveillance
Research Projects:
Analysis of the oral microbiome among children and adult participants in Center for Oral Health Research in Appalachia cohort studies. Current project include using meta genomic analysis to predict functions of salivary and plaque microbiomes among those with and without dental caries.
Ongoing study of transmission of oral pathogens and the associations with nose/throal microbiome compositions among residents in a skilled nursing facility.
Developing methods to surveil wastewater for antibiotic resistant bacteria, antibiotic resistant genes, Candida, and other pathogens of public health importance.
Foxman B, Davis E, Neiswanger K, McNeil D, Shaffer J, Marazita ML. Maternal factors and risk of early childhood caries: A prospective cohort study. Community Dent Oral Epidemiol. 2022 Sep 28. doi: 10.1111/cdoe.12794. Epub ahead of print. PMID: 36168961.
Bhaumik D, Salzman E, Davis E, Blostein F, Li G, Neiswanger K, Weyant RJ, Crout R, McNeil DW, Marazita ML, Foxman B. Plaque Microbiome in Caries-Active and Caries-Free Teeth by Dentition. JDR Clin Trans Res. 2022 Sep 25:23800844221121260. doi: 10.1177/23800844221121260. Epub ahead of print. PMID: 36154330.
Jansen EC, Zhao W, Jones AD, Marshall TA, Neiswanger K, Shaffer JR, McNeil DW, Marazita ML, Foxman B. Early Childhood Diet in Relation to Toddler Nighttime Sleep Duration Trajectories. Nutrients. 2022 Jul 26;14(15):3059. doi: 10.3390/nu14153059. PMID: 35893917; PMCID: PMC9331722.
Foxman B, Mehta S. Impact of technological developments on infectious disease epidemiology: Lessons from the first 100 years of AJE. Am J Epidemiol. 2022 Mar 31:kwac064. doi: 10.1093/aje/kwac064. Epub ahead of print. PMID: 35362021; PMCID: PMC9383624.
For a complete list of publications can be viewed at https://scholar.google.com/citations?user=HsyuOW8AAAAJandhl=en