Faculty Profile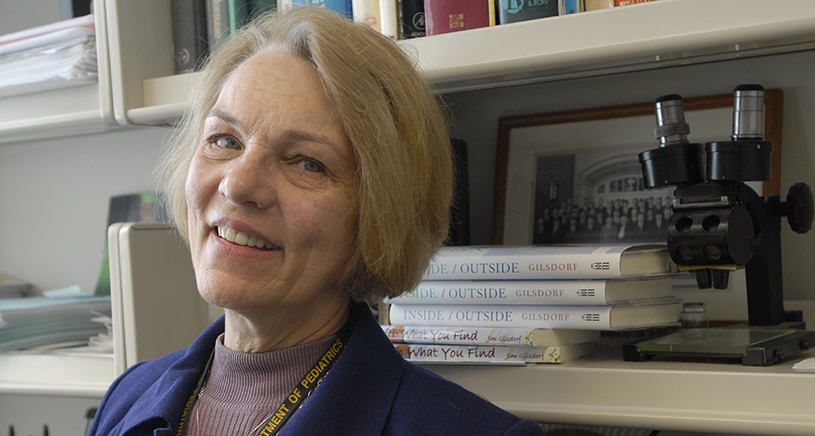 Janet Reed Gilsdorf, MD, DSc (hc)
Professor Emerita, Epidemiology
Robert Kelch Research Professor Emerita, Pediatrics
Dr. Gilsdorf's research has focused on pathogenic factors, molecular genetics, and epidemiology of Haemophilus influenzae, a bacterium that causes invasive and respiratory infections in children and adults. Specifically she has described the role of pili in H. influenzae adherence to human cells, the use of specific genes to identify encapsulated and non-ecanpsulated H. influenzae, and colonization of the human nasopharynx with multiple strains of H. influenzae. In addition, she teaches creative writing in the Medical Humanities Pathway to Excellence in the Medical School.
DSc [Hon], University of Nebraska, 2015
MD, University of Nebraska, 1970
BS in Medicine, University of North Dakota, 1968
BS, North Dakota State University, 1967
Research interests:
Haemophilis influenzae pathogenesis, epidemiology of respiratory pathogens in day care, antigenic diversity of H. influenzae.


Projects:
The Red Dress, a novel by Janet Gilsdorf
Gilsdorf JR. (2021). Hib Vaccines: Their Impact on Haemophilus influenzae Type b Disease. J Infect Dis 224(12 Suppl 2):S321-S330. doi: 10.1093/infdis/jiaa537
Gilsdorf JR, Marrs CF, Foxman B. (2004). Haemophilus influenzae: genetic variability and natural selection to identify virulence factors. Infect Immun 72(5):2457-61. doi: 10.1128/IAI.72.5.2457-2461.2004
LaCross NC, Marrs CF, Gilsdorf JR. (2013) Population structure in nontypeable Haemophilus influenzae. Infect Genet Evol 125-36. doi: 10.1016/j.meegid.2012.11.023.
Mansson V, Gilsdorf JR, Kahlmeter G, Kilian M, Kroll JS, Riesbeck K, Resman F. (2018). Capsule Typing of Haemophilus influenzae by Matrix-Assisted Laser Desorption/Ionization Time-of-Flight Mass Spectrometry. Emerg Infect Dis 24(3):443-452. doi: 10.3201/eid2403.170459.
Zhang L, Patel M, Xie J, Davis GS, Marrs CF, Gilsdorf JR. (2013). Urease operon and urease activity in commensal and disease-causing nontypeable Haemophilus influenzae. J Clin Microbiol 51(2):653-5. doi: 10.1128/JCM.03145-12.
Davis GS, Sandstedt SA, Patel M, Marrs CF, Gilsdorf JR. (2111) Use of bexB to detect the capsule locus in Haemophilus influenzae. J Clin Microbiol 49(7):2594-601. doi: 10.1128/JCM.02509-10.
View full list of publications at PubMed https://pubmed.ncbi.nlm.nih.gov/?term=gilsdorf%20janet%20randpage=3