Faculty Profile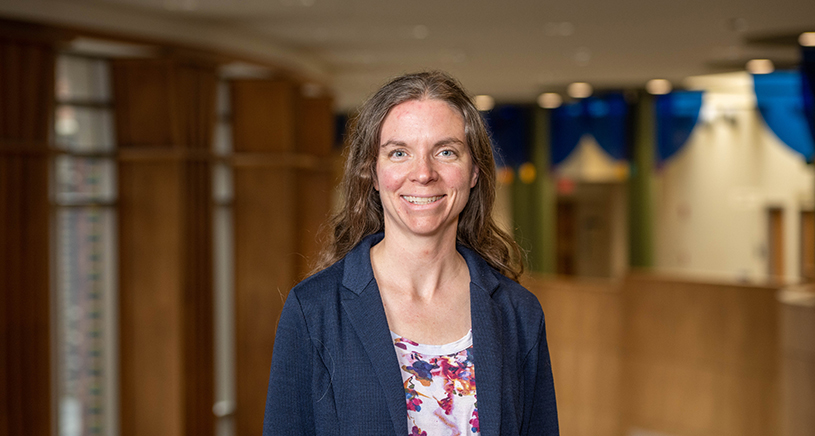 Jaclyn Goodrich, PhD
Research Assistant Professor, Environmental Health Sciences
M6226 SPH II
1415 Washington Heights
Ann Arbor, Michigan 48109-2029
Professional Summary
Dr. Jackie Goodrich is a Research Assistant Professor of Environmental Health Sciences at the University of Michigan School of Public Health. Dr. Goodrich completed her undergraduate degree in Cellular and Molecular Biology and her doctoral degree in Toxicology at the University of Michigan. She furthered her training with a postdoctoral fellowship at the University of Michigan focused on epigenetics and environmental epidemiology.
Dr. Goodrich's research interests combine toxicology, epidemiology and epigenomics with the goal of identifying epigenetically labile genomic regions that contribute to environmentally-induced disease susceptibility at various life-stages (in utero, early childhood, and adulthood). Epigenetic modification by environmental factors is emerging as a link between exposures to toxicity and disease outcomes. Dr. Goodrich is assessing the impact of chemical exposures from occupational practices or the environment (e.g., mercury, lead, phthalates) on epigenetic modifications (DNA methylation) in epidemiological cohorts from around the globe using both candidate gene and epigenome-wide approaches. She integrates data on exposures, DNA methylation, and health outcomes to better understand disease risk from exposures at vulnerable life-stages. Dr. Goodrich also studies the impact of environmental exposures, particularly to heavy metals such as lead and mercury, on cardiovascular and metabolic health outcomes. Dr. Goodrich works out of the Environmental Epigenetics and Nutrition lab.
Education
PhD, Toxicology, University of Michigan, 2011
B.S., Cellular and Molecular Biology, University of Michigan, 2007
Research Interests & Projects
Environmental epigenomics/epigenetics
Heavy metal toxicology
Developmental origins of health and disease
Gene-environment interactions



Selected Publications
Perera BPU, Faulk C, Svoboda LK, Goodrich JM and Dolinoy D.C (2019). The role of environmental exposures and the epigenome in health and disease. 2019. Environ Mol Mutagen. doi: 10.1002/em.22311.
Goodrich JM, Ingle M, Domino SE, Treadwell MC, Dolinoy DC, Burant C, Meeker JD and Padmanabhan V (2019). First trimester maternal exposures to endocrine disrupting chemicals and metals and fetal size in the Michigan Mother Infant Pairs study. JDOHaD. 1-12. doi: 10.1017/S204017441800106X.
Bowman A, Peterson KE, Dolinoy DC, Meeker JD, Sanchez BN, Mercado-Garcia A, Tellez-Rojo MM and Goodrich JM (2019). Mediating effect of DNA Methylation in the Association between Phthalate Exposure and Adiposity Overtime in Mexican Children. Frontiers in Public Health. 7:162. Doi: 10.3389/fpubh.2019.00162. PMCID: PMC6593088.
Wu Y, Peterson KE, Sanchez BN, Dolinoy DC, Mercado-Garcia A, Tellez-Rojo MM and Goodrich JM (2018). Association of blood leukocyte DNA methylation at LINE-1 and growth-related candidate genes with pubertal onset and progression. Epigenetics. 13(12), 1222-1233. PMID: 30582410.
Kochmanski J, Goodrich JM, Peterson KE, Lumeng JC and Dolinoy DC (2018). Neonatal DNA methylation patterns are associated with childhood weight status in the Healthy Families Project. Doi: 10.1038/s41390-018-0227-1. PMID: 30425339.
Breton CV, Marsit CJ, Faustman E, Nadeau K, Goodrich JM, Dolinoy DC, Herbstman J, Holland N, LaSalle J, Schmidt R, Yosefi P, Perera F, Chadwick L, Joubert BR, Wiemels J, Taylor M, Yang IV, Chen R, Hew KM, Miller R and Murphy SK (2017). Small Magnitude Effect Sizes in Epigenetic Endpoints Are Important in Children's Environmental Health Studies: The Children's Environmental Health and Disease Prevention Research Center's Epigenetics Working Group. Environmental Health Perspectives. 125, 511-526. PMCID: PMC5382002.
Goodrich JM, Dolinoy DC, Sanchez BN, Zhang Z, Meeker J, Mercado-Garcia A, Solano-González M, Hu H, Téllez-Rojo MM and Peterson KE (2016). Adolescent epigenetic profiles and environmental exposures from early life through peri-adolescence. Environmental Epigenetics, DOI 10.1093/eep/dvw018
Goodrich JM, Reddy P, Naidoo RN, Asharam K, Batterman S and Dolinoy DC (2016). Prenatal exposures and DNA methylation in newborns: A Pilot Study in Durban, South Africa. Environmental Science: Processes and Impacts. 18, 908-917. PMID: 27359112
Goodrich JM, Sánchez B, Dolinoy DC, Zhang Z, Hernández-Ávila M, Hu H, Peterson KE, Téllez-Rojo MM (2015). Quality Control and Statistical Modeling for Environmental Epigenetics: A Study on in Utero Lead Exposure and DNA Methylation at Birth. Epigenetics. 10, 19-30. PMCID: PMC4622744.
Parajuli R.P.†, Goodrich J.M.†, Chou H.N., Gruninger S.E., Dolinoy D.C., Franzblau A., Basu N. 2016. Genetic polymorphisms are associated with hair, blood, and urine mercury levels in the American Dental Association (ADA) Study participants. Environmental Research. 149, 247-258. PMCID: PMC4897752.
Professional Affiliations
Association for Clinical and Translational Science (ACTS)
Environmental Mutagenesis and Genomics Society (EMGS)
Society of Toxicology (SOT)