Faculty Profile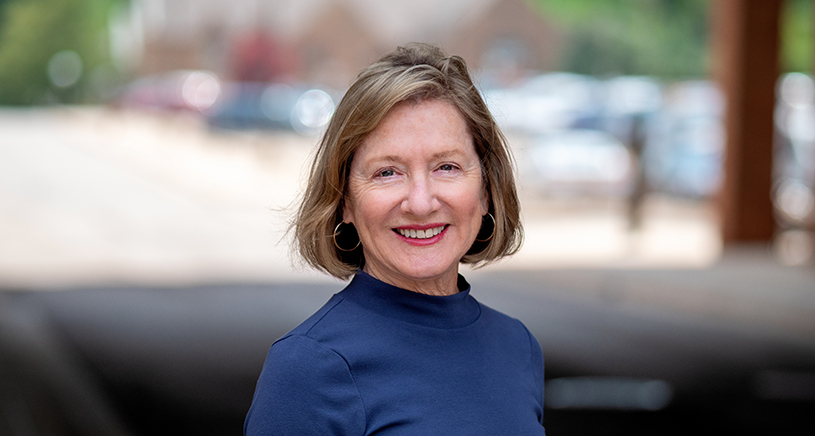 Kyle L. Grazier, DrPH
Richard Carl Jelinek Professor of Health Services Management and Policy, Health Management and Policy, School of Public Health

Professor, Department of Psychiatry, School of Medicine
1420 Washington Heights
M3507 SPH II
Ann Arbor, Michigan 48109-2029
Professional Summary
Kyle L. Grazier is the Richard Carl Jelinek Professor of Health Systems Management and Policy in the School of Public Health and Professor of Psychiatry in the School of Medicine at the University of Michigan. In 2017-18, she is a Fulbright Scholar conducting research on behavioral health integration in Eastern Europe.
She is past chair of the department of Health Management and Policy in SPH. She served as director of evaluation for the Michigan clinical and translational research center (MICHR) and as a member of the initial leadership team for IHPI. Dr. Grazier chaired two University multidisciplinary committees on redesigning and sustaining health benefits. She is faculty and advisor to the University of Michigan Comprehensive Depression Center and served on its inaugural leadership board.
She serves on the Board of Trustees of the Health Research and Education Trust (HRET) and is a member of the NCQA Utilization Management Advisory Panel. As a Director of the Indiana University Health System (IUHealth), she chairs the patient safety and quality committees of the academic health center and the system. She was a member of the Leadership Advisory Board for Ascension Health, a former director and treasurer of AUPHA, and former director of the Commission on Accreditation for Healthcare Management Education (CAHME). She received the ACHE Distinguished Faculty award and was the editor of the ACHE Journal of Healthcare Management from 2000 to 2010.
She has been a standing and ad hoc member of review committees for the National Institute on Minority Health and Health Disparities, the NIMH, NIAAA, AHRQ, RWJF and the Nuffield Trust. Foundations and the NIH have supported her research on financing mental health, payment system models, and behavioral health integration with primary care and social services; physician profiling; and mental health parity. At Michigan, she teaches graduate courses on insurance, payment systems, and health services advances.
Prior to joining the University of Michigan, she was the J. Thomas Clark Professor of Entrepreneurship and the Director of the Sloan Graduate Program in Health Services Administration at Cornell University. She also held the King Sweesy and Robert Womack Chair in Medical Science and Public Health at the University of California at Berkeley, and was on the faculty at Yale University School of Medicine. She holds a master's degree in Engineering from the University of Notre Dame, and a Master's in Public Health and a doctorate in Administrative Sciences from the University of California at Berkeley. The Robert Wood Johnson Foundation named her one of five post-doctoral Finance Fellows at the Johns Hopkins University.
Courses Taught
Education
Dr.P.H., University of California Berkeley,
M.P.H., University of California Berkeley,
M.S., Engineering, University of Notre Dame,
B.S., Nursing and Biology, Valparaiso University,
RWJF Post-Doctoral Fellowship- Healthcare Finance, , Johns Hopkins University, ____
Research Interests & Projects
One major area of Dr. Grazier's research is in health care finance, with special emphasis on the effect of managed care, ACO, and other alternative arrangements and risk adjustment methods on mental health and substance abuse services, costs, and quality of care. Under sponsorship from the Center for Healthcare Research and Transformation, she is studying the impact of changes in the federal behavioral health parity law, and conducting a meta-analysis of depression and primary care. Supported by the Robert Wood Johnson Foundation, she identified models of integrated services for vulnerable populations. She completed a study of health plan choice behavior, funded by AHRQ and BCBS-M Foundation. With support from the NIMH and NIAAA, she has studied the effects of a mental health carve-out on use and cost of mental health and medical services among an employed population, and the long term consequences of alcoholism in a community-based sample. Through support from the Robert Wood Johnson Foundation and the BCBS-M Foundation, she has examined the reintegration of medical and mental health services in employed and Medicaid populations. These sponsors have also supported study of the variation in risk adjustment methods used in provider profiling.

Sponsored research projects:
Consequences of Expansion of Mental Health and Addiction Treatment Benefits at a Large Employer
Sponsor: Center for Healthcare Research and Transformation



Determine the impact among a large employer's employees and their dependents of changes in behavioral health (mental health and substance abuse/addiction) plan benefits due to Federal parity legislation and regulations.
Integrated Health, Social, Human Services, and Financial Systems for Vulnerable Families
Sponsor: Robert Wood Johnson Foundation

The goal of the project is to identify and document models of integrated care for adults and children, and determine the factors responsible for their success.
System Changes, Outcomes, and Incentives Related to the Integration of Depression in Primary Care Settings: A Meta-Analysis and Site Evaluation
Sponsor: Center for Healthcare Research and Transformation



The overall goal is to improve the recognition, treatment, and/or referral of persons with depression who present in primary care practices, including FQHCs.
Integrating Depression Management in Primary Care
Sponsor: Robert Wood Johnson Foundation


Behavioral Healthcare for Women Under Medicaid Managed Care
Sponsor: BCBS-M Foundation


Cost and Use of Health Services: A Longitudinal Study of Community-Based Alcoholics
Sponsor: National Institute on Alcohol Abuse and Alcoholism


Selected Publications
Grazier, K.L. (2012). Grazier, K.L. Risk-adjusted Payment and Performance Assessment for Primary Care, In Press. Medical Care.
Buchmueller, T. C., Grazier, K.L., Hirth, R.H., Okeke, E. (2012). The Price Sensitivity of Medicare Beneficiaries: a Regression Discontinuity Approach. Health Economics.
Okeke ,E.N.,Hirth, R.A.,Grazier,K.L. (2010). Workers On The Margin: Who Drops Health Coverage when Prices Rise? Inquiry 33-47.
Grazier, K.L. (2008). Integrating Behavioral Health Care and Primary Care: Application of a Clinical and Economic Model in Culturally Diverse Communities International Journal of Public Administration 1532-1547.
Grazier, K.L., Klinkman M.S." (2006). The Economics of Integrated Depression Care Administration and Policy in Mental Health 16-20.
Hirth, R. Grazier, K.L. Chernew, M., Okeke, E." (2008). Insurer Competitive Strategy and Enrollment in Newly Offered Preferred Provider Organizations (PPOs) Inquiry 400-11.
Grazier, K.L., Mowbray C., Holter M. (2005). Rationing Psychosocial Treatments in the United States International Journal of Law and Psychiatry 545-560.
Grazier, K.L., Hegedus A.M., Carli T., Neal D., Reynolds K. (2003). Integration of Behavioral and Physical Health Care for a Medicaid Population Through a Public-Public Partnership Psychiatric Services 1508-1512.
Professional Affiliations
Academy for Health Services Research
American Public Health Association
Association of University Programs in Health Administration
American College of Healthcare Executives