Faculty Profile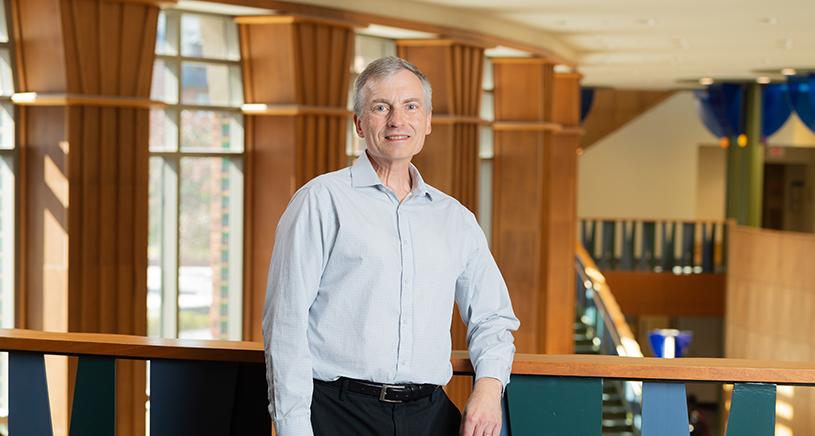 Richard A. Hirth, PhD
S. J. Axelrod Collegiate Professor

, Department of Health Management and Policy
Professor, Department of Internal Medicine
Associate Director, Kidney Epidemiology and Cost Center
Research Director, Center for Value-Based Insurance Design
1415 Washington Heights
M3202 SPH II
Ann Arbor, Michigan 48109-2029
Dr. Richard Hirth is the S. J. Axelrod Collegiate Professor of Health Management and Policy. He received his Bachelor's degree in Economics from Carleton College, and PhD in Economics from the University of Pennsylvania.
Dr. Hirth has received several awards, including the AcademyHealth Health Services Research Impact Award (2014), the Kenneth J. Arrow Award in Health Economics, awarded annually by the American Public Health Association and the International Health Economics Association to the best paper in health economics (1993); The University of Michigan School of Public Health Excellence in Research Award (2014); the Excellence in Research Award in Health Policy from the Blue Cross/Blue Shield of Michigan Foundation (1998 and 2009); and the Thompson Prize for Young Investigtors from the Association of University Programs in Health Administration (1999); Listing in Top 20 Most Read Articles of 2009, Health Affairs (2010); Outstanding abstract (consumer decision-making theme), AcademyHealth Annual Meeting (2007); and Outstanding abstract (long-term care theme), Academy for Health Services Research and Health Policy Annual Meeting (2001).
PhD, Economics, University of Pennsylvania, 1993
M.A., Economics, University of Pennsylvania, 1988
B.A. (Summa Cum Laude), Economics, Carleton College, 1987
Dr. Hirth's research interests include the role of not-for-profit providers in health care markets, health insurance, the relationship between managed care and the adoption and utilization of medical technologies, long-term care, and the economics of end stage renal disease care.
S.S. Huang, R.A. Hirth, "Quality Rating and Private Prices: Evidence from the Nursing Home Industry,

Journal of Health Economics

, 50:59-70, 2016.
R.A. Hirth, E.Q. Cliff, T.B. Gibson, M.R. McKellar, A.M. Fendrick, "The Clinical and Economic Impact of an Innovative Clinically Nuanced Benefit Design for Connecticut State Employees,"

Health Affairs

35(4):637-646, April 2016.
R.A. Hirth, S. Calonico, T.B. Gibson, H. Levy, J. Smith, A. Das, "Long-term Health Spending Persistence among the Privately Insured,"

Fiscal Studies

, 37(3-4):749-783, September 2016.
S.S. Stith, R.A. Hirth, "The Effect of Performance Standards on Healthcare Provider Behavior: Evidence from Kidney Transplantation,"

Journal of Economics &

Management Strategy

, 25(4):789-825, Winter 2016.
R.A. Hirth, T.B. Gibson, H.G. Levy, J.A. Smith, S. Calonico, A. Das, "New Evidence on the Persistence of Health Spending,"

Medical Care Research and Review

, 72(3):277-297, June 2015.
R.A. Hirth, D.C. Grabowski, Z. Feng, M. Rahman, V. Mor (2014). Effect of nursing home ownership on hospitalization of long-stay residents: an instrumental variables approach International Journal of Health Care Finance and Economics118.
R.A. Hirth, M.N. Turenne, J.R.C. Wheeler, T.A. Nahra, K.K. Sleeman, W. Zhang, J.A. Messana (2013). The Initial Impact of Medicare's New Bundled, Prospective Payment System for Kidney Dialysis American Journal of Kidney Disease662669.
T.C. Buchmueller, K. Grazier, R.A. Hirth, E.N. Okeke (2013). The Price Sensitivity of Medicare Beneficiaries: A Regression Discontinuity Approach Health Economics.
A.D. Sinaiko, R.A. Hirth (2011). Consumers, Health Insurance and Dominated Choices Journal of Health Economics450-457.
M.V. Pauly, K. Menzel, H. Kunreuther, R.A. Hirth (2011). Guaranteed Renewability Uniquely Prevents Adverse Selection in Individual Health Insurance Journal of Risk and Uncertainty127-139.
International Health Economics Association
American Economic Association
AcademyHealth