Faculty Profile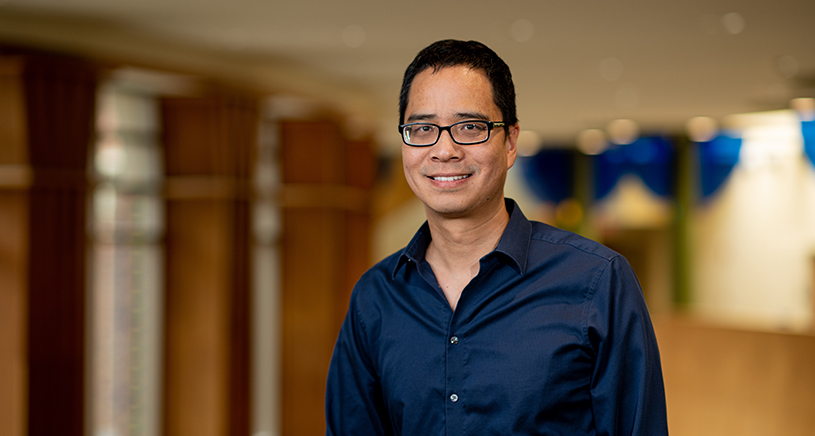 Hui Jiang, PhD
Associate Professor of Biostatistics
M4523
1415 Washington Heights
Ann Arbor, Michigan 48109-2029
Professional Summary
Hui Jiang is an Associate Professor in the Department of Biostatistics. He received his PhD in Computational and Mathematical Engineering from Stanford University in 2009. Before joining the University of Michigan in 2011, he was a postdoctoral scholar in the Department of Statistics and Stanford Genome Technology Center at Stanford University (2009-2011). He is interested in developing statistical and computational methods for the analysis of large-scale biological data generated using modern high-throughput technologies.
Education
PhD, Computational and Mathematical Engineering, Stanford University, 2009
M.S., Computer Science, Peking University, 2004
B.S., Computer Science, Peking University, 2001
Research Interests & Projects
My research interests include bioinformatics, statistical genomics and computational statistics.
Selected Publications
Shi Y, Wang M, Shi W, Lee J, Kang H, Jiang H (2018) Accurate and Efficient Estimation of Small P-values with the Cross-Entropy Method: Applications in Genomic Data Analysis. Bioinformatics, in press.
Segal B, Elliott M, Braun T, Jiang H (2018) P-splines with an l1 penalty for repeated measures. Electronic Journal of Statistics, 12 (2): 3554-3600.
Liu K, Ye J, Yang Y, Shen L, Jiang H (2018) A Unified Model for Joint Normalization and Differential Gene Expression Detection in RNA-Seq data. IEEE/ACM Transactions on Computational Biology and Bioinformatics, in press.
Segal B, Braun T, Elliott M, Jiang H (2018) Fast Approximation of Small p-values in Permutation Tests by Partitioning the Permutations. Biometrics, 74 (1): 196-206.
Liu T, Jiang H (2017) Minimizing sum of truncated convex functions and its applications. Journal of Computational and Graphical Statistics, in press.
Jiang H, Zhan T (2017) Unit-free and robust detection of differential expression from RNA-Seq data. Statistics in Biosciences, 9 (1): 178-199.
Jiang H, Mu JC, Yang K, Du C, Lu L, Wong WH (2016) Computational Aspects of Optional Polya Tree. Journal of Computational and Graphical Statistics, 25 (1): 301-320.
Lu L, Jiang H, Wong WH (2013) Multivariate density estimation by Bayesian Sequential Partitioning density estimation. Journal of American Statistical Association, Theory and Methods, 108 (504): 1402-1410.
Jiang H, Salzman J (2012) Statistical properties of an early stopping rule for resampling-based multiple testing. Biometrika, 99 (4): 973-980.
Salzman J, Jiang H, Wong WH (2011) Statistical Modeling of RNA-Seq Data. Statistical Science, 26 (1): 62-83.
Jiang H, Wong WH (2009) Statistical Inferences for Isoform Expression in RNA-Seq. Bioinformatics, 25 (8): 1026–1032.
Jiang H, Wong WH (2008) SeqMap: Mapping Massive Amount of Oligonucleotides to the Genome. Bioinformatics, 24 (20): 2395–2396.