Faculty Profile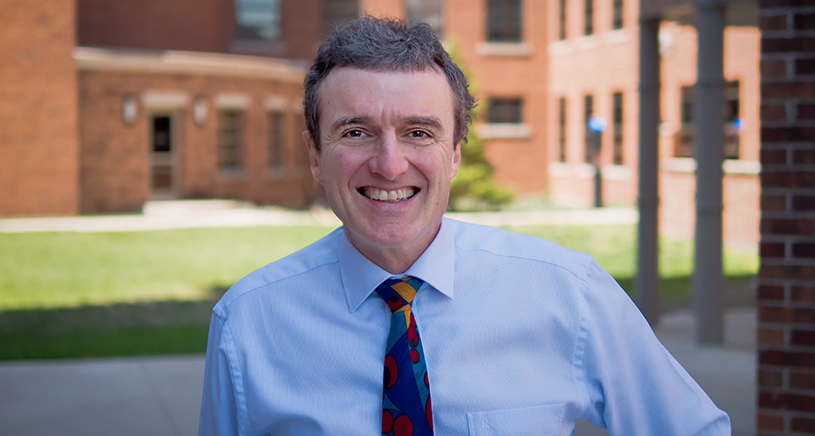 Olivier Jolliet, Ph.D.
Professor of Environmental Health Sciences
6635 SPH I
1415 Washington Heights
Ann Arbor, Michigan 48109-2029
Professional Summary
Professor Jolliet's research and teaching programs aim to assess environmental risks and impacts of chemicals and of innovative technologies. He co-initiated the UNEP (United Nations Environment Program)/SETAC Life Cycle Initiative and is the scientific manager of its Life Cycle Impact Assessment program. He is editor and reviewer for several scientific journals.
Olivier Jolliet obtained a Ph.D. in building physics in 1988 at the EPFL. He worked as a postdoc at the Silsoe Research Institute (GB) and as a visiting scholar at MIT (USA) and Berkeley. Between 1998 and 2005, he was assistant professor at the Swiss Federal Institute of Technology Lausanne (EPFL), heading the Industrial Ecology & Life Cycle Systems Group. In 2005, Olivier Jolliet was appointed as Associate Professor at the University of Michigan and is one of the founding members of the Risk Science Center.
Education
Ph.D., Physics, Swiss Federal Institute of Technology Lausanne (EPFL), 1988
M.S., Physics, Swiss Federal Institute of Technology Lausanne (EPFL), 1983
Research Interests & Projects
Prof. Jolliet's research and teaching programs aims to provide the scientific knowledge for assessing environmental risks and impacts of chemicals, in order: (1) to develop a flexible risk assessment framework, enabling specialist to contribute to an interdisciplinary comparative approach, from chemical emissions to risks & impacts, (2) to model population-based exposure and intake fractions for outdoor and indoor chemical emissions in a consistent way, (3) to assess the life cycle risks, impacts and benefits related to new technologies and materials in order to prevent emissions and guide the development of these technologies, Indoor intake fraction (Yvan Wenger): Prediction of the intake fraction for indoor air emissions in a consistent way to outdoor intake fraction, i.e. the fraction of the emission that is ingested or inhaled by the world population (Bennett et al., 2002). This research opens very interesting perspectives to account for the different removal pathways in buildings that are air renewal, inside degradation, and surface adsorption and degradation. This opens the way to treat occupational and worker exposure in a consistent way with other exposure pathways. The modeling approach will be complemented by experimental inputs on e.g. real-time monitoring of workplace contaminants. Multiscale multi-media model (Cedric Wannaz): Creation of an adaptive multimedia model determining intake fractions at local (1km grid around the emission source), regional (200km grid within the continent of emission) and continental (world divided in continents) levels. Special emphasis is given to further develop modeling of exposure in the food chain linked to highest intake fractions and high level of uncertainties. This research builds up on the Impact 2002 model, a spatial multimedia (air, water, soil, sediment) model, enabling one to calculate the intake fraction and to analyse the spatial variations in toxic impacts over Europe. Human health risks and impacts: Further improvement in the quantification of chemical risk is linked to better understanding of mechanistic effects of toxics in humans. Intake fraction will be extended consistently to a new metric accounting for uptake and transport within the body, accounting for toxicokinetics. This is essential for the correct assessment of multipathway exposure, when route-to-route extrapolation is needed due to lack of toxicity data for a certain exposure route. Dose-response information will be further expanded and applied to the comparative risk assessment of e.g pesticides compared to substances naturally occurring in food. New material and of technological solutions for sustainability: Traditional Life cycle approaches are being extended by coupling them with Life Cycle Cost modelling for materials production, and component manufacturing. We will take advantage from the fact that material production and component manufacturing is composed of a limited set of processes that can be modelled in terms of labor, costs and environmental interventions. To support public policy in the domain of waste management or site remediation, existing knowledge is being extended to define the trade-off between treatments, as a function of e.g. the value of recycled/treated product (avoided burden), the magnitude of direct emissions during treatment and the transport requirements to the recycling or treatment facilities. Socially responsible Investments: To support corporate managers and to advice investors, a quantitative evaluation of the overall life cycle environmental performances of companies is being developed, consistently with economic performances. Specific indicators are identified to cover the main impacts in the life cycle in order to provide guidance for company rating and socially responsible investments.
Selected Publications
Hauschild M, Goedkoop M, Guinée J, Heijungs R, Huijbregts M, Jolliet O, Margni M, De Schryver A, Humbert S, Laurent A, Sala S, Pant R (2013). Identifying best existing practice for characterization modelling in Life Cycle Impact Assessment International Journal of Life Cycle Assessment 683-697.
Wambaugh JF, Setzer RW, Reif DM, Gangwal S, Mitchell-Blackwood J, Arnot, JA, Jolliet O, Frame A, Rabinowitz J, Knudsen TB, Judson RS, Egeghy P, Vallero D, Cohen Hubal EA (2013). High-throughput models for exposure-based chemical prioritization in the ExpoCast project Environmental Science & Technology 8479-8488.
Rosenbaum R.K., Huijbregts M, Henderson A, Margni M, McKone T.E., van de Meent D, Hauschild M.Z, Shaked S., Li D.S, Slone T.H, Gold L.S, Jolliet O (2011). USEtox human exposure and toxicity factors for comparative assessment of toxic emissions in Life Cycle Analysis: Sensitivity to key chemical properties International Journal of Life Cycle Assessment 710-727.
Milbrath M O, Wenger Y, Chang C-W, Emond C, Garabrant D, Gillespie BW and Jolliet O (2009). Apparent half-lives of dioxins, furans, and PCBs as a function of age, body fat, smoking status, and breastfeeding. Environmental Health Perspectives 417-425.