Faculty Profile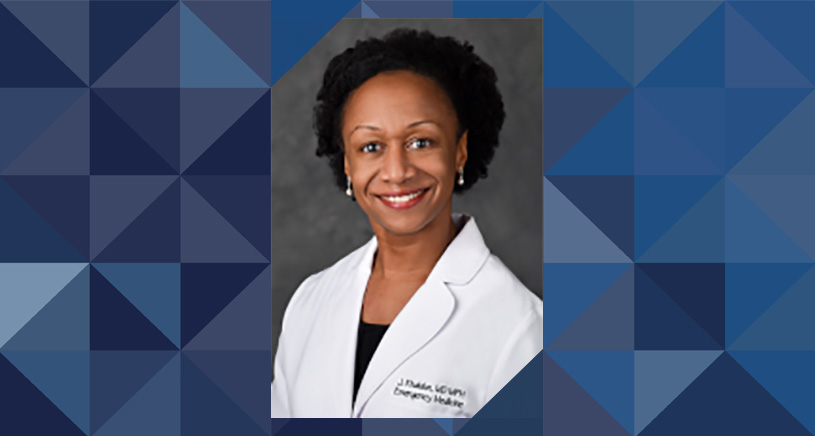 Joneigh S. Khaldun, MD, MPH, FACEP, FAAEM
Adjunct Professor, Health Management and Policy
Vice President and Chief Health Equity Officer, CVS Health
Appointee, Biden-Harris Administration COVID-19 Health Equity Task Force
Joneigh S. Khaldun, MD, MPH, FACEP, is the Vice President and Chief Health Equity Officer for CVS Health. She leads the CVS Health strategy to advance health equity for patients, members, providers, customers, and the communities served across all lines of the CVS Health business. Prior to this role, she served as the Chief Medical Executive for the State of Michigan and Chief Deputy Director for Health in the Michigan Department of Health and Human Services (MDHHS), where she was responsible for public health and aging programs, Medicaid, and behavioral health. She led Michigan's COVID-19 response and is credited for Michigan's early identification of and strategy to address disparities in COVID-19 outcomes. In 2021, she was named by President Biden to the COVID-19 Health Equity Task Force.

Prior to her role at MDHHS, she was the Director and Health Officer for the Detroit Health Department, where she oversaw a robust community health assessment, spear-headed new human service and maternal and infant health efforts, and led Detroit's response to the largest Hepatitis A outbreak in modern U.S. history. Her efforts contributed to Detroit having the lowest infant mortality rate in recorded history in 2019.

Previously, Dr. Khaldun was the Baltimore City Health Department's Chief Medical Officer, where she expanded and modernized the department's clinical services. She has held previous positions as the Director of the Center for Injury Prevention and Control at George Washington University, Founder and Director of the Fellowship in Health Policy in the University of Maryland Department of Emergency Medicine, and Fellow in the Obama-Biden administration's Office of Health Reform in the U.S. Department of Health and Human Services. She currently serves on the National Advisory Board for the Institute for Healthcare Policy and Innovation at the University of Michigan and on the Health and Medicine Committee of the National Academies of Science, Engineering and Medicine. She is an Adjunct Professor in the Department of Health Policy and Management in the University of Michigan School of Public Health.
Dr. Khaldun has received numerous awards, including the 40 Under 40 Leaders in Minority Health Award by the National Minority Quality Forum, the 40 Under 40 Leaders in Public Health award from the deBeaumont Foundation, and the George Washington University Monumental Alumni award. In 2021, she was named Michiganian of the Year by the Detroit News and was noted as 100 Most Influential Women in Michigan by Crain's Detroit. Dr. Khaldun obtained her undergraduate degree from the University of Michigan, medical degree from the University of Pennsylvania, MPH in Health Policy from George Washington University, and completed residency in emergency medicine at SUNY Downstate Medical Center/Kings County Hospital in Brooklyn, NY, where she was elected chief resident in her final year. She practices emergency medicine at Henry Ford Hospital in Detroit.
MPH, Health Policy, George Washington University School of Public Health and Health Services, 2013
MD, Perelman School of Medicine at University of Pennsylvania, 2006
BS, Biology, University of Michigan College of Literature, Science and Arts, 2002
Clery, M and Khaldun J. Emergency Physicians as Public Health Advocates. Annals of Emergency Medicine 2019:74:5:S62-S65.
Heisler M, Lapidos A, Henderson J, Guzman RM, Wolfe J, Meyer P, Law D, Kieffer EC, Ernst C, Djelaj V, Khaldun J, Ayanian JZ. Study Protocol for a Community Health Worker (CHW)-Led Comprehensive Neighborhood-Focused Program for Medicaid Enrollees in Detroit. Contemp Clin Trials Commun. 2019 Sep 30:16:100456.
Clery MJ, Dworkis DA, Sonuyi T, Khaldun JS, Abir M. Location of Violent Crime Relative to Trauma Resources in Detroit: Implications for Community Interventions. West J Emerg Med 2020 Jan17:1-4.
Khaldun, Joneigh S. Public Health Leadership During a Pandemic: Michigan's Experience. J Public Health Manag Pract. January/February 2021. Volume 27. Issue 1. pS14-S18.
Jarrah, Sami, Khaldun, Joneigh, Sellers, Katie, Rich, Naomi. Bringing the Essential Public Health Services to Life. J Public Health Manag Pract: January/February 2021. Volume 27.Issue 1. p 97-98.