Faculty Profile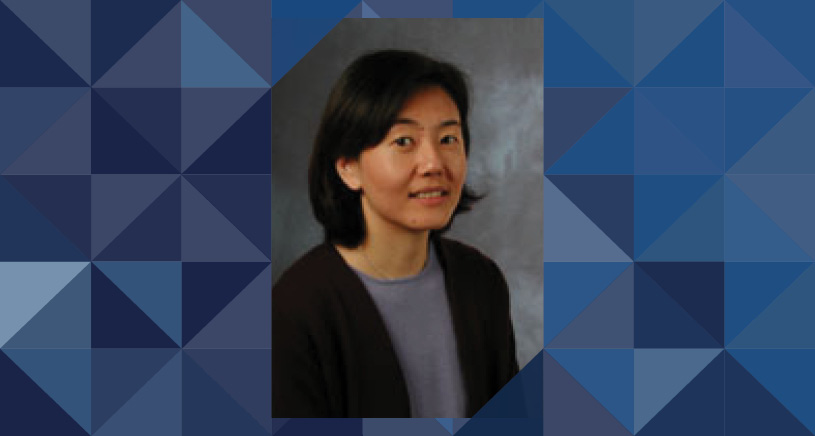 Hyungjin Myra Kim, Sc.D.
Research Scientist, Center for Statistical Consulting & Research
Adjunct Professor, Biostatistics Department
3550 Rackham, CSCAR
915 E. Washington
Ann Arbor, Michigan 48109-1070
H. Myra Kim is a Research Scientist at the Center for Statistical Consultation and Research and an Adjunct Professor at the Department of Biostatistics. She received her Sc.D. in Biostatistics from Harvard University in 1995 and worked at Brown University as an Assistant Professor from 1995 to 1997. She has worked at UM since 1997 and has collaborated with various researchers from around the UM community as well as from other universities. Her main collaboration has been with the investigators at the Ann Arbor VA Center for Practice Management and Outcomes Research.
Sc.D., Biostatistics, Harvard University, 1995
M.A., Biostatistics, University of California, Berkley, 1988
B.A., Biology, University of Hawaii, Manoa, 1986
My primary appointment is at the Center for Statistical Consultation and Research where I do statistical consulting for the University of Michigan faculty, staff, and graduate students, collaborate on research proposals, and offer workshops. My main collaborators are from the Health Services Research and Development Department at the Veterans Administration Hospital. Naturally, my current research efforts are in the fields of decision analyses, outcomes research, health services research, and various telemedicine research. My recent collaborative work includes evaluation of health burden in women with breast hypertrophy and development of an automated risk-adjusted mortality model for intensive care unit using a large national database. I also work with a radiation oncologist to compare disease specific as well as general quality of life in head and neck cancer patients treated with different types of radiation therapy. I am also interested in cost-effectiveness analyses of various diagnostic modalities.
Maust DT, Kim HM, Chiang C, Langa KM, Kales HC. Predicting Risk of Potentially Preventable Hospitalization in Older Adults with Dementia. Journal of the American Geriatrics Society 2019. Doi: 10.1111/jgs.16030
Skolarus TA, Metreger T, Hwang S, Kim HM, Grubb RL, Gingrich JR, Hawley ST. Self-Management in Long-term Prostate Cancer Survivors: A Randomized Controlled Trial. Journal of Clinical Oncology 2019. NCT01900561.
Barnett PG, Ignacio RV, Kim HM, Geraci MC, Essenmacher CA, Hall SV, Sherman SE, Duffy SA. Cost-Effectiveness of Real-World Administration of Tobacco Pharmacotherapy in the Veterans Health Administration. Addiction 2019. doi:10.1111/add.1462
Chung KC, Malay S, Shauver MJ, Kim HM, for the WRIST Group. Assessment of Distal Radius Fracture Complications Among Adults 60 Years or Older: A Secondary Analysis of the WRIST Randomized Clinical Trial. JAMA Network Open 2019;2(1):e187053. Doi:10.1001/jamanetworkopen.2018.7053.
Bennett KG, Qi J, Kim HM, Hamill JB, Pusic AL, Wilkins EG. Comparison of 2-year Complications Rates Among Common Techniques for Postmastectomy Breast Reconstruction. JAMA Surgery Published online June 20, 2018. doi:10.1001/jamasurg.2018.1687.
Moin T, Damschroder LJ, AuYoung M, Maciejewski ML, Havens K, Ertl K, Vasti E, Weinreb JE, Steinle NI, Billington CJ, Hughes M, Makki F, Youles B, Holleman RG, Kim HM, Kinsinger LS, Richardson CR. Results from a Trial of an Online DPP Intervention. American Journal of Preventive Medicine Accepted.
Goold SD, Myers CD, Danis M, Abelson J, Barnett S, Calhoun K, Campbell EG, LaHahnn L, Hammad A, Rosenbaum RP, Kim HM, Salman C, Szymecko L, Rowe ZE. Members of Minority and Underserved Communities Set Priorities for Health Research. Milbank Quarterly 96(4):675-705, 2018. Dec 9.
Rausch SAM, Kim HM, Powell C, Tuerk PW, Simon NM, Acierno R, Allard CB, Norman SB, Venners MR, Rothbaum BO, Stein MB, Porter K, Martis B, King AP, Liberzon I, Phan KL, Hoge CW. Efficacy of Prolonged Exposure, Sertraline Hydrochloride, and Their Combination among Combat Veterans with Post Traumatic Stress Disorder: A Randomized Clinical Trial. JAMA Psychiatry doi:10.1001/jamapsychiatry.2018.3412. ClinicalTrials.gov Identifier: NCT01524133. PMID: 30516797. PMCID: PMC6439753
Kim HM, Gerlach LB, Van T, Yosef M, Conroy DA, Zivin K. Predictors of long-term and high-dose use of zolpidem in veterans. J Clin Psychiatry 80(2), Feb 2019. pii: 18m12149. doi: 10.4088/JCP.18m12149. PMID: 30840786.