Faculty Profile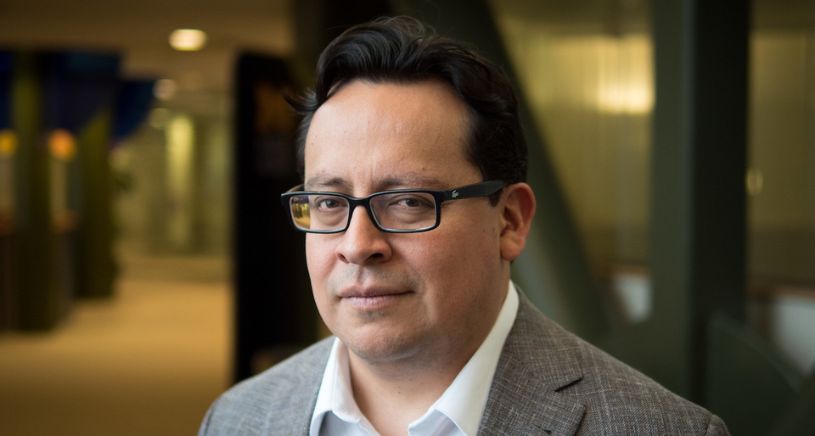 Rafael Meza, PhD
Professor, Epidemiology

Professor of Global Public Health

Co-Leader, Cancer Control and Population Sciences Program, UM Rogel Cancer Center
M5533 SPH II
1415 Washington Heights
Ann Arbor, Michigan 48109-2029
Dr. Meza is Professor of Epidemiology and Global Public Health at the University of Michigan. He is co-leader of the Cancer Control and Population Sciences Program at the University of Michigan
Rogel Cancer Center
. He is also Honorary Professor at the Mexico National Institute of Public Health (
INSP
). He received his BSc in applied mathematics from the
Instituto Tecnologico Autonomo de Mexico (ITAM)
, and his PhD in applied mathematics from the
University of Washington
. After receiving his PhD, Dr. Meza completed a two-year postdoctoral fellowship at the
Fred Hutchinson Cancer Research Center
and a three-year fellowship at the University of British Columbia Centre for Disease Control.
Dr. Meza's research interests lie at the interface of epidemiology, biostatistics and biomathematics. The goal of his research program is to characterize the impact of disease prevention and control interventions, informing stakeholders and policy makers as to the most effective and efficient ways to improve population health. In particular, he is interested in cancer risk assessment and the analysis of cancer epidemiology data using mechanistic models of carcinogenesis. He is also interested in the mathematical modeling of chronic and infectious disease dynamics and its applications in disease prevention public health policy design. Dr. Meza is Coordinating Principal Investigator of the Cancer Intervention and Surveillance Modeling Network (
CISNET
) lung group and Principal Investigator of the Center for the Assessment of Tobacco Regulations (
CAsToR
).
Currently, Dr. Meza is developing models to evaluate the impact of screening and smoking cessation on lung cancer risk. He is also developing models to understand the impact of emerging tobacco products, such as e-cigarettes, on cigarette smoking prevalence and downstream health effects. Additional projects include the development of methodologies to investigate the effects of infectious disease dynamics on the risk of cancers with infectious disease etiology, particularly HPV-related cancers, assessing the acceptability of HPV screening in indigenous and minority populations in Latin America, and modeling the impact of policies on tobacco use.
PhD, Applied Mathematics, University of Washington, 2006
B.Sc., Applied Mathematics, ITAM (México), 2000
Comparative Modeling of Lung Cancer Prevention, Early Detection and Treatment Interventions
Sponsor: NIH/NCI (U01CA253858 & U01CA199284)
Lung cancer remains the leading cause of cancer related mortality in the US and globally accounting for 1.8 million deaths annually. As collaborative investigators of the Cancer Intervention and Surveillance Modeling Network (CISNET) Lung Working Group (LWG), we have contributed to the development of US national strategies for reducing the lung cancer burden by quantifying the impact of tobacco control on smoking, lung cancer, and overall mortality, and by evaluating the population benefits and harms of lung cancer screening in the US. This proposed work will extend existing CISNET LWG models to assess the impacts of future tobacco control interventions in the ever-changing tobacco market landscape, improvements in lung cancer screening and other emerging early detection strategies, innovations in lung cancer treatment, and their synergistic interactions, on lung cancer rates and overall mortality in the US and globally.
Center for the Assessment of the Public Health Impact of Tobacco Regulations (CAsToR)
Sponsor: NIH/NCI (UU54CA229974)
The Center for the Assessment of the Public Health Impact of Tobacco Regulations (CAsToR,
tcors.umich.edu
) aims to provide evidence- based and expert-informed modeling of the behavioral and public health impacts of tobacco regulations. The Center's primary scientific domains are Impact Analysis and Health Effects. To evaluate the public health impacts of tobacco use and regulation, information must be gathered from different sources on use behaviors, health risks and the impact of regulations on use patterns. This information must then be synthetized and processed in a systematic and objective manner, helping policy makers to gauge the impact that such regulations would have at the population level and aiding them in their decision-making process. Simulation modeling of tobacco use patterns and related health outcomes can serve as a one of the key tools to assist FDA in evaluating and predicting population-level benefits and harms resulting from regulatory policies pertaining to new and existing tobacco products. When well applied, modeling also becomes a way of organizing and synthesizing different sources of information and determining gaps in that information, especially in situations where tobacco use patterns vary for different populations. You can learn more about the Center's work at
tcors.umich.edu
From Mechanism to Population: Modeling HPV-Related Oropharyngeal Carcinogenesis
Sponsor: NIH/NCI (U01CA182915) & UM MCubed
While cervical and other genital cancers are primarily caused by Human Papilloma Virus (HPV) infections, recent studies have demonstrated that HPV is also associated with head and neck (HN) cancers. The prevalence of oral HPV infection among men and women aged 14 to 69 years in the US is about 7%, however, 90% of University of Michigan (UM) oropharyngeal squamous cancer (OPSC) patients carry high-risk HPV. Indeed, the incidence of HPV- associated OPSCs is increasing and OPSC has become the most common HPV-related cancer in the US. HPV has been shown to disrupt several key cancer pathways in oropharyngeal squamous cell lines, including p53 and Rb, but many open questions remain regarding oral HPV transmission epidemiology, infection and persistence, the mechanisms of HPV HN carcinogenesis, and the connection between the ongoing oral HPV epidemic and the rising OPSC incidence. The overarching goal of this proposal is to understand the mechanistic effects of HPV infection on the regulatory pathways of oropharyngeal carcinogenesis, and how these effects in turn shape the observed age-specific incidence and mortality of OPSCs. This problem is inherently multi-scale, as population level HPV transmission drives dynamic, ongoing changes to intracellular cancer regulatory pathways, which in turn drives population-level trends in cancer incidence and mortality. Thus, understanding the rising incidence in OPSC necessitates tying together both the population level processes of infectious disease and the population-level cancer incidence through the mechanistic interactions between HPV and carcinogenesis. Toward this goal, we will develop systems biology models of the main proliferation regulatory networks affected by HPV, and assess the consequences of HPV infection, integration and alternate transcripts on the dynamics of HPV-positive tumor cell proliferation. We will integrate these mechanistic infection and cancer models into multistage models of carcinogenesis to gauge the impacts of HPV infection on the population-level age-specific incidence and mortality of OPSC. We will use these integrated multi-scale cancer models in combination with population-level oral HPV transmission models to predict the effects of current HPV prevalence trends on future rates of OPSCs and the potential impact of vaccination and other prevention strategies. Our systems models will be based on multi-scale inference using mechanistic infection and cancer data.
Meza R, Jeon J, Toumazis I, Ten Haaf K, Cao P, Bastani M, Han SS, Blom EF, Jonas D, Feuer EJ, Plevritis SK, de Koning HJ, Kong CY. Evaluation of the Benefits and Harms of Lung Cancer Screening With Low-Dose Computed Tomography: Modeling Study for the US Preventive Services Task Force. JAMA, 325(10):988–997, 2021
Meza R, Jimenez-Mendoza E & Levy DL. Trends in tobacco use among adolescents by grade, sex and race, 1991-2019. JAMA Netw Open, 3(12):e2027465, 2020
Cao P, Jeon J, Levy DT, Jayasekera J, Cadham C, Mandelblatt J, Taylor K & Meza R. Potential impact of cessation interventions at the point of lung cancer screening on lung cancer and overall mortality in the US. Journal of Thoracic Oncology (JTO), 15(7):1160-1169, 2020
Christopher J Cadham, MPH, Pianpian Cao, MPH et al, on behalf of the CISNET-SCALE Collaboration, Cost-Effectiveness of Smoking Cessation Interventions in the Lung Cancer Screening Setting: A Simulation Study, JNCI: Journal of the National Cancer Institute, 2021;, djab002,

https://doi.org/10.1093/jnci/ djab002
Howlander N, Forjaz G, Mooradian MJ, Meza R, Kong CY, Cronin KA, Mariotto AB, Lowy DR & Feuer EJ. The impact of advances in lung-cancer treatment on population mortality. New England Journal of Medicine, 383:640-649, 2020
Brouwer AF, Jeon J, Hirschtick JL, Jimenez-Mendoza E, Mistry R, Bondarenko IV, Land SR, Holford TR, Levy DT, Taylor JMG, Fleischer NL, Meza R. Transitions between cigarette, ENDS and dual use in adults in the PATH study (waves 1-4): multistate transition modelling accounting for complex survey design. Tob Control. 2020 Nov 16:tobaccocontrol-2020-055967. doi: 10.1136/tobaccocontrol-2020- 055967. Epub ahead of print. PMID: 33199541; PMCID: PMC8124082.
Gottschlich A, Rivera-Andrade A, Bevilacqua K, Murchland AR, Isak E, Alvarez CS, Ogilvie G, Carey TE, Prince M, Dean M, Mendoza-Montano C, Meza R. Using self-collection HPV testing to increase engagement in cervical cancer screening programs in rural Guatemala: a longitudinal analysis. BMC Public Health, 20(1):1406, 2020
Lau YK, Bhattarai H, Caverly TJ, Hung PY, Jimenez-Mendoza E, Patel MR, Cote ML, Arenberg DA, Meza R. Lung cancer screening knowledge, perceptions and decision-making among African Americans in Detroit, Michigan. Am J Prev Med, 60(1): e1-e8, 2021
Ten Haaf K, Bastani M, Cao P, Jeon J, Toumazis I, Han SS, Plevritis SK, Blom EF, Kong CY, Tammemägi MC, Feuer EJ, Meza R, de Koning HJ. A Comparative Modeling Analysis of Risk-Based Lung Cancer Screening Strategies. J Natl Cancer Inst. 2020 May 1;112(5):466-479. doi: 10.1093/jnci/djz164. PMID: 31566216; PMCID: PMC7225672.
Han SS, Chow E, Ten Haaf K, Toumazis I, Cao P, Bastani M, Tammemagi M, Jeon J, Feuer EJ, Meza R, Plevritis SK. Disparities of National Lung Cancer Screening Guidelines in the US Population. J Natl Cancer Inst. 2020 Nov 1;112(11):1136-1142. doi: 10.1093/jnci/djaa013. PMID: 32040195; PMCID: PMC7669226.
Brouwer AF, Eisenberg C, Meza R. Cases studies of gastric, lung, and oral cancer connect etiological agent prevalence to cancer incidence. Cancer Research, 78 (12), 3386-3396, 2018
Jeon J, Holford TR, Levy DT, Feuer EJ, Cao P, Tam J, Clarke L, Clarke J, Kong CY, Meza R. Smoking and Lung Cancer Mortality in the United States From 2015 to 2065: A Comparative Modeling Approach. Ann Intern Med. 2018 Nov 20;169(10):684-693. doi: 10.7326/M18-1250. Epub 2018 Oct 9. PMID: 30304504; PMCID: PMC6242740.
Society for Research on Nicotine and Tobacco
Rafael Meza in the News