Faculty Profile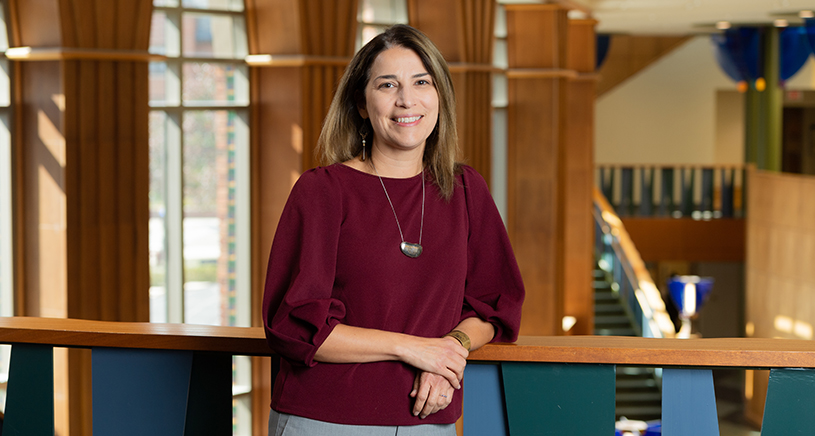 Briana Mezuk, PhD
Associate Professor, Epidemiology
Co-Director, Center for Social Epidemiology and Population Health
2649B SPH Tower
1415 Washington Heights
Ann Arbor, Michigan 48109-2029
Professional Summary
I completed a dual-degree in Neuroscience and History & Philosophy of Science from the University of Pittsburgh in 2002, and a PhD in Mental Health from Johns Hopkins School of Public Health in 2007. During my undergraduate training I was also an active participant (and later coach) in competitive policy debate, a formative experience that taught me the value and importance of examining an issue from multiple perspectives. Following graduate school I was a Robert Wood Johnson Health & Society Scholar at the University of Michigan, where my research interests regarding social determinants of mental and physical health developed. From 2009 to 2016 I was faculty in the Division of Epidemiology at Virginia Commonwealth University, with a joint appointment with the Virginia Institute for Psychiatric and Behavioral Genetics. In 2017 I joined the Department of Epidemiology at the University of Michigan in School of Public Health in the Center for the Social Epidemiology and Population Health. I am also affiliated with the Research Center for Group Dynamics at the Institute for Social Research at the University of Michigan.
I am drawn to the field of population health because it is an inherently interdisciplinary enterprise. My research program uses epidemiologic methods to examine the interrelationships between mental and physical health over the lifespan, with a focus on depression and conditions in mid- and late-life including frailty and type 2 diabetes. A core feature of my research is the integration of conceptual and analytical approaches, methods, and models from social science and clinical disciplines with the aim of arriving at a more nuanced and comprehensive understanding of the ways in which mental and physical health interrelate. The goal of this work is to inform interventions that reflect an integrative approach to health to effectively reduce the burden of mental disorders in later life.
Education
Post-doctoral fellow, Robert Wood Johnson Health & Society Scholars, University of Michigan
PhD Mental Health, Johns Hopkins School of Public Health
BS Neuroscience, University of Pittsburgh
BPhil History & Philosophy of Science, University of Pittsburgh
Research Interests & Projects
Examples of current projects:
Mood and Immune Regulation in Twins (MIRT) Study, a pilot study of depression and diabetes risk among monozygotic twin pairs.
Richmond Stress and Sugar Study (SASS), a longitudinal study of the roles of stress exposure, stress-reactivity, and self-regulation on the emergence of racial and socioeconomic disparities in type 2 diabetes.
A mixed-methods investigation of suicide risk among older adults living in, or transitioning to, residential long-term care settings using data from the National Violent Death Reporting System (NVDRS).
A community-engaged research partnership with the Richmond area YMCA to evaluate a community-based diabetes self-management program.
Selected Publications
Mezuk, B., Concha, J.B., Perrin, P., Green, T.. Reconsidering the role of context in diabetes prevention. Ethnicity & Disease (in press)
Mezuk, B., Lohman, M.C., Rock, A., Payne, M. Trajectories of body mass indices and development of frailty: Evidence from the Health and Retirement Study. Obesity 2016;24(8):1643-7
Mezuk, B., Li, X., Cederin, K., Concha, J.B., Kendler, K.S., Sundquist, K.S. Ethnic enclaves and risk of psychiatric disorders among first and second generation immigrants in Sweden. Social Psychiatry and Psychiatric Epidemiology 2015;50:1713-22.
Mezuk, B., Heh, V., Prom-Wormley, E., Kendler, K.S, Pedersen, N. Co-occurrence of major depression and type 2 diabetes: Exploring causal effects using a twin design. Psychosomatic Medicine, 2015;77(5):559-66. [PMC4459909]
Mezuk, B., Lohman, M., Leslie, M., Powell, V.. Suicide risk in nursing homes and assisted living facilities: 2003 – 2011. American Journal of Public Health, 2015; 105(7): 1495-502. [PMC4463392]
Professional Affiliations
Fellow, Gerontological Society of America
Member, American Association of Geriatric Psychiatry
Member, American Psychosomatic Society
Member, Michigan Center for Diabetes Translational Research