Faculty Profile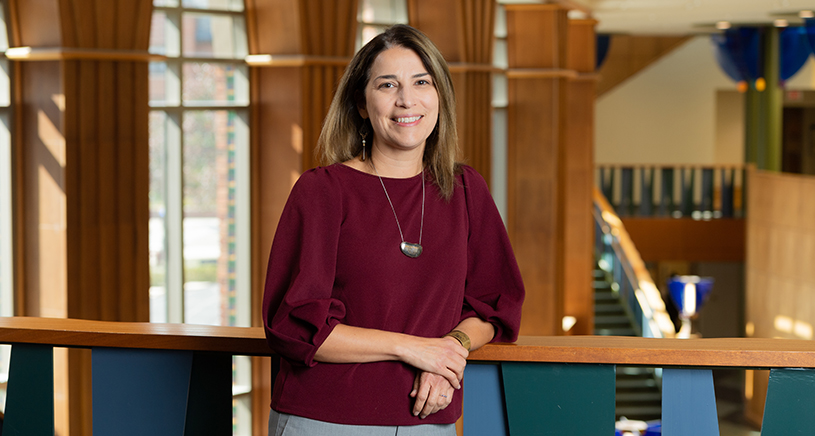 Briana Mezuk, PhD
Professor, Epidemiology
Director, Center for Social Epidemiology and Population Health [on sabbatical 2023-2024]
I completed my doctoral training in the Psychiatric Epidemiology Training Program in the Department of Mental Health at Johns Hopkins School of Public Health, and was a fellow with the Robert Wood Johnson Foundation Health and Society Scholars Program at the University of Michigan. I am also a former college debater and high school debate coach, which were formative experiences that instilled the value of examining an issue from multiple perspectives and of the importance of engaging with critical scholarship.

I am drawn to the field of population health because it is an inherently interdisciplinary enterprise. My research program uses epidemiologic methods to examine the interrelationships between mental and physical health over the lifespan. A core feature of my research is the integration of conceptual and analytical approaches, methods, and models from social science and clinical disciplines with the aim of arriving at a more nuanced and comprehensive understanding of the ways in which mental and physical health interrelate. The goal of this work is to inform interventions that reflect an integrative approach to health.
Post-doctoral fellow, Robert Wood Johnson Health & Society Scholars, University of Michigan
PhD Mental Health, Johns Hopkins School of Public Health
BS Neuroscience, University of Pittsburgh
BPhil History & Philosophy of Science, University of Pittsburgh
Examples of current projects:
Mood and Immune Regulation in Twins (MIRT) Study, a pilot study of depression and diabetes risk among monozygotic twin pairs.
Richmond Stress and Sugar Study (SASS), a longitudinal study of the roles of stress exposure, stress-reactivity, and self-regulation on the emergence of racial and socioeconomic disparities in type 2 diabetes.
A mixed-methods investigation of suicide risk among older adults living in, or transitioning to, residential long-term care settings using data from the National Violent Death Reporting System (NVDRS).
A community-engaged research partnership with the Richmond area YMCA to evaluate a community-based diabetes self-management program.
Mezuk B, Kalesnikava V, Spears E, Kirk K, Rafferty J, Del Toro J. (2022) Self-Regulatory Coping Behaviors and Stress Reactivity: Exploring the Environmental Affordance Model of Health Disparities. J Aging Health. Jun;34(3):307-319. doi: 10.1177/08982643221085403. Epub 2022 Apr 18. PMID: 35430917.

Mezuk B, Allen JO. Rethinking the Goals of Diabetes Prevention Programs. Diabetes Care. 2021 Nov;44(11):2457-2459. doi: 10.2337/dci21-0038. PMID: 34670795; PMCID: PMC8546277.

Mezuk B, Kalesnikava VA, Kim J, Ko TM, Collins C. Not discussed: Inequalities in narrative text data for suicide deaths in the National Violent Death Reporting System. PLoS One. 2021 Jul 16;16(7):e0254417. doi: 10.1371/journal.pone.0254417. PMID: 34270588; PMCID: PMC8284808.

Bergmans RS, Rapp A, Kelly KM, Weiss D, Mezuk B. Understanding the relationship between type 2 diabetes and depression: lessons from genetically informative study designs. Diabet Med. 2021 Feb;38(2):e14399. doi: 10.1111/dme.14399. Epub 2020 Sep 22. PMID: 32924175; PMCID: PMC8990216.

Mezuk B, Lexima E, Kalesnikava VA, Fleming J, Montgomery J, Tuktur W, Winston J, Perrin PB, Green T, Wheeler DC. Stress Reactivity as a Contributor to Racial and Socioeconomic Disparities: Rationale and Baseline Results From the Richmond Stress and Sugar Study. Psychosom Med. 2020 Sep;82(7):658-668. doi: 10.1097/PSY.0000000000000830. PMID: 32541545.

Mezuk B, Tarraf W, Johnson-Lawrence V, Illardo J, Lichenberg PA, Jackson JS. (2020). Analytic Training for Junior Investigators in Minority Aging Research: The Michigan Model. The Gerontologist. doi: 10.1093/geront/gnaa001

Mezuk B, Ohlsson H, Cederin K, Sundquist J, Kendler KS, Sundquist K. Immigrant enclaves and risk of drug involvement among asylum-seeking immigrants in Sweden: A quasi-experimental study. Drug Alcohol Depend. 2019 Dec 1;205:107666. doi: 10.1016/j.drugalcdep.2019.107666. Epub 2019 Oct 25. PMID: 31710993; PMCID: PMC7470170.

Mezuk B, Ko TM, Kalesnikava VA, Jurgens D. (2019) Suicide Among Older Adults Living in or Transitioning to Residential Long-Term Care, 2003 – 2015. JAMA Network Open. Jun 5;2(6):e195627. doi: 10.1001/jamanetworkopen.2019.5627.

Mezuk B, Ohlsson H, Cederin K, Sundquist J, Kender KS, Sundquist K. (2019). Immigrant Enclaves and Risk of Drug Involvement Among Asylum-Seeking Immigrants in Sweden: A Quasi-Experimental Study. Drug and Alcohol Dependence. 205:107666. doi: 10.1016/j.drugalcdep.2019.107666.

Dang L, Dong L, Mezuk B. (2020). Shades of Blue and Gray: A Comparison of the Center for Epidemiologic Studies Depression Scale and the Composite International Diagnostic Interview for Assessment of Depression Syndrome in Later Life. The Gerontologist. 60(4):e242-e253. doi: 10.1093/geront/gnz044.
Mezuk B, Ratliff S, Concha JB, Abdou CM, Rafferty J, Lee H, Jackson JS. (2017). Stress, Self-Regulation and Context: Evidence from the Health and Retirement Survey. Social Science and Medicine: Population Health. 3:455-463. doi: 10.1016/j.ssmph.2017.05.004.
Phone: Office: 734-615-9204
Fax: Fax: 734-763-5706
Email:
bmezuk@umich.edu
2649B SPH I
1415 Washington Heights
Ann Arbor, Michigan 48109-2029
For media inquiries:
sph.media@umich.edu