Faculty Profile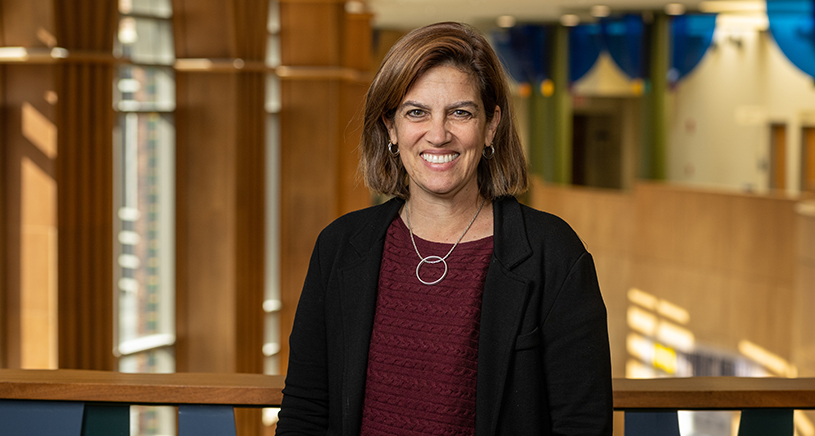 Alison L. Miller, PhD
Associate Professor, Health Behavior & Health Education

Research Associate Professor, Center for Human Growth and Development
3718 SPH I
1415 Washington Heights
Ann Arbor, Michigan 48109-2029
Professional Summary
Dr. Miller is a developmental psychologist who studies risk and resilience in children and families. Dr. Miller is an Associate Professor in the Department of Health Behavior and Health Education (HBHE) in the UM School of Public Health. She was previously in the Department of Psychiatry (Division of Child and Family Psychiatry) at Brown Medical School. She is affiliated with Michigan's Center for Human Growth and Development, where she directs the Clinical-Community Interventions Group and is a member of the Obesity Research Group.
Education
NIMH T-32 Postdoctoral Fellowship, Developmental Psychopathology, Brown University Medical School, 2000-2002
PhD, Developmental Psychology, University of Michigan, 2000
M.A., Developmental Psychology, University of Michigan, 1997
B.A., Psychology, Wesleyan University, 1992
Research Interests & Projects
Dr. Miller's research focuses on child bio-behavioral regulation, family functioning, and social context. She studies basic developmental processes, including self-regulation of emotions, sleep, eating behavior, and neuroendocrine stress responses in young children. An overarching goal of her work is to apply findings from developmental science to foster positive child health and mental health outcomes. To that end, she implements and evaluates intervention studies focused on children and families in the areas of early childhood mental health; school readiness; positive youth development; parenting; and obesity prevention. Dr. Miller works with children and families who are at risk for unhealthy outcomes for various reasons, including living with maternal incarceration; in poverty conditions; or in high-violence neighborhoods. For many such projects, she collaborates with community partners ranging from grassroots community-based organizations, to Head Start programs, to school systems.
UM collaborators include colleagues from the School of Public Health, and the Departments of Pediatrics, Psychiatry, Neurology, and Psychology. Dr. Miller also collaborates with colleagues at Brown Medical School, the University of Colorado at Boulder, and Michigan State University. Dr. Miller has received funding from the National Institutes of Health, the National Science Foundation, the Administration for Children, Youth and Families, the Centers for Disease Control, the US Department of Agriculture, and the American Heart Association for her work.
Selected Publications
Miller , A. L., & Lumeng, J. C. (2018). Pathways of association from stress to obesity in early childhood. Obesity.
Miller, A.L., Gearhardt, A.N., Retzloff, L.B., Sturza, J., Kaciroti, N., & Lumeng, J. C. (2018). Early childhood stress and child age predict longitudinal increases in obesogenic eating among low-income children. Academic Pediatrics, pii: S1876-2859(18)30012-3. doi: 10.1016/j.acap.2018.01.007
Miller A.L., Gearhardt, A.N., Fredericks, E.M., Katz, B. Fink Shapiro, L., Holden, K., Kaciroti, N., Gonzalez, R. Hunter, C., & Lumeng, J.C. (2018). Targeting Self-Regulation to Promote Health Behaviors in Children. Behaviour Research and Therapy- Special Issue, Science of Behavior Change, 101, 71-81. DOI: 10.1016/j.brat.2017.09.008
Miller, A. L., Song, J.H., Sturza, J., Lumeng, J. C., Rosenblum, K., Kaciroti, N. and Vazquez, D. M. (2016). Child cortisol moderates the association between family routines and emotion regulation in low-income children. Developmental Psychobiology doi:10.1002/dev.21471
Miller, A.L., Rosenblum, K.L., Retzloff, L., & Lumeng, J. C. (2016). Observed self-regulation is associated with weight in low-income toddlers. Appetite, 105, 705-712. doi:10.1016/j.appet.2016.07.007
Miller, A. L., Seifer, R., Crossin, R., & LeBourgeois, M. K. (2014). Toddler's self-regulation strategies in a challenge context are nap-dependent. Journal of Sleep Research. doi: 10.1111/jsr.12260.
Miller, A. L., Weston, L. E., Perryman, J., Horwitz, T., Franzen, S., & Cochran, S. (2014). Parenting while incarcerated: Tailoring the strengthening families program intervention for use with jailed mothers. Children and Youth Services Review 163-170.
Miller, A. L., Clifford, C., Sturza, J., Rosenblum, K.,Vazquez, D. M., Kaciroti, N., & Lumeng, J.C. (2013). Blunted cortisol response to stress is associated with higher body mass index in low-income preschool-aged children. Psychoneuroendocrinology 2611-2617.
Miller, A.L., Krusky, A., Franzen, S., Cochran, S., & Zimmerman, M. (2012). Partnering to translate evidence-based practices to community settings: Bridging the discovery-delivery gap. Health Promotion Practice 559-566.
Miller, A. L., Fine, S. E., Gouley, K. K., Seifer, R., & Dickstein, S. (2006). Showing and telling about emotions: Interrelations between facets of emotional competence and associations with classroom adjustment in Head Start preschoolers. Cognition and Emotion 1170-1192.
Professional Affiliations
The Society for Research in Child Development
The Society for Prevention Research
The American Psychological Association, Division 7 (Developmental Psychology)