Faculty Profile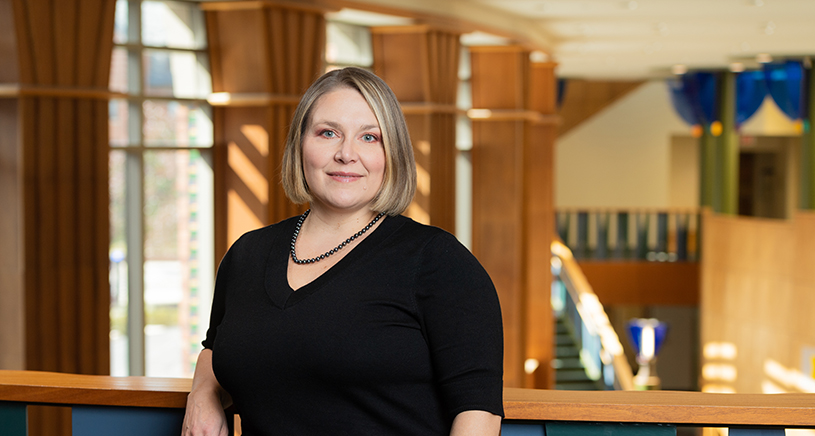 Alison M Mondul, PhD, MSPH
Associate Professor, Epidemiology
Dr. Mondul studies the role of modifiable risk factors in the etiology of cancer. In particular, she has studied how lifestyle factors and factors related to diet and nutrition, such as micronutrients and lipids, may influence prostate, bladder, and kidney cancers, as well as other genitourinary conditions such as benign prostatic hyperplasia, and how genetic factors may contribute to or modify these associations. More recently, she has become involved in studying head and neck cancer, which is an exciting area of inquiry as it remains an understudied cancer. Dr. Mondul employs molecular epidemiologic techniques in her work, including hypothesis-driven studies of serum biomarkers, genome-wide association studies, and metabolomic profiling. Dr. Mondul has extensive experience with cancer risk cohorts having published using data from the American Cancer Society Cancer Prevention Study-II; the Health Professionals' Follow-up Study; the CLUE-II Study; the Atherosclerosis Risk in Communities Study; the Prostate, Lung, Colorectal, and Ovarian Cancer Screening Trial; and the Alpha-Tocopherol, Beta-Carotene Cancer Prevention Study; as well as having participated in multiple cancer epidemiology consortia. Dr. Mondul is a co-investigator on the new Michigan Cancer Research and the Environment (MI-CARES) Study, which began recruitment in 2022.
PhD, Johns Hopkins University, 2009
MSPH, Emory University, 2002
BS, University of Illinois at Urbana-Champaign, 1998
Research Interests:
Cancer etiology; cancer outcomes; cohort studies; prostate cancer; head and neck cancer; common medications; metabolomics.
Research Projects:
Dr. Mondul is a co-investigator on the NCI/NIEHS-funded MI-CARES study, which is recruiting 100,000 22-45 year-olds from diverse racial/ethnic backgrounds living in environmental injustice hotspots in Michigan to understand the impact of environmental exposures on risk of cancer and other chronic diseases. Recruitment began in June 2022 and is ongoing. LINK TO: micares.health
Dr. Mondul is conducting research on circulating metabolomic profiles and risk of cancer as well as cancer outcomes in patients. Current projects include examining pre-diagnostic metabolomic profiles and cancer outcomes in a large cohort of men with prostate cancer, as well as some of the first work examining the circulating metabolome in relation to risk and progression of head and neck cancer.
Dr. Mondul is conducting research on statin drugs and other common medications and outcomes in head and neck cancer patients using data from the UM Head and Neck SPORE as well as the Michigan Genomics Initiative/Precision Health data.
Email: amondul@umich.edu

Office: 734-764-3834

Fax: 734-764-3192

Address: 3634 SPH I
1415 Washington Heights
Ann Arbor, Michigan 48109

For media inquiries: sph.media@umich.edu