Alison Mondul, Ph.D., M.S.P.H.
Faculty Profile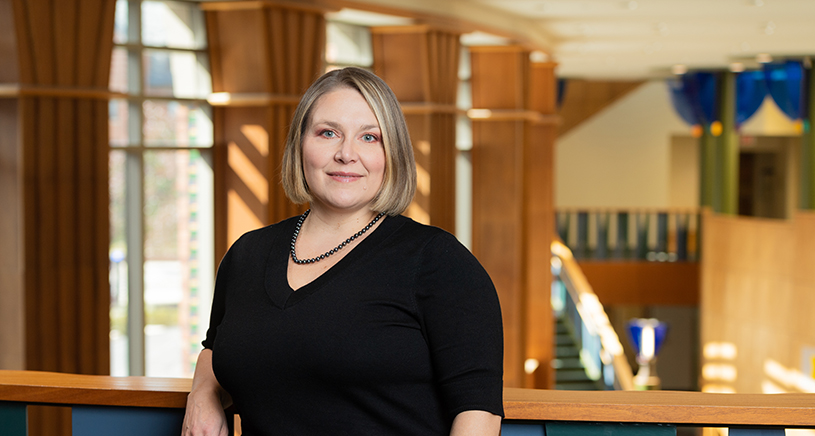 Alison M. Mondul, Ph.D., M.S.P.H.
Assistant Professor, Epidemiology
4646 SPH Tower
1415 Washington Heights
Ann Arbor, Michigan 48109-2029
Professional Summary
Alison Mondul received her MSPH in Epidemiology from Emory University in 2002 and her PhD in Cancer Epidemiology from Johns Hopkins University in 2009. She then spent five years as a post-doctoral fellow in the Division of Cancer Epidemiology and Genetics at the National Cancer Institute before joining the University of Michigan as an assistant professor in the Department of Epidemiology.
Education
Ph.D., Cancer Epidemiology, Johns Hopkins University, 2009
M.S.P.H., Epidemiology, Emory University, 2002
B.S., Microbiology, University of Illinois at Urbana-Champaign, 1998
Research Interests & Projects
I have devoted my scientific career to studying the role of modifiable risk factors in the etiology of cancer. In particular, I have studied how lifestyle factors (such as use of common medications) and factors related to diet and nutrition (such as micronutrients and lipids) may influence prostate, bladder, and kidney cancers, as well as other genitourinary conditions such as benign prostatic hyperplasia. I have further studied how genetic factors may contribute to or modify these associations. More recently, I have become involved in studying head and neck cancer, which is an exciting area of inquiry as it remains an understudied cancer. In order to study these associations I have used molecular epidemiologic techniques including hypothesis-driven studies of serum biomarkers, genome-wide association studies, and metabolomic profiling.
Selected Publications
Moy, K.A.*, Mondul, A.M.*, Zhang, H., Weinstein, S.J., Wheelwer, W., Chung, C.C., Männistö, S., Yu, K., Chanock, S.J., Albanes, D. (2014). Genome-wide association study of circulating vitamin D-binding protein. American Journal of Clinical Nutrition, 99(6), 1424-31. [*co-first authors].
Mondul, A.M., Weinstein, S.J., Moy, K.A., Männistö, S., Albanes, D. (2014). Vitamin D binding protein, circulating vitamin D, and risk of renal cell carcinoma. International Journal of Cancer, 134(11), 2699-706.
Mondul, A.M., Giovannucci, E., Willett, W.C., Platz, E.A. (2013). A prospective study of statin drug use and lower urinary tract symptoms in older men. American Journal of Epidemiology, 178(5), 797-803.
Mondul, A.M., Sampson, J.N., Moore, S.C., Weinstein, S.J., Evans, A.M., Karoly, E.D., Virtamo, J., Albanes, D. (2013). Metabolomic profile of response to supplementation with ?-carotene in the Alpha-Tocopherol, Beta-Carotene Cancer Prevention (ATBC) Study. American Journal of Clinical Nutrition, 98(2), 488-93.
Mondul, A.M., Shui, I.M., Yu, K., Travis, R.C., Stevens, V.L., Campa, D., Schumacher, F.R., Ziegler, R.G., Bueno-de-Mesquita, H.B., et al. (2013). Vitamin D-associated genes in relation to prostate cancer risk in the BPC3. Cancer Epidemiology, Biomarkers and Prevention, 22(4), 688-96.
Professional Affiliations
American Association for Cancer Research (AACR)
American Society for Nutrition (ASN)