Faculty Profile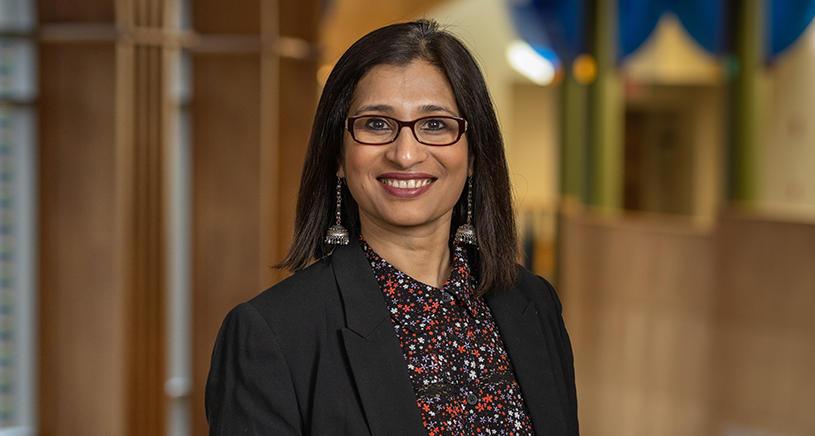 Bhramar Mukherjee, Ph.D.
John D. Kalbfleisch Collegiate Professor of Biostatistics
Chair of Biostatistics
Professor of Epidemiology
Professor of Global Public Health
Associate Director of Cancer Control and Population Sciences, The University of Michigan Comprehensive Cancer Center
M4208 SPH II
1415 Washington Heights
Ann Arbor, Michigan 48109-2029
Professional Summary
Bhramar Mukherjee joined the department in Fall, 2006 and became Department Chair in 2018. Bhramar is also a Professor in the Department of Epidemiology. Bhramar completed her Ph.D. in 2001 from Purdue University. Bhramar's principal research interests lie in Bayesian methods in epidemiology and studies of gene-environment interaction. She is also interested in modeling missingness in exposure, categorical data models, Bayesian nonparametrics, and the general area of statistical inference under outcome/exposure dependent sampling schemes. Bhramar's methodological research is funded by NSF and NIH. Bhramar is involved as a co-investigator in several R01s led by faculty in Internal Medicine, Epidemiology and Environment Health sciences at UM. Her collaborative interests focus on genetic and environmental epidemiology, ranging from investigating the genetic architecture of colorectal cancer in relation to environmental exposures to studies of air pollution on pediatric Asthma events in Detroit. She is actively engaged in Global Health Research.
Education
Ph.D., Statistics, Purdue University, 2001
M.S., Mathematical Statistics, Purdue University, 1999
M.Stat., Applied Statistics and Data Analysis, Indian Statistical Institute, 1996
B.Sc., Statistics, Presidency College, 1994
Research Interests & Projects
The central theme in my research program has been to develop novel inferential methods for epidemiological data using Bayesian, frequentist and hybrid methods. Epidemiology is a science which progresses by accumulation of evidence, and the Bayesian paradigm offers many natural solutions to complex problems encountered in modern epidemiology. Currently, I am working on case-control studies of gene-environment interaction, two-phase studies and longitudinal studies. I am interested in foundational issues related to outcome dependent or exposure enriched sampling. Recently I have been interested in shrinkage estimation and prediction using diverse heterogeneous data sources.
Selected Publications
*The first author was a graduate student of Dr. Mukherjee at the time of this research.
Sun Z, Tao Y, Li S, Ferguson KK, Meeker JD, Park SK, Batterman SA, Mukherjee B. Statistical strategies for constructing health risk models with multiple pollutants and their interactions: possible choices and comparison. Environmental Health, 12(1):85, 2013, PMCID: PMC3857674.
*He Z, Zhang M, Lee S, Smith JA, Guo X, Palmas W, Kardia SLR, Diez-Roux AV, Mukherjee B. Multi-marker tests for joint association in longitudinal studies using the genetic random field model. Biometrics, 71(3):606-15, 2015, PMCID: PMC4601568.
Ferguson KK, Chen Y-H, VanderWeele TJ, McElrath TF, Meeker JD, Mukherjee B. Mediation of the relationship between maternal phthalate exposure and preterm birth by oxidative stress with repeated measurements across pregnancy. Environmental Health Perspective, 125(3): 488-494, 2017, PMCID: PMC5332184.
*He Z, Zhang M, Lee S, Smith JA, Kardia SLR, Diez Roux AVD, Mukherjee B, Set-Based Tests for Gene-Environment Interaction in Longitudinal Studies. The Journal of the American Statistical Association, Application and Case Studies, 112(519):966-978, 2017.
*Sun Z, Mukherjee B, Estes JP, Vokonas P and Park SK, Exposure enriched outcome-dependent sampling designs for longitudinal studies of gene-environment interaction. Statistics in Medicine, 36(18):2947-2960, 2017, PMCID: PMC5523112.
Estes JP, Rice JD, Li S, Stringham HM, Boehnke M and Mukherjee B, Meta-Analysis of Gene-Environment Interaction Exploiting Gene-Environment Independence Across Multiple Studies. Statistics in Medicine. 36(24):3895-3909, 2017, PMCID: PMC5624850.
*Liu G, Lee S, Lee A, Others, Pearce CL, Mukherjee B. Robust tests for additive gene-environment interaction in case-control studies. The American Journal of Epidemiology, 187(2):366-377, 2018, PMCID: PMC5860584.
*Cheng W, Taylor JMG, Vokonas P, Park SK, Mukherjee B. Improving estimation and prediction in linear regression incorporating external information from an established reduced model. Statistics in Medicine, 37(9):1515-1530, 2018, PMCID: PMC5889759.
Wagner AL, Xia L, Pandey P, Datta S, Chattopadhyay S, Mazumder T, Sujay Santra S, Nandi U, Pal J, Joshi S, Mukherjee B. Risk factors during pregnancy and early childhood in rural West Bengal, India: A feasibility study implemented via trained community health workers using mobile data collection devices. Maternal and Child Health, 2018, doi: 10.1007/s10995-018-2509-y. [Epub ahead of print], PMID: 29500782.
Fritsche L, Gruber SB, Wu Z, Schmidt EM, Zawistowski M, Moser SE, Blanc V, Brummet C, Kheterpal S, Abecasis GA, Mukherjee B. Association of Polygenic Risk Scores for Multiple Cancers in a Phenomewide Study: Results from The Michigan Genomics Initiative, The American Journal of Human Genetics, 102:1048-1061, 2018, PMCID: PMC5992124.
*Chen Y-H, Mukherjee B, Adar S, Berrocal V, Coull BA, Robust Distributed Lag Models using Data Adaptive Shrinkage. Biostatistics, 2017, [Epub ahead of print], PMID: 29040386.
*Chen Y-H, Mukherjee B and Berrocal V, Distributed lag models for multiple pollutants. To appear in JRSS, Series C.