Faculty Profile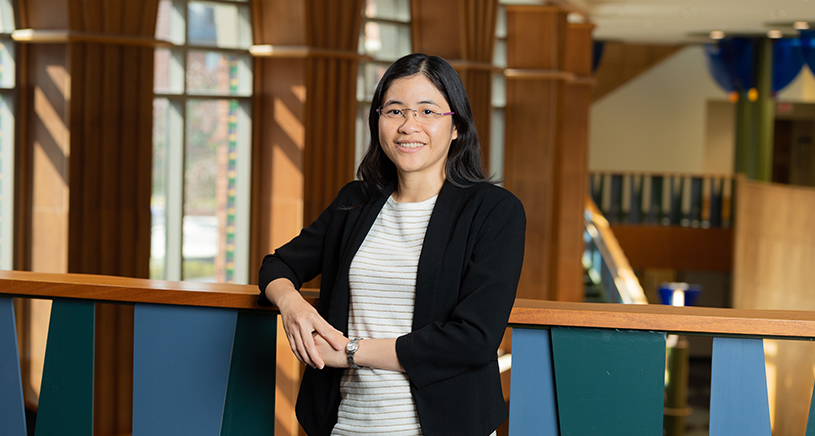 Thuy Dieu Nguyen, PhD, MPA
Assistant Professor, Health Management and Policy
Dr. Nguyen is a health services researcher and health economist with doctoral training in development economics and post-doctoral training in health economics. She is interested in health services research of pharmaceutical related policy to address the US opioid epidemic. Her research has focused on treatment access for opioid use disorder, prescribing behavior, incentive issues of medical providers, and using novel data to address pressing knowledge gaps.

Specifically, her research has assessed dispensing patterns and access to prescribers of medications to treat opioid use disorder such as buprenorphine. Additionally, she is interested in using innovative data and econometric methods to conduct timely research surrounding the impacts of the COVID-19 pandemic on patients with opioid use disorder. She also has conducted several studies on prescriber-pharmaceutical industry relationships in the context of the opioid epidemic and the impacts of anti-fraud policies on provider behavior.
PhD, Economics, Maastricht University, Maastricht, Netherlands, 2016
MPA, Policy Analysis, Indiana University, Bloomington, 2012
BA, Finance and Banking, National Economics University, Hanoi, Vietnam, 2008
Pharmaceutical related policy, opioid use disorder, prescribing behavior, and incentive issues of medical providers.
Research Projects:
In her first NIH R01 as Principal Investigator, Dr. Nguyen and her team conduct a number of secondary data analyses to evaluate the effects of out-of-pocket costs and prior authorization requirements for medications to treat opioid use disorder on treatment patterns and opioid overdose risk.
Her Policy Sprint application has been awarded by the University of Michigan Institute for Healthcare Policy and Innovation as one of four policy-relevant projects focused on advancing health equity. In this internal grant, Dr. Nguyen and other collaborators quantify racial disparities in opioid use disorder treatment using comprehensive Medicaid claims database.
Dr. Nguyen continues to collaborate across several institutions to assess the intended and unintended effects of supply-side policies to address the opioid epidemic.
Nguyen, TD, Ziedan, E, Simon, K, Miles, J, Crystal, S, Samples, H, Gupta, S. Racial and Ethnic Disparities in Buprenorphine and Extended-Release Naltrexone Filled Prescriptions During the COVID-19 Pandemic. JAMA Netw Open. 2022 Jun 1;5(6):e2214765. doi: 10.1001/jamanetworkopen.2022.14765. https://pubmed.ncbi.nlm.nih.gov/35648400/
Nguyen TD, Gupta S, Ziedan E, Simon KI, Alexander GC, Saloner B, Stein BD. Assessment of Filled Buprenorphine Prescriptions for Opioid Use Disorder During the Coronavirus Disease 2019 Pandemic. JAMA Intern Med. 2021 Apr 1;181(4):562-565. doi: 10.1001/jamainternmed.2020.7497. https://pubmed.ncbi.nlm.nih.gov/33346795/
Gupta S, Nguyen TD, Rojas F, Raman S, Lee B, Bento A, Simon K, Wing C. Tracking Public and Private Response to the COVID-19 Epidemic: Evidence from State and Local Government Actions. American Journal of Health Economics. 2021 October 6. DOI: 10.1086/716197. A previous version appeared as NBER Working paper #27027. https://www.journals.uchicago.edu/doi/abs/10.1086/716197
Nguyen TD, Muench U, Andraka-Christou B, Simon K, Bradford WD, Spetz J. The Association Between Scope of Practice Regulations and Nurse Practitioner Prescribing of Buprenorphine After the 2016 Opioid Bill. Med Care Res Rev. 2022 Apr;79(2):290-298. doi: 10.1177/10775587211004311. Epub 2021 Apr 1. https://pubmed.ncbi.nlm.nih.gov/33792414/
Nguyen, TD, Andraka-Christou B, Bradford WD, Simon K. Opting into the Public List of DATA-Waivered Practitioners: Variations by Specialty, Treatment Capacity, and Practitioner Characteristics. J Addict Med. 2021 Oct 18. doi: 10.1097/ADM.0000000000000911. https://pubmed.ncbi.nlm.nih.gov/34669615/
Nguyen TD, Bradford WD, Simon KI. Pharmaceutical payments to physicians may increase prescribing for opioids. Addiction. 2019 Jun;114(6):1051-1059. doi: 10.1111/add.14509. Epub 2019 Jan 22. https://pubmed.ncbi.nlm.nih.gov/30667135/