Faculty Profile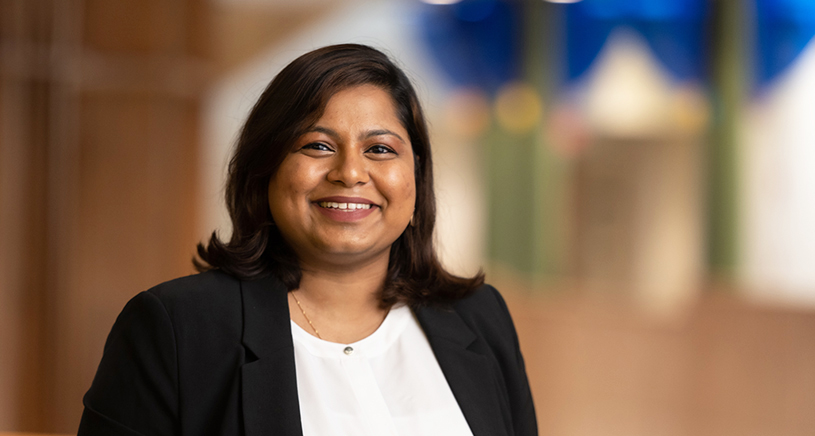 Bambarendage (Pini) Perera, PhD
Research Assistant Professor of Environmental Health Sciences
M6015 SPH II
1415 Washington Heights
Ann Arbor, MI 48109-2029
Dr. Pini Perera is a Research Assistant Professor of Environmental Health Sciences in the School of Public Health. Her primary research interests lie in the field of environmental epigenetics, which seeks to identify epigenetic changes that result from environmental exposures at critical times in life, and to link these phenomena to broader implications in human health and disease. The concept of epigenetics explains how environmental factors, including diet, exercise, and exposure to toxicants, can influence biological processes via gene expression without altering the DNA sequence. DNA methylation at cytosine residues, histone modifications, and non-coding RNA (ncRNA) constitute the reversible epigenetic modifications that regulate gene expression. Dr. Perera is interested in studying PIWI-interacting RNA (piRNA), a class of small ncRNAs, as a potential biomarker for environmental exposures, and as a potential tool to edit the epigenome. She also aims to identify molecular mechanisms associated with toxicant exposures that contribute to human health. Since Dr. Perera's expertise include mouse genetics, molecular biology, and RNA biology, she continues her research as part of the Environmental Epigenetics and Nutrition Lab, using the mouse as a model organism.
PhD, Biological Sciences, Louisiana State University, 2016
B.S., Biological Sciences, University of New Orleans, 2011
Environmental epigenetics
ncRNA biomarkers
Genomic imprinting
Toxicology
Bakulski KM, Dou JF, Thompson RC, Lee C, Middleton LY, Perera BPU, Ferris SP, Jones TR, Neier K, Zhou X, Sartor MA, Hammoud SS, Dolinoy DC, Colacino JA. Single cell analysis of the gene expression effects of developmental lead (Pb) exposure on the mouse hippocampus. Toxicol Sci. 2020 May 27; PubMed PMID: 32458983
Perera BPU, Svoboda LK, Dolinoy DC. 2019. Genomic tools for environmental epigenetics and implications for public health. Current Opinion in Toxicology. 27-33
Perera BPU, Faulk C, Svoboda LK, Goodrich JM, Dolinoy DC. 2019. The role of environmental exposures and the epigenome in health and disease. Environmental and Molecular Mutagenesis. doi: 10.1002/em.22311
Perera BPU§, Tsai Z§, Colwell M, Jones T, Goodrich J, Sartor M, Faulk C, Dolinoy DC. 2019. Somatic expression of piRNA and associated machinery in the mouse identifies short, tissue-specific piRNA. Epigenetics 8: 1-18. doi.org/10.1080/15592294.2019.1600389.
Kochmanski J, Marchlewicz EH, Cavalcante RG, Perera BPU, Sartor MA, Dolinoy DC. 2018. Longitudinal Effects of Developmental Bisphenol A Exposure on Epigenome-wide DNA Hydroxymethylation at Imprinted Loci in Mouse Blood. Environmental Health Perspectives. 126(7):077006. doi/full/10.1289/EHP3441.
Perera BPU, Ghimire S, Kim J. 2018. Circular RNA identified from Peg3 and Igf2r. PLoS ONE. 13(9): e0203850. doi.org/10.1371/journal.pone.0203850.
Kim J, Perera BPU, Ghimire S. 2018. Enhancer-driven alternative promoters of imprinted genes. PLoS ONE. 13(11): e0208421. doi.org/10.1371/journal.pone.0208421.
Perera BPU and Kim J. 2016. Sex and tissue specificity of Peg3 promoters. PLoS ONE 11(10): e0164158. doi:10.1371/journal.pone.0164158.
Society of Toxicology (SOT)
Environmental Mutagenesis Genomics Society (EMGS)