Faculty Profile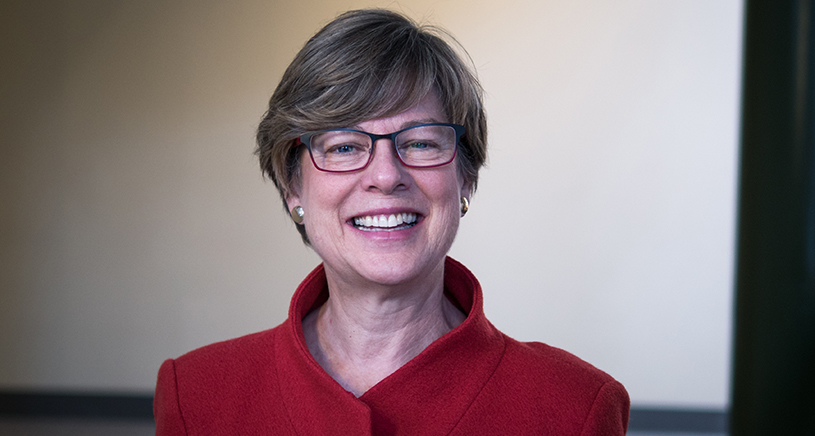 Karen E. Peterson, DSc
Stanley M. Garn Collegiate Professor of Nutritional Sciences
Chair, Department of Nutritional Sciences
Professor of Global Public Health
Dr. Peterson is Professor and Chair of the Nutritional Sciences Department at the School of Public Health, Research Professor for the Center for Human Growth and Development, and Director of the Momentum Center, all at the University of Michigan. She is also an Adjunct Professor of Nutrition at the Harvard School of Public Health. Her research focuses on the influence of biosocial and environmental influences on child growth and maturation during sensitive developmental periods, as well as the design and evaluation of population-based interventions addressing dietary and physical activity behaviors related to obesity and chronic disease in diverse populations, including children and youth. She is Contact PI for the U-M Children's Environmental Health and Disease Protection Center on the theme: "Lifecourse exposures and diet: Epigenetics, maturation, and metabolic syndrome," and serves as Associate Director of the Michigan Nutrition and Obesity Research Center (MNORC). She earned her ScD in Nutrition at the Harvard School of Public Health.
DSc, Harvard University, 1987
RD, Peter Bent Brigham Hospital, 1977
Lindsay, A.C., K.M. Sussner, M.L. Greaney and K.E. Peterson (2009). Influence of social context on eating, physical activity and sedentary behaviors of Latina mothers and their preschool-age children. Health Education and Behavior 81-96.
Surkan, P., I. Kawachi and K.E. Peterson (2008). Child overweight and maternal depressive symptoms. Journal of Epidemiology and Community Health e11.
Peterson, K.E., J.R. Hebert, T. Hurley, K. Resnicow, F.E. Thompson, G.W. Greene, A.R. Shaikh, A. Yaroch, G.C. Williams, J. Saldeld, D.J. Toobert, A. Domas, D.L. Elliot, J. Hardin and L. Hebeling (2008). Accuracy and precision of two short screeners to assess change in fruit and vegetable consumption among diverse populations participating in health promotion intervention trials. Journal of Nutrition 218S-225S.
Kim, J. and K.E. Peterson (2008). Association of infant child care with infant feeding practices and weight gain among U.S. infants. Arch Pediatric Adolescent Medicine 627-633.

Peterson, K.E. and M.K. Fox (2007). Addressing the epidemic of childhood obesity through school-based interventions: what has been done and where do we go from here? Journal of Law and Medical Ethics 113-130.
Kim, J., K.E. Peterson, K.S. Scanlon, G.M. Fitzmaurice, A. Must, E. Oken, S.L. Rifas-Shiman, J.W. Rich-Edwards and M.W. Gillman (2007). Trends in overweight from 1980 through 2001 among preschool-aged children enrolled in a health maintenance organization. Obesity 1107-112.
Chavarro, J.E., K.E. Peterson, A.M. Sobol, J.L. Wiecha and S.L. Gortmaker (2005). Effects of a school-based obesity-prevention intervention on menarche. Cancer Causes and Control 1245-1252.
Peterson, K.E., M. Salganik, C. Campbell, G.G. Rhoads, J. Rubin, O. Berger, J.H. Ware and W. Rogan (2004). Effect of succimer on growth of preschool children with moderate blood lead levels. Environmental Health Perspective 233-237.