Faculty Profile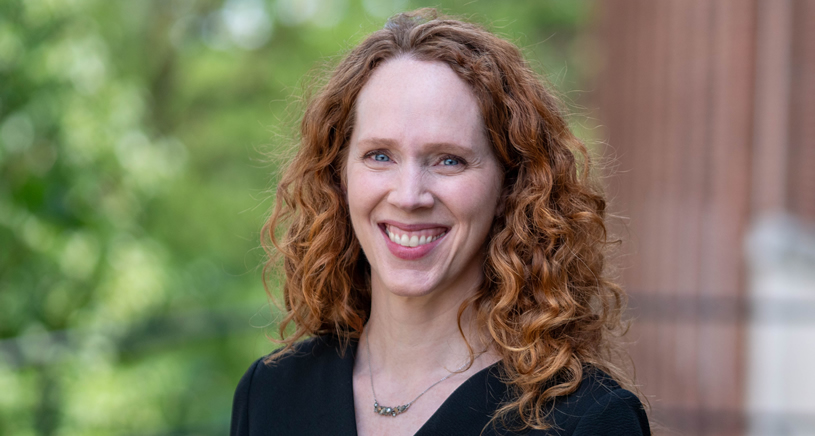 Laura Power, MD, MPH
Director, Office of Public Health Practice
Clinical Associate Professor, Epidemiology
Clinical Associate Professor, Infectious Diseases, Internal Medicine
Dr. Power's work is focused on enhancing public health capacity through experiential learning opportunities for students, through needs-based workforce development opportunities for practitioners, and by fostering partnerships between our school, practice-based organizations, and community members. She does this through her work in the Practice Office, through funded-projects focused on the public health workforce, and through teaching professional development and leadership courses. She started her career as an infectious disease physician, working in the hospital and clinic setting and with a focus on hospital infection prevention. This inspired her interest in developing a deeper understanding of the connections between public health and medical practice. She completed additional training in preventive medicine, with a focus on epidemiology. And now she enjoys connecting medicine with public health, research with applied practice, and students with professionals through experiential learning and workforce development. Dr. Power's main focus right now is teaching and training to support public health capacity; and she continues to have a special interest in infectious disease epidemiology and prevention.
MPH, University of Michigan School of Public Health, Ann Arbor, 2015
MD, Wayne State University School of Medicine, Detroit, 2002
BA, Albion College, Albion, 1998
Research Interests:
Public health practice, public health workforce, infectious diseases
Research Projects:
The UMSPH Office of Public Health Practice, with the Public Health Action Support Team (PHAST) and Public Health in Action classes, provides opportunities for students to apply knowledge and learn in the field with community partners. (Links: Practice Office - https://publichealth.umich.edu/practice/, PHAST - https://publichealth.umich.edu/practice/centers-and-programs/phast/index.html)
The Region V Public Health Training Center, funded by HRSA, seeks to advance the skills of the current and future public health workforce through evidence-based trainings, a community of practice for students, and the Region V Public Health Leadership Institute. (Links: RVPHTC https://www.rvphtc.org/, HRSA https://www.hrsa.gov/)
The UMSPH Preventive Medicine Residency Program, funded by HRSA, prepares physicians for careers protecting the health of individuals and populations, as evidenced by the many graduates who go on to serve as leaders in health departments and health systems. (Links: Prev med residency program - https://sph.umich.edu/pmr/, HRSA https://www.hrsa.gov/)
Public Health Prepared, part of the Michigan Center for Infectious Disease Threats, is a program that focuses on enhancing public health capacity to respond to communicable diseases by providing training opportunities, convening public health practitioners, clinicians, and researchers, and by facilitating feedback between research and public health practice. (Links: Public Health Prepared - https://www.publichealthprepared.org/)
Zemmel DJ, Kulik PKG, Leider JP, Power LE. Public Health Workforce Development During and Beyond the COVID-19 Pandemic: Findings From a Qualitative Training Needs Assessment. J Public Health Management and Practice. 2022;28(5):S263-S270.
Miller L and the HRSA-Funded Preventive Medicine Residency Program Directors Workgroup. The SARS-CoV-2 pandemic: Real-time training and service for preventive medicine residents. J Public Health Management and Practice. 2021:27(3 Supp) S123-S128.
Sunstrum J, Shoyinka A, Power LE, Maxwell D, Stobierski MG, Signs K, Sidge JL, O'Brien DJ, Robbe-Austerman S, Davidson P. Notes from the Field: Zoonotic Mycobacterium bovis Disease in Deer Hunters - Michigan, 2002-2017. MMWR Morb Mortal Wkly Rep. 2019 Sep 20;68(37):807-808. doi: 10.15585/mmwr.mm6837a3. PubMed PMID: 31536485; PubMed Central.
Bazan JA, Peterson AS, Kirkcaldy RD, Briere ED, Maierhofer C, Turner AN, Licon DB, Parker N, Dennison A, Ervin M, Johnson L, Weberman B, Hackert P, Wang X, Kretz CB, Abrams AJ, Trees DL, Del Rio C, Stephens DS, Tzeng YL, DiOrio M, Roberts MW. Notes from the Field: Increase in Neisseria meningitides-associated urethritis among men at two sentinel clinics - Columbus, Ohio, and Oakland County, Michigan, 2015. MMWR Morb Mortal Wkly Rep. 2016 Jun 3;65(21):550-2.
Nystrom SC, Wells EV, Pokharna HS, Johnson LE, Najjar MA, Mamou FM, Rudrik JT, Miller CE, Boulton ML. Botulism toxemia following laparoscopic appendectomy. Clin Infect Dis. 2012 Feb 15; 54(4):e32-4. Epub 2011 Dec 5.

You can check out more of my publications here: https://www.ncbi.nlm.nih.gov/myncbi/1FakecNVhhjAu/bibliography/public/
Email: lejohns@umich.edu
Phone: 734-647-5306
Address: M5224 SPH II
1415 Washington Heights
Ann Arbor, MI 48109

For media inquiries: sph.media@umich.edu