Faculty Profile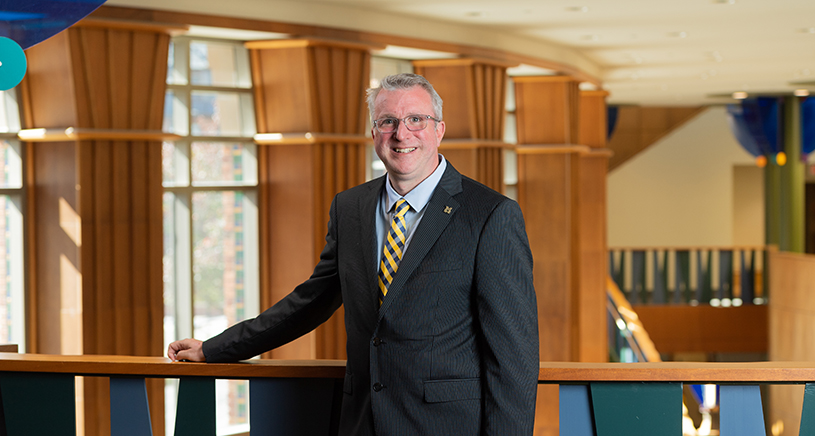 Alexander H. Rickard, PhD, MSc
Associate Professor, Epidemiology
Alex Rickard is a microbiologist whose research focuses on biofilms, interspecies bacterial interactions, and their relevance to human health. He is especially interested in biofilm development in freshwater, oral, and medically relevant environments. He uses interdisciplinary approaches to study these communities and uses in vitro technologies to evaluate strategies to control biofilm development.
PhD, University of Manchester, UK, 2001
MSc, University of Birmingham, UK, 1997
BSc, University of Birmingham, UK, 1996
Research Interests:
How bacteria interact with one another in environmental or medically relevant situations and the resulting ramifications for human health.

Research Projects:
Supported through different funding mechanisms Rickard studies the effect of antibiofilm agents on biofilms using in vitro model systems.
Research interests have focused on bacterial coaggregation in different environments and understanding broadly how bactreria interact with one another in biofilms.
Rickard also collaborates with researchers to develop new laboratory technologies to study biofilms.
Fernandez CE, Luo TL, Gonzalez-Cabezas C, Rickard AH. (2022) Unsweetened and sucrose-sweetened black and green tea modifies the architecture of in vitro oral biofilms. Arch Oral Biol. 135:105368.
Luo TL, Vanek ME, Gonzalez-Cabezas C, Marrs CF, Foxman B, Rickard AH. (2022) In vitro model systems for exploring oral biofilms: From single-species populations to complex multi-species communities. J Appl Microbiol. 132(2):855-871.
Luo TL, Hayashi M, Zsiska M, Circello B, Eisenberg M, Gonzalez-Cabezas C, Foxman B, Marrs CF, Rickard AH. (2019) Introducing BAIT (Biofilm Architecture Inference Tool): a software program to evaluate the architecture of oral multi-species biofilms. Microbiology (Reading). 165(5):527-537.
Fernandez CE, Aspiras MB, Dodds MW, Gonzalez-Cabezas C, Rickard AH. (2017) The effect of inoculum source and fluid shear force on the development of in vitro oral multispecies biofilms. J Appl Microbiol. 122(3):796-808.
Moretro T, Sharifzadeh S, Langsrud S, Heir E, Rickard AH. (2015) Coaggregation between Rhodococcus and Acinetobacter strains isolated from the food industry. Can J Microbiol. 61(7):503-12.
Vornhagen J, Stevens M, McCormick DW, Dowd SE, Eisenberg JN, Boles BR, Rickard AH. (2013) Coaggregation occurs amongst bacteria within and between biofilms in domestic showerheads. Biofouling. 29(1):53-68.